Dean's Update
July 28, 2023 - Aron Sousa, MD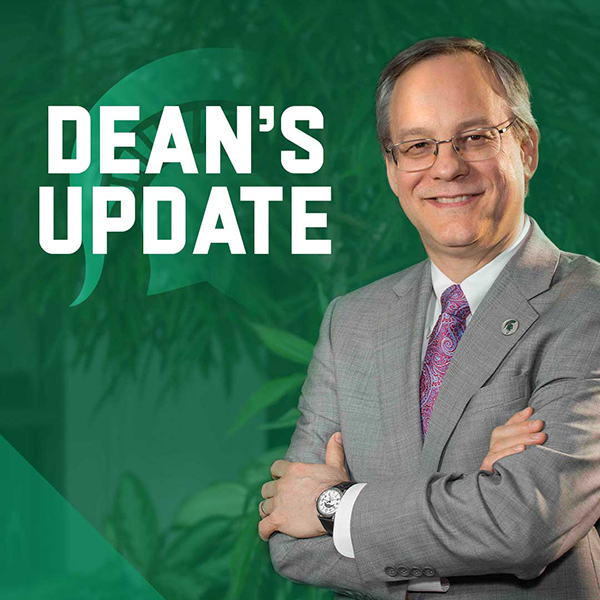 Friends,
This week, I had the pleasure of providing some brief opening remarks at the 2023 MSU Autism & Neurodevelopmental Disorders Family Professionals Conference. It is a remarkable conference at which families, patients, scientists, and care providers all serve as presenters and panelists sharing their expertise. It reminds me of some work I did with a patient advocacy group early in the century as the scientific literature democratized with the development of the internet. Parents and patients have always developed their own clinical expertise based on their experience, but in the modern era, they have just as much access to the science and literature as academics, which provides remarkable depth to conferences like this autism conference presented by our Department of Pediatrics and Human Development.
Early in the week, I also had the chance to talk with former university president M. Peter McPherson, who asked me how work in Grand Rapids is going. I reviewed the success of our class expansion, the success of our researchers hired out of our partnerships, and the university's part in the development of the Medical Mile, including our two public-private partnership buildings. Our collective work in Grand Rapids is worth more than $300 million a year to the community, as well as resulting in new discoveries, new clinical treatments, and a home for a major company providing the first over-the-counter oral contraceptive in the US. Mr. McPherson was a key part of the conversations that made our expansion in Grand Rapids possible, and it was delightful to give someone who played a founding role in our Grand Rapids effort such a positive update.
We owe much to so many founders across the state. One of those people is Dr. Dan Mazzuchi, who has entered hospice as a result of metastatic small bowel carcinoma. Dan was an early internist and nephrologist in Marquette, and he was part of the team that started our medical education consortium in the UP and the college's UP campus. (Take a listen to this podcast interview as Dan talks about this work.) He also helped start the CHM affiliated family medicine residency in Marquette. Dan has always had a clear vision for the medical education opportunities in the UP and served as the first community assistant dean for the college from those early days until 2000. Our premier rural health education program owes much to Dan and his leadership.
I asked our current UP community assistant dean, Dr. Stuart Johnson, for a paragraph about Dan, and to be honest, it was not possible for Stuart to keep his comments brief, yet here is a section of what he wrote about Dan:
The Mazzuchi Scholarship has benefitted so many students with approximately $430,000 disbursed since 2011. Dan is the first to say that was not his money. Sure, he contributed, but he reminds us that many physicians, community business owners, and others built this fund. He is honored to have the scholarship in his name. With Dan's ties to the community, his reach went beyond the confines of his clinic. He served in many local organizations (followed my dad's tenure as the local president of the United Way), was the mayor of Marquette, and was engaged in many efforts community wide. One of his latest projects was the work he did to raise money, build, and develop the management model for the Trillium (hospice) House in Marquette. It is hard to find someone who has had as much individual impact on a community as Dan Mazzuchi. Dan is a good, kind, and genuine man. Every single person I have interacted with who knows him sings his praises. I've expressed my personal gratitude to him for his commitment to Marquette General Hospital, the College of Human Medicine, the students, the residents, the faculty, and for the lives that have been touched because their doctors trained and returned to this wonderful place we call home.
And, it is with sadness that I report the death last week of the Hurley Medical Center Internal Medicine Residency director, Dr. Gassan Bachuwa. His sudden passing has been very difficult for the faculty, staff, and residents of the CHM affiliated residency, as well as the rest of the Hurley and Internal Medicine communities. His residents and colleagues benefited from his dedication and service to patients and the next generation of internists.
Serving the people with you, Dan and Gassan.
Aron

Aron Sousa, MD, FACP
Dean
---
Archives: