Service Learning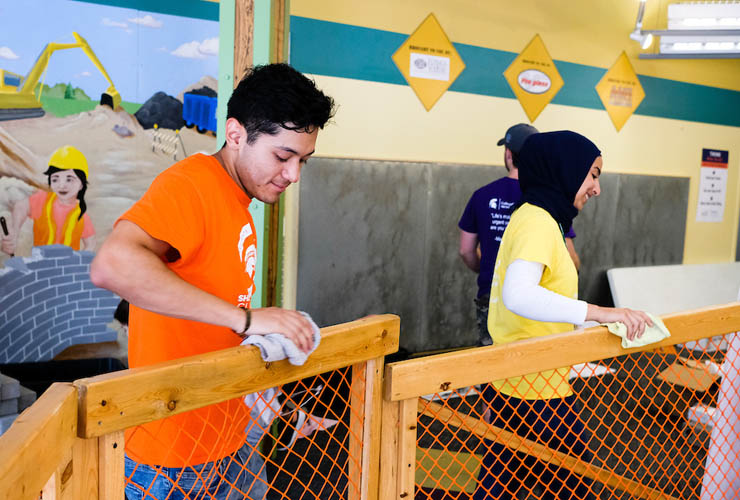 Service Learning is a required curricular component in the College of Human Medicine, as part of the SCRIPT (Service, Care of Patients, Rationality, Integration, Professionalism, and Transformation) competencies adopted by the college's faculty. 
Students must complete 40 hours of a structured service-learning experience as a required curriculum component for graduation. This experience combines community service with preparation and reflection. Students will "learn about community concerns in context, will connect their service with their academic coursework, and will reflect on their future roles as professionals" (Seifer, SD. "Service-learning: Community-campus partnerships for health professions education"). 
Questions? Contact chm.servicelearning@msu.edu.
Requirements & Protocol
Service Learning Opportunities
To prepare for a service learning experience, visit the MSU Center for Service-Learning and Civic Engagement's Service-Learning Toolkit for resources including: pre-flection tool (Appendix M), student responsibilities in service-learning placements (Appendix K), and guidelines for photography (Appendix T).
Service Learning Opportunities in Flint

American Cancer Society
Want to do a lot of good with a little of your time? Whether it's giving a cancer patient a ride to chemotherapy, putting together a team for Relay For Life®, or sending an email to friends and family about cancer screening guidelines, there are multiple ways you can join the fight against cancer. Call Deb or Mary at (810) 733-3702 or email Flint.stride@cancer.org.
American Red Cross
The Red Cross is requesting volunteers to assist in the operations of blood drives, disaster services as well as health and safety events.  Call Gregory Mikat at (810) 235-1030 ext. 402 or Shawantae Harris at (810) 893-6639
Big Brothers/Big Sisters
Work one-on-one with a child, sharing experiences and time, to help the child grow into a confident, capable person. Time commitment: regular visits with the child at least twice a month on individual basis for one year. One student stated "Big Brothers Big Sisters of Flint.  About 2 hours twice a month.  I developed a relationship and hung out with a little sis. A great experience!" Call Mary at (810) 235-7270
Boys and Girls Club
Mission of the Boys and Girls Club of Greater Flint: "The Boys & Girls Club of Greater Flint will inspire and enable all young people, especially those who need us most, to realize their full potential as productive, responsible and caring citizens." If you would like to volunteer please contact Tabitha Horton Volunteer Coordinator at (810) 766-9220
Carriage Town Ministries
At Carriage Town Ministries, (CTM), volunteering as available in multiple areas with a flexible schedule. Assistance is needed daily from 5:15 pm – 6:15 pm serving dinner to the less fortunate. Help is also needed in the donation room, sorting and organizing items that are dropped off to CTM. Female volunteers are needed to provide childcare Monday-Friday evenings and Saturday mornings. Call Cindy Johns at (810) 233-8787 ext. 29
Communities First Inc.
Communities First Inc. mission: "The mission of Communities First, Inc. is to promote and provide an improved quality of life for residents of distressed communities through economic development and affordable housing solutions." They have now opened Oak Street Senior Apartments in the Flint area which was once a school in the Flint community.  If you would like to volunteer please contact Katie Williams at (810) 422-5358 or email kwilliams@communitiesfirstinc.org
Crim Fitness Foundation
Crim is a way to keep everyone young and old healthy and active together by doing a variety of fitness trainings, races, and family fun events. If you would like to volunteer please call John Hartranft at (810) 931-5978 or email at jhartranft@crim.org
Christ Enrichment Center
"Nourish The Whole Person Building The Road to Opportunity" There are various youth and adult programs that need volunteers for the individuals that are seeking assistance from Christ Enrichment Center. They have tutoring for youth and adults, physical activities, drama, and art. If you would like to volunteer please call Daniel Brown at (810) 239-9425
Foodbank of Eastern Michigan
Volunteers are needed to assist in unpacking, sorting and repacking donated food items to be distributed to the community. The Foodbank of Eastern Michigan is open Monday – Friday 8:30 am – 4:30 pm and Saturday from 9:00 am – 12:00 pm. Call Kari Brack kbrack@feedingamerica.org at (80) 396-0210
Genesee County Fair
Genesee County Fair is fun activities for the entire family to enjoy. If you would like to volunteer please contact Jeremy Scharrer at (810) 962-9318 or email jermshare32@gmail.com
Genesee County Free Medical Clinic
At the Free Medical Clinic volunteers have the opportunity to assist physicians in triaging patients, taking their vitals, admitting them, and taking information for a history and physical. The clinic operation hours are Tuesday-Wednesday 1:00 pm – 5:00 pm, Tuesday 5:30 pm – 8:30 pm and Friday 9:00 am – 1:00 pm. An application is required. Call Judy Walker at (810) 235-7430
Genesee County Habitat for Humanity
Genesee County Habitat for Humanity is a volunteer-driven organization. We welcome people from all walks of life to join us as we build simple, decent, affordable houses in partnership with God and families in need. Though the vast majority of volunteers have no construction experience or building skills, volunteers are involved in most phases of construction. By working side-by-side with the family who will live in the house, our volunteers experience for themselves the joy created when a family is able to realize their dream of home ownership. Call Greg Hull at (810) 766-9089 ext. 210 or email ghull@geneseehabitat.org
Genesee County Medical Society
Membership in the Genesee County Medical Society (GCMS) gives you the opportunity to share resources, discuss ideas, and network with some of the most active and respected physicians in the state. You will receive news and information via The Bulletin magazine, meetings, faxes, and emails. Because GCMS is politically aggressive, it can provide its members with myriad opportunities to shape the future of medicine locally, as well as on a state and national level.  If you would like to join please contact Mr. Peter Levine at (810) 733-6260
Gentiva Hospice
Gentiva Hospice is looking for volunteers to assist in visiting patients in a multitude of areas, ranging from their inpatient unit, to residential homes, nursing homes and adult foster care. Volunteers are needed to provide quality time interacting with patients and their families. Call Lorna Pozarek at (810) 733-7250
Grace Hospice
Are you caring, compassionate and have a desire to help others? Becoming a Grace Hospice volunteer may be perfect for you! Volunteers share their time and talents, offering companionship to patients while easing the burden family members may feel. Help is needed to visit patients in their homes. Assistance is also needed in the office as well as out in the community.  Call Heather (810) 515-7189
Hamilton Community Health Network
Hamilton Community Health Network is a non-profit organization dedicated to providing comprehensive, quality, community-oriented health care for the underserved throughout Genesee County. If you would like to volunteer contact Tim McCarron at (810) 406-4912 ext. 4974
Heartland Hospice
Volunteers are needed in multiple settings ranging from private residence, to assisted living and nursing home facilities where patients are receiving hospice care. Volunteers provide the extra love and care patients and their families need at such a challenging time in their lives. Work side by side with hospice professionals in providing comfort and care. This is a great opportunity to practice bedside manner with patients while allowing for a flexible volunteer schedule. Call Jamie Rhew at (810) 230-1318.
Heart To Heart Hospice
Volunteering means something different to each of the volunteers at Heart to Heart Hospice; their reasons for being involved with our hospice programs are as generous and thoughtful as they are. The volunteers at Heart to Heart Hospice are some of the most important members of our hospice care team, making a difference in the lives of others every day.  Volunteers can offer their assistance by providing compassionate support and services to patients and their families, while permitting the hospice care team to focus on quality care. If you would like to volunteer please contact Candy Leitheim volunteer coordinator at (810) 422-9453.
Holy Angels Soup Kitchen
Volunteer at the Community Closet in Flint to help with sorting and organizing donations, welcoming clients, and assisting them to find the things that they need.  Volunteer to prepare and serve a meal at one of our three Flint Soup Kitchens. Individuals and groups are welcome.  If you would like to volunteer please contact John Manse at (810) 785-6911 or Lawrence at (810) 252-4343.
Hospice Advantage
Volunteers are needed to assist in providing support and companionship to patients in the Greater Flint Community in need of Hospice Services. As a medical student, Hospice Advantage is willing to pair you with a member of the care staff to observe the treatment of patients while fulfilling your volunteer requirement.  Call Ryan Johnson at (810) 347-4587.
McLaren Hospice
Volunteering for McLaren Hospice is a rewarding experience. Helping other people in need is fulfilling in its own right. A Hospice volunteer is anyone who has a sincere desire to help someone in need. If you would like to volunteer please contact Matthew Meeuwse at (810) 496-8757 or email matthew.meeuwse@mclaren.org
Ruth Mott Foundation
Cultivating community vitality, nurturing hope and pride.  There are a variety of volunteer opportunities on the grounds of Applewood.  If you would like to volunteer please contact Linda Bedtelyon at (810) 396-3108
Shelter of Flint
Volunteers are needed at the Shelter of Flint to assist in a multitude of tasks, from sorting and organizing donations to working with children and adolescents on educational and recreational activities. Help is needed especially in the early to later evening hours of the day. A student who previously volunteered with the Shelter stated that "At the Shelter of Flint, I volunteered nearly 30 hours to tutor/educate and chaperone child and adolescent residents at the shelter while their guardians attended adult educational programming. This included time dedicated to math, science, reading, arts & crafts, and outdoor recreation."  Call (810) 239-5433
Special Olympics
There are a variety of volunteer opportunities in your local community. You can volunteer at a fundraiser or local competition, or become a coach.  Call Robert Olson at (810) 240-4529 or email at Molsonice2745@gmail.com
Traverse Place
Youth Transitional Housing ages 17 to 20 years-old. Empowering youth and families to change crisis into success through counseling, shelter and the promotion of independent living skills. Volunteers for tutoring, mentoring and life skills. Call (810) 341-6328
Wellness Aids Service
Volunteers are needed to assist in the multiple programs that Wellness Aids Services provides to the community. One program is the Syringe Treatment Exchange Program (STEP). In this program, volunteer's help in exchanging syringes, providing educational materials to patients, HIV testing, and more. One student stated "I've spent a fair amount of time there working at the free Syringe Treatment Exchange Program (STEP). Experiences include exchanging syringes, interviewing new clients, educating clients with regard to medical issues, disease transmission, testing and resources, helping with inventory and usage data and miscellaneous tasks as necessary.  The organization finds the help of a few dedicated volunteers instrumental in their work and appreciates a more long term commitment, but understands the demands of med school." Call Teresa Springer at (810) 232-0888 ext. 205
Whaley Children's Center
Volunteers are need to mentor, tutor, and help with coping. Whaley Children's Center provides tools to children and families who have experienced trauma to reach their full potential.  Call Ashleigh Sanders at (810)234-3603 ext. 110 or email asanders@whaleychildren.org
YWCA
The Domestic Violence & Sexual Assault Services department recognizes the contribution that volunteers make to the success of our program. With the assistance of dedicated volunteers, we are able to continue our mission of empowering women and their children in their efforts to live violence free.
DVSAS
The DVSAS utilizes volunteers in a variety of positions throughout our program areas, including SafeHouse, Legal Advocacy, Emergency Response, Youth Services, and Administrative support. For all Volunteer Advocate positions, 40-hour training is provided (required). For certain positions, additional job-specific training is required prior to placement. Call Adrianne Nance at (810) 238-7621 ext.355
Service Learning Opportunities in Grand Rapids
Alano Club - Kent County
Serving the community by providing support, information, outreach, relevant programs, and an accepting gathering place for all those affected by addiction and seeking renewal through recovery. Contact Kevin O'Neal, 616-301-1491.
Alternatives in Motion
Alternatives in Motion strives to provide quality used wheelchairs, and routine wheelchair repair services to individuals and families demonstrating financial need; in order to promote, independent, healthy and active lifestyles. Contact info@aimgr.org or (616) 493-2620.
http://alternativesinmotion.org/
American Cancer Society
Cancer patient Resource Center in Lemmen-Holton Cancer pavilion near Secchia Center.  Volunteer training required.  One 4-hour time slot per month. To Request Application:
Laura Pridgeon, laura.pridgeon@cancer.org.
Blandford Nature Center
The mission of Blandford Nature Center is to engage and empower our community through enriching experiences in nature. Contact Katelyn Nettler, katelyn@blandfordnaturecenter.org.
Catherine's Health Center
Non-profit, community-based health facility dedicated to serving low-income residents of Greater Grand Rapids. Volunteer Application: http://catherineshc.org/get-involved/volunteer/volunteer-application-2/. Contact (616) 336-8800 x207 or jeglinton@catherineshc.org.
CHAMPS – Healthy Weight Center at Helen DeVos Children's Hospital
Contact Bill Stratbucker, william.stratbucker@helendevoschildrens.org.
Clark Retirement Community
Serves almost 500 residents with dignity and respect. Contact Wade Burge, 616-452-1568, wadeb@clarkretirement.org.
Ele's Place
A healing center for grieving children and teens with peer-support group programs that help hundreds of children, ages 3-18, learn how to cope and begin to heal after the death of a parent, sibling or other loved one. Contact Michaea Ayewew, 616-301-1605 Ext. 102, mayewye@elesplace.org.
The Engaged Partners Project (EPP)
MSU College of Human Medicine, Ferris State University College of Pharmacy, PARA Refugee Services, and Bethany Christian Services have forged this partnership, providing a unique service learning opportunity for Medical and Health Sciences students to promote overall health and well-being among refugees in Grand Rapids (an ever growing population in West Michigan).
EPP is a unique multicultural, interdisciplinary opportunity for medical students to further develop their clinical and community leadership skills as they provide basic healthcare assistance and services to international refugees in the greater Grand Rapids area.
The Engaged Partners Project is set up on a semester basis and involves a very manageable time commitment for students.
Family Promise of Grand Rapids
Dedicated to helping homeless families through emergency shelter, housing services, home ownership opportunities and aftercare services. Contact Joni Jessup, 616-475-5220, jonij@familypromisegr.org.
Feeding America West Michigan
Feeding America West Michigan provides food to 492,100 people in need each year. To do that, we rely on thousands of volunteers, people just like you who have decided they want to take part in the effort to solve hunger in West Michigan and the Upper Peninsula. Volunteer Activities: Repacking and sorting food in the warehouse, Gleaning in the fields, Clerical work in the office. Contact Shay Krick, 616-432-6966, shayk@feedwm.org.
FitKids360 Program
Do you enjoy working with kids?  Are you interested in public health?  FitKids 360 is a community health initiative that runs healthy lifestyle programs – emphasizing exercise, diet, and behavior—for families in the Grand Rapids area.  Through the FitKids 360 Buddy Program, medical students provide ongoing support for participating families through weekly communication and monthly events.  During weekly communication with kids, medical students check on goals, logs, and concerns.  During monthly events for families, medical students review FitKids 360 themes, encourage goal setting, and lead a variety of interactive activities (including physical activity, healthy cooking demonstrations, and creative projects.)  The program begins in late fall and runs through the spring.  The time commitment is 5-10 minutes of weekly communication and an additional 2-3 hours at the monthly events (held at local schools). Contact 616.742.8907 or http://healthnetwm.org/programs/fitkids360/fitkids360-volunteers. 
Friends of Grand Rapids Parks
The mission of Friends of Grand Rapids Parks is to empower people to cultivate vibrant parks, trees, and green spaces in the Grand Rapids community. Our vision is thriving parks and a sustainable urban forest that actively supports our community's economic, environmental, and cultural health. Contact Stephanie Adams, stephanie@friendsofgrparks.org; Dia Noble,  dia@friendsofgrparks.org; Maggie Harthoorn, maggie@friendsofgrparks.org.
Gilda's Club Grand Rapids
Provides free emotional healthcare to children, adults, families, and friends on any kind of cancer journey or those grieving the death of someone in their life due to any cause. Contact Ben Mepham, 616-453-8300 Ext. 121, bmepham@gildasclubgr.org.
Girls on the Run Kent County
Inspire girls to be joyful, healthy and confident using a fun, experience-based curriculum which creatively integrates running. Contact program.kcgotr@gmail.com or http://www.kcgotr.org/get-involved/volunteer.
GR8 Sports, Great Kids
The GR8 Sports, Great Kids youth sports program seeks volunteers to serve as coaches, game help and other support for programming. Fifteen different sports are offered to students in grades 6-8 and four for elementary students. The goal of the program is to promote well-rounded student athletes in the Grand Rapids Public Schools. Contact Cara Jones, 616-988-5430, cara@grsaf.org, https://grsaf.org/gr8-sports-great-kids/.
Grand Rapids Children's Museum
An environment to play, create and explore.
Great Start Parent Coalition of Kent County
Organization dedicated to informing, shaping, and supporting the early childhood work in Kent County. Contact (616) 632-1007, gsparents@firststepskent.org, www.GreatStartKent.org.
Habitat for Humanity
Habitat Kent has opportunities for volunteers to work on construction/deconstruction, and at the ReStores retail outlets that sell new and used appliances, furniture, building supplies, etc. Contact 616-774-2431 or http://www.habitatkent.org/.
HQ: Runaway & Homeless Youth Drop-In Center
HQ serves youth ages 14-24 who are experiencing homelessness, runaway or whose housing is unsafe or unstable. This is a population that they have identified as particularly vulnerable in traditional homeless shelters and have potentially aged out of family reunification or Children's Protective Services. HQ provides a safe space to meet basic needs such as hot meals, laundry, hygiene, showers and basic need items and clothing. They deliver resources such as community connections to support case management, counseling, housing and relationship needs. They also offer education and employment training assistance that includes a computer lab for online school courses, homework, job searching, etc. Contact  616-406-3945 or https://hqgr.org/volunteering-at-hq/.
Kindred Hospice
Hospice Volunteers needed: be a book buddy and read to patients, wheelchair walkers take them for walks and general companions may watch tv/sports, do nails or just 'hang out' with assigned patients. Contact Marrilee Chamberlain 616-249-3043, marrilee.chamberlain@gentiva.com.
Make-A-Wish Michigan
Grants about one wish per day for a child with a life-threatening medical condition.
Mel Trotter Ministries
Interning at Mel Trotter Ministries is about more than a school project or requirement. It's about making a difference in the lives of men, women, and children experiencing homelessness. It's about meeting people where they're at, walking alongside them with non-judgmental love and compassion, and giving hope to people who may have none. At Mel Trotter, we are all one team working together using our skills and abilities in whatever job we have to help rescue people in perhaps their darkest hour, and then help restore their lives by moving them out of homelessness into self-sufficiency.  For professional medical volunteers and interns we have a PI program (Public Inebriate) staffed with nurses 24/7 to meet the needs of those who don't need an emergency room but a safe, medically monitored, place to recover.  Our medical staff also responds to medical emergencies throughout the house 24/7. Contact Nancy Bonin, nancybonin@meltrotter.org, 616.588.8711.
Mentoring Services – D. A. Blodgett-St. John's
The Mentoring Services program provides trained adults to support identified youth and young adults through individual, group and community-based mentoring, focused on developing the assets they will need to be healthy, competent, confident and successful. Contact Sabrina Minarik, sminarik@dabsj.org, 616-774-4622.
Michigan State University Extension - Community Food Systems Education
Service opportunities: participate in daytime class for seniors – vitals check, stretching, diet; table in market to talk about benefits of eating fruit, veggies; other opportunities.
Community Food Systems Educator
109 Logan Street SW, Suite B102
Grand Rapids, MI 49503
Michigan State University Extension – Financial & Home Ownership
Helps people understand the home-buying process, learn the cost of homeownership and reestablish their financial futures. Contacat Jinnifer Ortquist, ortquisj@anr.msu.edu, 616-632-7899.
Michigan State University Extension – Health & Nutrition Institute
Promotes healthy lifestyles and empowers Michigan residents to take control of their health. Participants learn how to build nutritious diets on a budget, reduce foodborne diseases and become leaders in the food industry. Contact Stephanie Marino, marinos1@anr.msu.edu, 616-632-7889.
Michigan State University Extension – Social and Emotional Health
Programs to assist with stress management, parenting, dating/relationship building and bullying. Contact Holly Tiret, 616-632-7893, tiret@anr.msu.edu.
MSU Alternative Spring Break
Center for Service-Learning and Civic Engagement. Contact asb.msu@gmail.com or
http://asb.msu.edu.
Oasis of Hope
Christian non-profit organization that provides hope through low cost/free medical care and basic life-skills education to economically disadvantaged and uninsured of the West-side of Grand Rapids.  Volunteer must sign and declare Christian faith and be willing to pray with individual. Contact 616-451-8868, volunteer@ohcgr.org or http://ohcgr.org/aboutus82fb/volunteer/
Pediatric Interest Group
chmpedintgrp@gmail.com 
Pine Rest Mother/Baby Program
Short-term, intensive day program for women experiencing significant symptoms of postpartum depression and other perinatal mood and anxiety disorders (PMAD).
Rays of Hope
A non-profit organization that receives donated goods from Spectrum and St. Mary's hospitals and redistributes the goods through medical mission trips.  The organization needs help in organizing their warehouse, cataloging meds/equipment. Contact 616-206-7612 or amanda.raysofhope@gmail.com.
Renucci Hospitality House – Spectrum Health
Provides housing for families of patients.
St John's United Church of Christ
Contact 616-453-2497.
Special Olympics Michigan
Provides year-round sports training and athletic competition for children and adults with intellectual disabilities. Contacat Nick Caudle, Caudl1n@cmich.edu or http://www.somi.org/volunteer/index.html#.WBOiwY-cHcs.
UCOM
Providing material and educational assistance to meet basic needs, improve quality of life, and promote self-sufficiency. Contact Bruce Roller, 616-241-4006, bruce.roller@ucomgr.org.
United Way – Heart of West Michigan United Way
Unite community resources to reduce poverty in Kent County. Contact 616-752-8604,
ecarpenter@hwmuw.org.
Urban Core Collective
Increase the capacity and accessibility of supportive services that address the core needs of people of color and marginalized families residing in Grand Rapids. Contact Rebeca Velazquez-Publes, rvelazquez-publes@healthnetwm.org.
Volunteer Match
http://www.volunteermatch.org
West Michigan Farm Markets
Assist families in West Michigan to find and locate affordable sources of locally grown healthy food by identifying farmers markets that accept Michigan Bridge Cards, WIC Project Fresh and Senior Market Fresh. Contact Gordie Moeller, 616-293-4727, gordiemoeller@comcast.net.
YMCA of Greater Grand Rapids
Experience involves hildcare volunteers working with preschoolers; reading, outdoor play, science projects, cooking projects. Hours are Monday through Friday, 6 am-6 pm. Contact Lauren Heist, lheist@grymca.org, 616-855-9631.
Service Learning Opportunities in Lansing
Big Brothers and Big Sisters Michigan Capital Region
Help children realize their potential and build their futures. Contact 517.372-0160 or 0196info@bbbsmcr.org.  
Boys and Girls Club of Lansing
Inspire and enable all young people to realize their full potential as productive, responsible and caring citizens. Contact 517.394-0455 or bgcl@bgclansing.org.
Camp Casey MSU
Non-profit horseback riding program for children with cancer and their families Contact 877-388-8315 or
http://camp-casey.org/#. 
Capital Area Literacy Coalition
Helps children and adults learn to read, write and speak English. Contact 517-485-4949 or
http://www.thereadingpeople.org/.
Carefree Medical
Free medical clinics in Lansing. Contact 517-887-5922 or http://www.carefreemedical.com/about/how-to-volunteer/.
EVE – End Violent Encounters
Provides shelter and supportive services for victims of domestic and sexual violence. Contact 517-372-5976 or http://www.eveinc.org/volunteer.html.
FitKids360
FitKids360 is a seven-week healthy lifestyle program for children ages 5 to 17 and their parents or support partners. This program combines basic education about nutrition, behavior and exercise with a wide range of physical activities to help participants develop healthy habits, eat better and become more active. Contact Dr. Stephanie Klein, (517) 282-2672, klein.stephanie1@gmail.com or Abby Rentschler, rentsc15@msu.edu. https://healthnetwm.org/fitkids360/program/.
Habitat for Humanity Capital Region
Contact 517-374-1313 or https://www.habitatcr.org/get-involved/volunteer/
Haven House
Provides emergency housing and support services. Contact 517-337-2730 or http://www.havenhouseel.org/.
McLaren Hospice
Assist hospice patients with socialization, companionship and caregiving relief.  All volunteers participate in a thorough training prior to being placed out with patients. Contact: Suzanne Maurer, 517-975-9915
Suzanne.Maurer@mclaren.org.
MSU Alternative Spring Break
Contact 517-432-3793 or asb.msu@gmail.com. http://asb.msu.edu
Read to Succeed/MSU Student Literacy Corps
Tutor at-risk children to improve reading and writing skills. Contact (517) 420-1849 or
literacy@msu.edu, www.thereadingpeople.org.
Refugee Development Center
Contact 517-999-5090 or http://www.refugeedevelopmentcenter.org/.
Sparrow Medical Group - Volunteers of America Campus
Health Clinic for Homeless
Contact 517-484-4414 or https://www.voami.org/homeless-services
Spartan Street Medicine
Spartan Street Medicine is dedicated to bridging the gap in healthcare for our homeless community members in Lansing, Michigan. We battle the epidemic of indifference by going to the streets and providing telemedicine clinics to shelters to meet people on their terms. Through regular and direct outreach, we aim to overcome barriers to health by fostering relationships with our patients and community partners. Contact Christine Schafer (248)-760-4497, schaf172@msu.edu, or spartanstreetmedicine@gmail.com.
St. Vincent Catholic Charities - Refugee Services
Contact 517-323-4734 or http://stvcc.org/.
YMCA Storer Camp - Camp Catch A Rainbow
Camp offered free of charge to enrich the lives of children who are being treated for cancer or in remission from cancer. Contact 517-536-8607 or http://www.ymcastorercamps.org/ccar/camp-catch-a-rainbow/.
Young Health Pioneers
Assist with organizing and cataloging medical donations and supplies for shipments to hospitals/clinics in Africa. Assist with preparations for medical mission trips to Africa. Contact Dr. Timur Baruti, africacultureland@yahoo.com.
Service Learning Opportunities in Midland
1016 Recovery Network
1016 Eastman Ave, Midland, MI 48640
(989) 835-3466
http://www.1016.org/about/locations
Clare County Community Nutrition Network
Food Distributions held on the first Saturday of each month in Clare County, MI
communitynutiritionnetwork@gmail.com
Family & Children's Services of Mid-Michigan
1714 Eastman Avenue, Midland, MI 48640
989.631.5390
https://www.fcs-midland.org/
Home to Stay Housing Assistance Center
205 S Saginaw Rd, Midland, MI 48642
(989) 496-9550
http://www.myhometostay.org/
Midland County Health Department
220 W. Ellsworth Street, Midland, MI 48640
989-832-6380
www.co.midland.mi.us/health/
Midland County MSU Extension
220 W Ellsworth St, Midland, MI 48640
(989) 832-6640
https://www.canr.msu.edu/midland/county-extension-office
Contact: Lisa Treiber
MidMichigan Community Action Agency
1521 Washington St., Midland, MI 48640
989-832-7377
http://www.mmcaa.org/what_we_do/services/midland_county.html
Mid Michigan Community Action's Midland WIC Clinic
337 Lemke St, Midland, MI 48642
(989) 832-7310
https://www.mmcaa.org/childrenandfamilies.html#wic
New Dawn Shelter
137 Commerce Ct, Gladwin, MI 48624
(989) 709-6089
Open Door (Homeless Shelter)
412 W. Buttles Street, Midland, MI 48640
989-835-2291/839-5994
www.midlandopendoor.org
Contact: Renee Pettinger
Salvation Army of Midland
330 Waldo Ave. Midland, MI 48642
(989) 496-2787
https://centralusa.salvationarmy.org/midlandmi/
Contact: Captain Brian Goodwill
Senior Services Midland County Council on Aging
4700 Dublin Avenue, Midland, MI 48642
989-633-3700
http://www.seniorservicesmidland.org/
Contact: Tina Podboy Laughner
Shelterhouse of Midland and Gladwin Counties
3115 Isabella Street (M-20), Midland, MI 48640. Phone: 989-835-6771
234 W. Cedar Street, Gladwin, MI 48624. Phone: 989-426-9413
http://www.shelterhousemidland.org/
The United Way of Midland County
220 W. Main Street, Suite 100, Midland, MI 48640
989-631-3670
http://www.unitedwaymidland.org/volunteer.php
Service Learning Opportunities in Southeast Michigan
Provides health and wellness services such as counseling, care coordination, and food assistance along with opportunities for fun and social connection, referrals to local resources, structured and social youth programs, and support and discussion groups for the local LGBTQ+ community and their allies.
Kathleen Redmon, Director of Programs
248.398.7105
Volunteer Opportunities:
Welcome and Resource Desk at 290 W. Nine Mile Road, Ferndale
Monday through Saturday from 10am-9pm
Facilitate support and discussion groups
Youth Program – leading sessions for the curriculum-based program and staffing drop-in center
Fundraisers
Tabling at community events
Additional opportunities based on need and volunteer interests and skills
C-ASIST
C-ASSIST is a free wellness and mental health clinic that bridges any potential medical, social, and cultural gaps that may hinder the delivery of necessary medical care to the underserved and/or uninsured individuals in the community.  C-ASSIST Free Health Clinic offers an array of services including primary and specialty care, laboratory testing, medication assistance, and vaccinations.
Nancy Berry, CEO & President
313.995.0246
Zeina Berry, Coo & Vice President
313.595.4108
Volunteer Opportunities:
Free clinic is held every Tuesday and Wednesday from 9am-4pm at 23100 Cherry Hill Rd, Suite 9, Dearborn, MI 48124
FernCare
Free medical clinic treating individuals from 19 through 64 years of age who have no health insurance of any kind, public or private and no other primary care physician community resource access, offer enrollment assistance for both the Affordable Care Act Insurance Exchange and Healthy Michigan.
Dan Martin, Executive Director
248.677.2273
Volunteer Opportunities:
Free Clinic is held at 751 E. Nine Mile Road, Suite 2, Ferndale
First and Third Saturdays from 9am-12noon
Second and Fourth Mondays from 9am-12noon
Second and Fourth Thursday from 6-8pm
HUDA Clinic
The HUDA Clinic is a FREE health care clinic in Detroit which aims to improve the lives of those in need through comprehensive healthcare, education, and resources. HUDA Clinic's many professional and community volunteers provide the following services: health care assessments; disease screenings; chronic/acute care management; primary care; on-site pharmacy services; health and nutrition education; an on-site community garden; laboratory services; vision care; dental care; mental health care; physical therapy; cardiology; endocrinology, and podiatry services.
Tracy Wilson, Clinical Director
313.865.8446
Volunteer Opportunities:
Free Clinic is held at 13240 Woodrow Wilson Street, Detroit
Tuesday from 8:30am-2pm
Wednesday from 8:30am-2pm
Thursday from 8:30am-2pm
Saturday from 8:30am-2pm
MSU Extension Oakland Couty 4-H
Work with MSU Extension educators to design and deliver health-care related education and content to children and their families.
Ari McCaskill, 4-H Program Coordinator – Oakland County
248.858.0890
Volunteer Opportunities:
MeSTAND Medical Mentor Program – 8-9 sessions for high school students interested in careers in medicine.
MSU Extension Tollgate Farm and Education Center
MSU Tollgate provides non-formal learning opportunities for children, families, and adults, offering the unique opportunity to experience agriculture hands-on in an urban environment. Using research-based curriculum and methods, visitors can explore the joys of gardening and the natural world, appreciate and promote locally grown food, and develop a healthy community.
Carmen Hamilton, Volunteer Coordinator
248.347.3860 x239
Oak Park School Based Health Center
The School-Based Health Center located within Oak Park High School serves all students enrolled in Oak Park Schools, as well as individuals in the surrounding communities. The School-Based Health Center is operated by St. John Providence and offers various medical and mental health services.
RaSanda Dorsey, Pediatric Nurse Practitioner, Oak Park High School
Benjamin Dempsey-Klott, Pediatric Nurse Practitioner, Clintondale Elementary & High School 
*Please note MSU College of Human Medicine medical students are only allowed to be involved in clinical work under the supervision of a physician with a MSU College of Human Medicine faculty appointment.
Alternatives for Girls
Help homeless and high-risk girls and young women avoid violence, teen pregnancy and exploitation, and help them to explore and access the support, resources and opportunities necessary to be safe, to grow strong and to make positive choices in their lives. Opportunities for street outreach, mentoring, and assistance with special events. Contact 313.361.4000 ext. 248.
Ascension Providence Hospital Community Health Programs
Ascension Providence Community Health offers a wide variety of health and wellness programs that meet diverse needs, regardless of economic status and physical condition. Contact 313.499.4963.
Earthworks
Help plant and harvest food to help sustain health lives in our communities. Contact 313.579.2100 ext. 204.
Capuchin Soup Kitchen
Help feed those who may not have the means. Contact 313.579.2100 ext. 213.
Forgotten Harvest
We fight hunger and food insecurity. We deliver 138,000 pounds of surplus food per day to local charities six days a week, providing families in need with fresh and nutritious food free of charge. Contact 248.967.1500.
Gleaners Food Bank
We exist to provide households with access to sufficient, nutritious food, and related resources. We accomplish this through collaboration, efficient operations, education, and innovative solutions to achieve a hunger-free community in southeast Michigan. Contact 866.453.2637.
Habitat for Humanity of Oakland County
Habitat for Humanity is a global nonprofit housing organization that works in nearly 1,400 communities across the United States and in approximately 70 countries around the world. It started in 1976 by a group of people who wanted to help those in need of adequate shelter by helping them to build decent and affordable homes by working side-by-side with volunteers (to keep costs low). On a local level, Habitat came to Oakland County in 1995 and, to date, we have helped over 600 people on their journey towards homeownership. Contact 248.338.1843.
Kadima Mental Health Services
Kadima provides comprehensive residential, therapeutic and social services to all people with mental health needs as they move forward in their lives. Contact Ali Huber, 248-663-4330.
Michigan Department of Health and Human Services COVID-19 Hotline
The Michigan Department of Health and Human Services (MDHHS) statewide hotline to respond to health-related questions about coronavirus disease 2019 (COVID-19). Contact 888.535.6136 COVID19@michigan.gov.
Michigan Disease Surveillance System
The MDSS is a web based communicable disease reporting system developed for the state of Michigan. It has been developed to national data standards (Logical Data Model, Public Health Information Network, National Electronic Disease Surveillance System). Contact Nicole Parker-Strobe, 586.469.5849
MSU Extension Tollgate Farm and Education Center
MSU Tollgate provides non-formal learning opportunities for children, families, and adults, offering the unique opportunity to experience agriculture hands-on in an urban environment. Using research-based curriculum and methods, visitors can explore the joys of gardening and the natural world, appreciate and promote locally grown food, and develop a healthy community.
Mike Mathis, Director
248.347.0269 x235
Volunteer Opportunities:
We host 8 weeks of summer day camps for youth age 6-12 from late-June to the end of August. Each day campers cook healthy snacks with produce sourced from the farm. We are looking for volunteers to assist with instructing campers on nutrition, healthy eating, and cooking. These opportunities are Monday-Friday.
Throughout the year MSU Tollgate Farm hosts several large community events including Maple Tapping and Pancake Feast, The Hanami Spring Picnic, Farm to Table Dinner, and Pumpkinfest. Volunteers are needed for various shift lengths to assist with event implementation and educational activities.
The NOAH Project
Networking, Organizing, and Advocating for the Homeless (NOAH): Bag Lunch Program, Community Center Programming, Long-term Volunteering. Contact 313.965.5422.
Zaman International
Focus is on helping single mothers with children in the Southeast Michigan area but also help infants, refugees, and people with chronic disabilities. This organization was started by a nurse, Najah Bazzy, in 1996 after working in the NICU and realizing there are families that could not afford to bury their deceased infants. She started the first program of Zaman called "plots for tots" which helps pay for burial of infants of families in need. Since then the organization has grown exceptionally and includes services like food, clothing, literacy programs, education, and shelter. Contact 313.551.3994.
Service Learning Opportunities in Traverse City

Traverse City Health Clinic
A community based, nonprofit organization dedicated to serving the health care needs of the uninsured and underinsured adult residents in Benzie, Grand Traverse and Leelanau counties.
Safe Kids North Shore
This organization is dedicated to protecting kids from unintentional injuries. Students have recently participated with "Chill-Out"; program designed and presented in the schools to bring awareness to winter/ice safety.       
Special Olympics – Michigan
State Winter Games typically take place the first week of February.  Locations: Grand Traverse Resort (Acme), Schuss Village (Bellaire) & Howe Arena (Traverse City)

"Tar Wars"
Tar Wars is a tobacco-use prevention program offered to fourth- and fifth-grade classrooms each spring.
Goodwill Inn
Goodwill has provided safe, supportive shelter with food and basic essentials for adults and families experiencing homelessness throughout Northern Michigan since 1972.
Father Fred Foundation
The Father Fred Foundation has been providing food, clothing, household goods, and financial assistance to those with less within our five-county community.
Safe Harbor
Safe Harbor of Grand Traverse is a Non-Profit Corporation formed in the State of Michigan. It is comprised of approximately 2,100 volunteers that are organized through a collection of 22 Churches located in the Grand Traverse region.
Additional opportunities
Students can assist premedical students in the area by serving as mentors or presenting information at premed groups.
Students may present information about the profession of medicine to area high school students. They also assist with Anatomy/Biology labs and tutoring.
Students may also volunteer their time by assisting with sports physicals at local area clinics.
Service Learning Opportunities in the Upper Peninsula
Northern Wilderness Emergency and Sports Medicine or Compass Elective
Students may participate in this elective which has a requirement of 48 hours of volunteering hours.  These hours are generally done working with the National Ski Patrol at our local ski hill, and/or serving as a medical volunteer for sporting events and local running, skiing, and biking races.  Students also may have the opportunity to assist with sports physicals for local schools and other related community events, including an annual sled dog race hosted by our community.  They can volunteer to present topics at the Outdoor Emergency Care Course offered by the local National Ski Patrol.
These volunteer activities are recommended for the Compass elective, but students do not need to be participating in Compass to volunteer at these sites.
Other Service Opportunities
Students assist premedical students in the area by serving as mentors or presenting information at premed groups.  These activities are coordinated by Susan Tincknell, UP Campus Director of Student Programs. 
Students may volunteer at our local Warming Center and/or Room at the Inn Homeless Shelter.  These activities are organized by the students independently.
Students may volunteer one of our local hospice agencies:
Lake Superior Home Care & Hospice or UP Home Health and Hospice.
These activities are organized by the students independently               
Other volunteer opportunities can be found in this link.