Dean's Update
November 17, 2023 - Aron Sousa, MD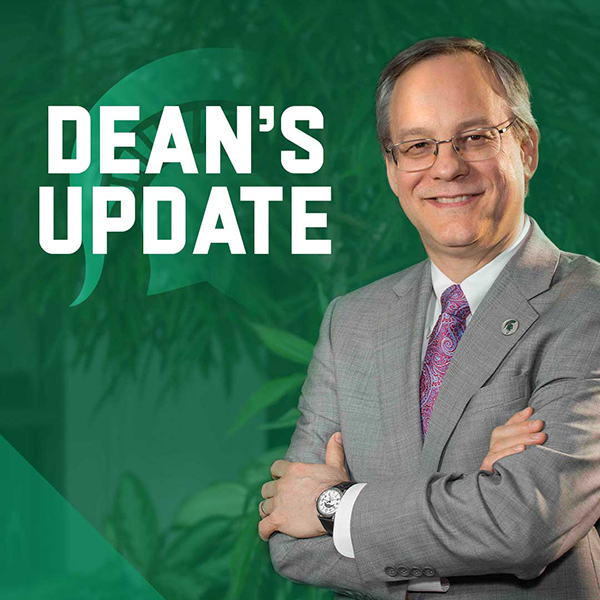 Friends,
Of all the awards the university uses to recognize excellence, I think my favorite is the Outstanding Supervisor Award. The WorkLife Office arranges surprise celebrations for the handful of winners each year. The college has been fortunate to have deserving recipients in past years, and this year we have two! Congratulations to Jennifer Raffo of the Department of Obstetrics, Gynecology and Reproductive Biology and to Steve Ondersma, PhD, of the Charles Stewart Mott Department of Public Health and Ob/Gyn.
Working for an excellent boss is one of the great luxuries of the world; working for an able supervisor is a necessity. The award recognizes supervisors "who have consistently demonstrated work-life balance and support of the professional/personal needs of the employees in their unit." The awardees have been nominated by the people who work for them, and our two winners are not just in their departments, but also work as part of the NIH MIRACLE Center grant addressing disparities in material mortality. You can learn more about the center from last week's Town Hall with the grant's principal investigators.
Next week is a brief but busy one for the college. We celebrate the 40,000 square foot expansion of the former Flint Journal Building on Tuesday, at 9 a.m., with a special Town Hall featuring our community collaborators, some of our remarkable faculty, Interim President Woodruff, PhD, and Mott Foundation President Ridgway White. You can watch the webinar using this link (Passcode: Flint) as you would any other Town Hall. The new space will house the college's 18 tenure stream faculty expansion of the Charles Stewart Mott Department of Public Health. It will be a great time to learn about the work in Flint, ask questions of faculty like Drs. McCullough and Hanna-Attisha, as well as our community collaborators like Ella Greene-Moton, who is president-elect of the American Public Health Association.
Giving Tuesday is also next week. Each year we dedicate Giving Tuesday to student scholarships, and this year we are focused on the College of Human Medicine Alumni Association Endowed Scholarship Fund and the Master of Public Health Fund. In case you missed it, student debt is an accreditation issue for us, so please make a difference for our students and the college! Our goal this year is $10,000. Please give to our scholarship funds: medical students (here) and MPH students (here).
Briefly:
With the recent selection of Nara Parameswaran, PhD, as the senior associate dean for research, the college has two areas requiring leadership – faculty affairs and human resources. I've asked Carol Parker, associate dean for administration, to accept responsibility for human resources and that transition has already begun. After consultation with the College Advisory Committee, I've decided to conduct an internal search for a 0.5 FTE interim associate dean for faculty affairs.
This search needs to be completed expeditiously, because the Reappointment, Promotion & Tenure (RPT) process starts in earnest in January/February. We will need someone in that role to run the process. If you are a fully promoted professor and interested in this role, please e-mail me and Allison Tilma (tilmaall@msu.edu) your letter of interest, CV, and statement regarding commitment to diversity, equity, and inclusion by November 30, 2023.
Next Friday, the Dean's Update is taking the day off as is the Town Hall. I hope you and yours get to have some time away from school and work. I know some of you are working the whole holiday caring for patients – thank you for your dedication and service.
Serving the people with you,
Aron
Aron Sousa, MD, FACP
Dean
---
Archives: