MSU and Corewell Health Fund Nearly $1.4 Million in New Research Grants to Advance Therapies for Patients
November 14, 2023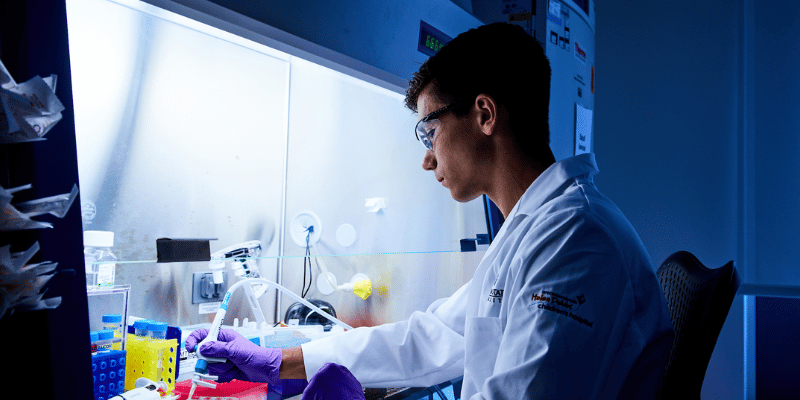 Corewell Health and Michigan State University College of Human Medicine are funding nearly $1.4 million in new research grants that will tackle potential new therapies for diseases including cancer, coronary artery disease and more.
Thanks to the help of a long-standing partnership known as the Alliance Corporation, the collaboration between both institutions has facilitated more than $24 million in total funding to physician researchers and scientists since 2007.
"Women's health was the first area of academic research that the Alliance invested in 15 years ago," said Aron Sousa, MD, dean, MSU College of Human Medicine. "We've had remarkable success combining Alliance funding with our joint recruiting efforts to attract several of the top researchers in obstetrics, gynecology and reproductive biology to the Medical Mile.
This fall, five new joint research projects were selected from a larger pool of proposed studies. The five projects selected for funding are:
Role of Specialized Metabolites from Pseudomonas Aeruginosa in the Pathogenesis of Chronic Lung Allograft Dysfunction
Goal: To determine how a common bacterium often infecting immunocompromised patients can lead to lung transplant failure and the development of new therapies
Principal Investigators: Reda Girgis, MD, Corewell Health, and Robert Quinn, PhD, MSU College of Human Medicine


Investigating Interactions Between PM2.5 Exposure, Obesity, Cardiovascular Health and Dietary Antioxidant in People with Obesity
Goal: To investigate whether the use of portable air filtration systems improve cardiovascular risk factors in patients
Principal Investigators: Harland Holman, MD, Corewell Health, and Masako Morishita, PhD, MSU College of Human Medicine



Selective Nanoimmunotheranostic Agents for Atherosclerotic Plaque Management
Goal: To develop and test an all-in-one nanoplatform that can measure disease burden, deliver cellular therapy to plaque and study response to therapy
Principal Investigators: Jose Tan, MD, Corewell Health, and Bryan Smith, PhD, MSU



A Preclinical Study of Astatine-211-Labeled and Lutetium-177-Labeled Brentuximab Vedotin in the Treatment of Anaplastic Large Cell Lymphoma
Goal: To create two new radiopharmaceuticals containing certain radioactive compounds and examine their efficacy in treating lymphomas
Principal Investigators: David Hoogstra, MD, Helen DeVos Children's Hospital at Corewell Health, and Jeffrey MacKeigan, PhD, MSU College of Human Medicine



Developing a Translational Precision Medicine Platform for Pediatric Traumatic Brain Injury


Goal: to characterize the molecular profiles of severe traumatic brain injury and establish a platform for gene delivery
Principal Investigators: Elora Hussain, MD, Helen DeVos Children's Hospital at Corewell Health, and Galit Pelled, PhD, MSU

"Science and innovation are where it all starts, and Corewell Health, with our partners, is at the forefront of supporting the investigational research and discovery that's needed so we can provide exceptional care and treatments to our patients and communities," said Josh Kooistra, DO, senior vice president and chief medical officer of hospital care at Corewell Health in Grand Rapids.
"We look forward to continued synergies between MSU and Corewell Health as we broaden our research scope to cancer, coronary artery disease, traumatic brain injury and more," added Dean Sousa.
---
This story orginally appeared on Spectrum Health Newsroom website.