Dean's Update
June 2, 2023 - Aron Sousa, MD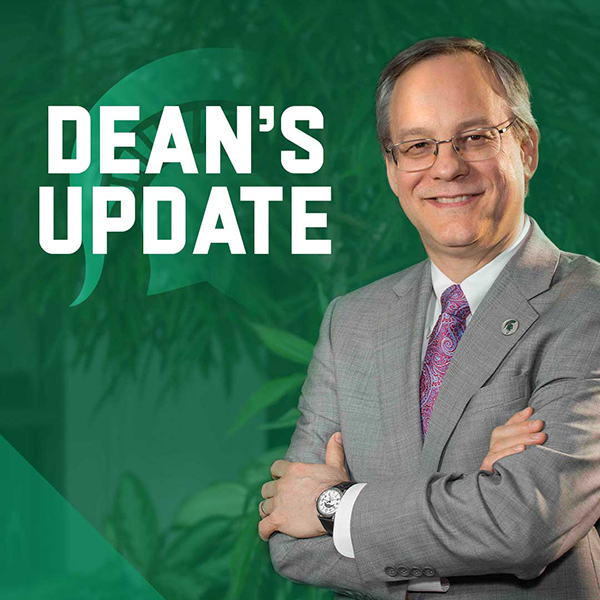 Friends,

Periodically, I bring other people into the update to express their own experiences or to write about their community. This week, I am including a few paragraphs written by Man Yee (Tiffie) Keung, a Flint Campus medical student in the Class of 2024. Tiffie is from Guam, and her path to medicine ties closely to her experiences growing up on the island. A recent super-typhoon hit the island with devastating impact, and Tiffie provides the following piece:
A week ago, Typhoon Mawar swept through the Micronesian islands, heavily impacting my home island of Guam. At least half of the island is still without electricity or reliable sources of water. Many having been displaced from their homes due to flooding and structural damage. President Biden approved a Guam disaster declaration, and the Red Cross, Salvation Army, and local organizations are aiding in relief efforts, though residents have reported shortages of critical supplies, food and drinking water. 

I am working with a group of passionate medical students from Guam to ensure aid is delivered to those displaced by Typhoon Mawar. We created this GoFundMe page to allow us to buy and send the necessary supplies to support relief organizations currently operating on the island.

If you've ever had the fortune to visit Guam, you'll understand that we are a loving and resilient community. We are often forgotten by mainland discourse, sometimes entering mainstream consciousness in discussion of the U.S. military. Guam is not just a U.S. military base but also an island with a rich culture and hospitable people embracing the Hafa Adai spirit. Please consider donating or sharing this GoFundMe page. Any help will go a long way towards helping the Guam community recover from this disaster. 

Si Yu'us Ma'åse' / Thank you! Please contact me if you have any questions at keungman@msu.edu.
If you read through the GoFundMe site, you will see Tiffie is part of a team of eight medical students from eight different U.S. medical schools working on this project. They met as mentors for premedical students from Guam supporting efforts to address the island's acute physician shortage. This team of students has now formed a collaborative community of their own to help address the suffering in Guam. Their work on this disaster is important, their work together as leaders for the future is crucial.

After the long, glorious weekend, I got in the car for some quality time in construction traffic. I also visited some partners and faculty, including a delightful visit to the laboratory of John D. Mitchell, MD, at Henry Ford. John is a professor in our new Department of Anesthesiology and is associate chair of our department under interim chair Michael Lewis, MD. He is also vice chair for academic affairs in the Henry Ford Department of Anesthesia, Pain Medicine, and Perioperative Medicine. He has at least three lines of institutional identification, which makes for a complicated business card, but we are all very excited to have him with us and to have recruited him from Beth Israel Deaconess.

John is a leading education researcher and uses motion tracking of people's hands to quantify how long it takes folks to do a skill fluently. His team is also using virtual reality to help learners pick up or sharpen skills faster and more reliably. I took a couple of pictures in the lab (above), and you can see one of his staff using the central line placement trainer with a VR headset and the transesophageal echocardiography (TEE) trainer. The VR headsets are mostly under evaluation, but John uses both of these technologies in workshops with faculty, fellows and residents. Obviously, these will be exciting tools for students as well. As a dyed in the wool medical educator, I was so delighted to visit his team.

Yesterday, the Flint Journal Building (FJB) was locked down briefly. There was a gun homicide up the street at the bus station, and our security team at the FJB, headed by Dave Bender, quickly locked down our building. The Flint Police stationed at the bus station apprehended the suspect within minutes, and the building lockdown was lifted soon after. We sent a message and links to resources for those based in the building yesterday afternoon. No one was at risk in the building.

That said, the world is a dangerous place, so in 2022, the college paid for clear polycarbonate bullet resistant shielding on the first-floor windows of the FJB, the Grand Rapids Research Center (GRRC), and the Secchia Center. Clearly, we have been thinking about safety for more than a year and have systems in place. Of course, as happens each time we use a system, we learn something. Based on yesterday's events we are working to create a faster system that can improve our communications within the building, in the Capitol Theater up the street, and to people who are not in the building.

Last week, one of my regular readers categorized each paragraph of my update as, "Heartening, disheartening, heartening, heartening." I took some solace in the heartening paragraphs outnumbering the disheartening ones. As summer comes to us, I hope your seedlings are up, the fledglings around you have enough to eat, you are driving opposite the construction traffic, and that your heartening paragraphs are in the majority.

Serving the people with you,

Aron

Aron Sousa, MD, FACP
Dean
---
Archives: