Dean's Update
May 26, 2023 - Aron Sousa, MD
Friends,
For all the struggles and challenges in the world, it is heartening and inspiring to be with people actively working to improve opportunity and communication. As I wrote last week, we hosted Black Leaders of Detroit (BLD) and Flint community members at the Flint Journal Building last Sunday. BLD holds a bicycle ride from Detroit to Mackinaw each year to raise funds for Black entrepreneurs in Detroit. At each stop, the BLD riders meet up with members of the local community to talk honestly and openly with each other in events called Speak for Yourself.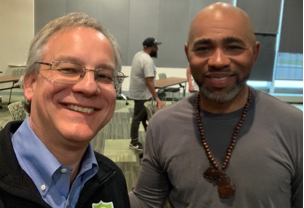 Photo: Aron and Dwan Dandridge last Sunday at the Flint Journal Building
BLD founder Dwan Dandridge set the tone for the evening by openly discussing his concerns and revelations about being a Black man riding a bike in rural America after the murder of Black jogger Ahmaud Arbery. Mr. Dandridge decided that for whatever fears he might have, the people in the communities he bicycles through were simply trying to make a go of life just like the people he supports in Detroit. Sitting, listening, and talking with local people at the Speak for Yourself events reflects the value Mr. Dandridge and his team places on community building and improving our society and democracy. My thanks to Arlynn Dailey for helping make the event a success and to Jennifer Johnson for riding with BLD today and tomorrow!
This week's events included a few which may be disturbing to people, including the one-year commemoration of the Uvalde school shooting and the FOIA release of the February 13 police reports about the shooting on campus. Everyone deals with these traumas differently, and I want to be sure you know about the resources available to students, staff, and faculty of the college:
Students
MSU Counseling and Psychiatric Services (CAPS) 517-355-8270, caps.msu.edu
For crisis services call 517-355-8270 and press "1"
Pine Rest Student Assistance Program (SAP) 800-422-0809 (Identify yourself as a CHM student)
Additional SAP resources https://pinerest.personaladvantage.com/  Username MSUSAP.
Faculty and Staff

MSU Employee Assistance Program (EAP) 517-355-4506, eap.msu.edu
Pine Rest Employee Assistance Program (800) 442-0809 or (616) 455-6210 (Identify yourself as a member of the College of Human Medicine)  
Additional Non-MSU Resources
Community Mental Health 517-346-8460
National Suicide Prevention Lifeline available 24/7, Text 988
Text HOME to 741741 to reach a crisis counselor
Michigan Department of Health and Human Services (MDHHS) warmline – operates 7 days a week, 10 a.m. to 2 a.m., at 888-733-7753 (Intended to serve individuals living with persistent mental health challenges including anxiety, depression, and trauma) 


About six weeks after the shooting on our campus, I had a conversation about gun violence with Allison Brashear, MD, MBA, dean and vice president for health sciences at the Jacobs School of Medical and Biomedical Sciences of the University at Buffalo. Allison and I attended the same AAMC's "dean charm school" years ago, and ever since we always seem to find each other at conferences. This time, we found each other at the AAMC's Council of Deans meeting in Chicago. (No one was quite sure how a conference gets scheduled in Chicago during March…)
We talked about the never ending series of shootings plaguing our country, including the February 13 shooting and the May 14, 2022 racially motivated mass killing of 10 Black people at the Tops Friendly Market on the east side of Buffalo. As a result of that conversation, Allison and I decided our students and faculty could learn from and support each other. UB hosted four College of Human Medicine students and a faculty member during the one-year commemoration of the Buffalo shooting, and we will host a contingent of Jacobs School students at the one-year commemoration of the shooting on our campus. In the long run, or perhaps much sooner, we are discussing how we enlarge the circle to include more medical students and faculty at other medical colleges impacted by gun violence.
Serving the people with you,
Aron

Aron Sousa, MD FACP
Dean
---
Archives: