Dean's Update
March 3, 2023 - Aron Sousa, MD
Friends,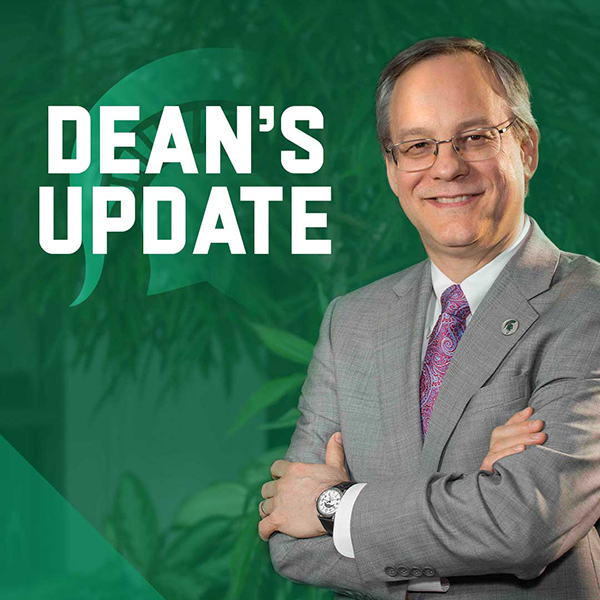 Some of you will have seen the university's announcement ending the COVID-19 vaccine and booster requirement for students, faculty, and staff. That decision ends the requirement in the college as well, except that all of our students and many of our faculty do clinical work in hospitals that require COVID-19 vaccination compliance consistent with guidelines for health care providers. So, while the university won't have a requirement, for the time being, students and many faculty will need a vaccine to do their clinical work. I don't have an objection to the university's decision, and I support the vaccine requirements for hospitals and clinical operations. The MSU clinical practice requires providers and students to document their flu vaccine, and it would be expected for MSU's clinical practice to require COVID-19 vaccination.
I am absolutely delighted to announce Andrea Wendling, MD, FAAFP as the new senior associate dean for academic affairs at the College of Human Medicine. Dr. Wendling is an award-winning teacher, researcher, and poet. She is an assistant editor for Family Medicine and has led our premier rural health education program for a decade. Over the last year, Andrea has been the interim senior associate dean and the lead for our accreditation effort. The LCME has changed a good deal since we went through it in 2014, and since I last was on a site visit team. Dr. Wendling has been patient, calm, and forgiving while providing clear leadership and high expectations. Anyone who has worked with her will recognize that the work of accreditation is on top of the significant responsibilities that come with running Academic Affairs in these turbulent times. Please welcome her to this not so new role!
Back on February 15, in the aftermath of the shootings and murders on campus, I wrote to encourage students, faculty, and staff to engage in advocacy and public intellectualism. Our own students in Scrubs Addressing the Firearm Epidemic held advocacy training sessions in the last two weeks. I had the chance to talk with them during the Town Hall the week before last, and I encourage you to watch and learn about their work. And, if you missed it, check out Dr. Mona Hanna-Attisha's op ed in the Detroit Free Press, in which she describes the panoply of assaults on our kids. As always, Mona writes so well and powerfully.
I also want to point to a piece Dr. Zakia Alavi did for us about managing the traumas that come from tragedies. As you would expect from Dr. Alavi, it is a thoughtful and useful piece. She comes to her expertise from her clinical work, of course, but she has experienced this struggle as a teacher. Zakia was the faculty fellow for Annie Yang and her small group when we lost Annie in 2019 to a car accident as she returned from CHM after the ECE break. Dr. Alavi was wonderful with that small group, the rest of the class, and all of us as we struggled with Annie's death. Dr. Alavi does not refer to that experience as she answered our questions, but I thought about her service to that small group and the rest of the college as I read her words.
Sharing our expertise with the world is a part of how we make the world better. If you need help with a project or are interested in how you might get started in public intellectual work, please contact Geri Kelley.
Serving the people with you,
Aron

Aron Sousa, MD FACP
Dean
---
Archives: