Dean's Update
April 21, 2023 - Aron Sousa, MD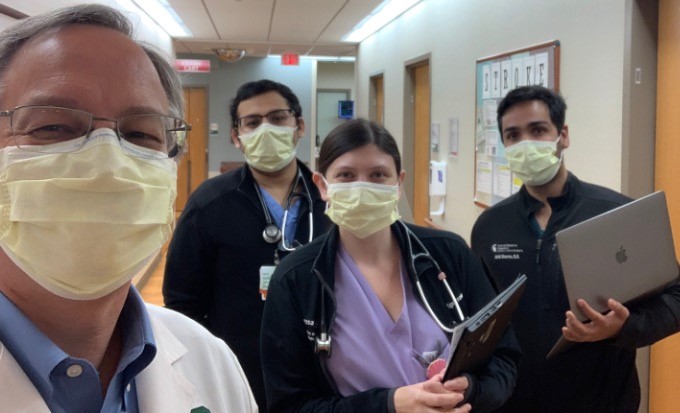 Above, left to right:  Aron (PGY-27), Niket Shah, MD (PGY-1), Vanessa Jerger, MD (PGY-1), Akhil Sharma, DO (PGY-3)

Friends,
Yesterday, the Charles Stewart Mott Foundation announced its intention to provide $15 million in support toward Rx Kids. This is a program led by Associate Dean for Public Health and C.S. Mott Endowed Professor of Public Health Dr. Mona Hanna-Attisha and designed to reduce childhood poverty through cash allowances to pregnant women and infants in Flint.
The Mott Foundation grant will be used as a match for other contributions and is the first funding for the program. There is mounting evidence that cash allowances to families meaningfully reduce childhood poverty and set kids on a path to healthier, safer, better lives. There have been small pilot programs elsewhere in the country that have successfully demonstrated this kind of allowance program can lower child poverty. The Rx Kids program will be the first community-wide allowance program and will be a demonstration study to investigate implementing cash allowances to all families in Flint. Importantly, there is no means testing for the program, a point Mona has emphasized to me, "That's the point, we should be doing this for everyone."
The Mott Foundation has been an extraordinary partner of the college, its faculty, its students, and the community of Flint. For those of you new to the college, or emerging from a long hibernation, the foundation has provided remarkable support to the college:
$11.8M ($2.8M in 2011 and $9M in 2014) to create our public health program in Flint and expand the medical school class in the Flint campus. This grant funded the first C.S. Mott Endowed Professors of Public Health.
Renovation of the former Flint Journal Building (FJB) to house the college campus and the new public health division.
$25M in 2021 to create the Charles Stewart Mott Department of Public Health and additional C.S. Mott Endowed Professors of Public Health.
Development of the 40,000 square foot expansion of the FJB to house the department and the expanded faculty.
To date, this investment has resulted in $118M in grant awards based out of Flint and more than 150 new jobs in the community across the department, college, and multiple community organizations. The new, intended $15M Mott challenge grant, announced yesterday, builds on the great work of our community partners, students, and faculty since the college expanded in Flint in 2014. In particular, I want to thank Mott Foundation Vice President, Neal Hegarty, Flint Program Officer Kimberly Roberson, and President and CEO Ridgway White for their remarkable partnership, vision, and leadership. And, of course, Dr. Mona inspires people to step-up to do great work, always.
The college's work in Flint follows the pattern of our expansion in Grand Rapids. In both cities, the philanthropic community sees the college and university as economic and health drivers in their community. Community-focused donors in both cities brought the college and hospitals together to create educational and research opportunities that continue to drive economic growth as well as health.
Out of that Grand Rapids work, three of our faculty, André Bachmann (MSU), Caleb Bupp (Helen DeVos Children's Hospital), and Surender Rajasekaran (Helen DeVos Children's Hospital) were recently awarded the 2023 Inventors of the Year Award for US Patent No. 11,273,137 by the New York Intellectual Property Law Association (NYIPLA). You might be asking yourself, "Self, why is Aron wound up about the NYIPLA and their awards?" Well, if you look at the previous winners, André, Caleb, and Raj are in pretty cool company. They won the award for their work using difluoromethylornithine (DFMO) to treat Bachmann-Bupp Syndrome (BABS), which is a condition due to a gain-of-function mutation in ODC-1. The story behind the discovery of the syndrome shows how collaboration, curiosity, and careers of preparation can come together to help kids for whom no treatment was previously possible. Not only did they receive the patent, but the patent has already been licensed out by MSUT to a company called Orbus Therapeutics, and MSU will earn royalties from this endeavor.
As you can tell from the picture at the top of the update, I am on the Medicine service. Our team is led by senior resident, Akhil Sharma, DO, who will be a pulmonary/critical care fellow at Henry Ford Hospital in July. He has been a great leader and has taken excellent care of our patients – Henry Ford is fortunate to have him. The juniors are Niket Shah, MD, and Vanessa Jerger, MD, and they are compassionate, thoughtful, hard-working, smart physicians. It has been my pleasure to have them as colleagues. Our fortnight has not been easy. Just under half of our service is in for some sequalae of chronic alcohol use, and many of our patients have had prolonged stays in the emergency department. Emergency departments run on different protocols than care on a hospital floor, and it can be very difficult for nurses to record and track information that is routinely used on a regular floor. I really feel for the patients, but the system is asking an awful lot of the nurses.
Our love and sympathy to Pat Brewer.
Serving the people with you,
Aron

Aron Sousa, MD FACP
Dean
---
Archives: