Dean's Update
March 31, 2023 - Aron Sousa, MD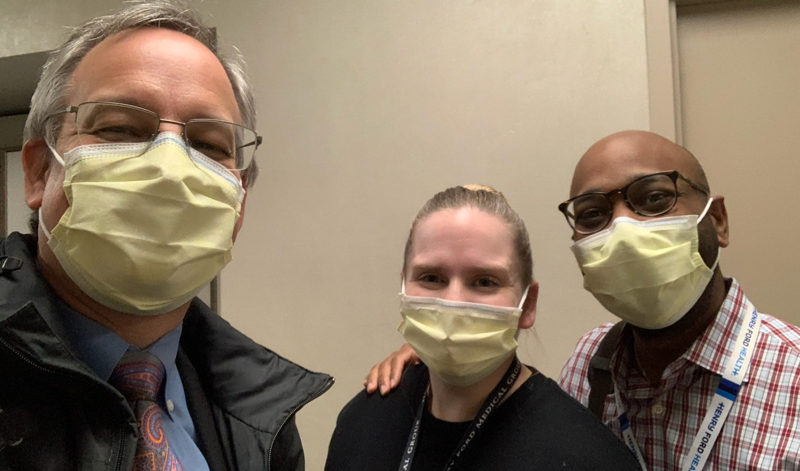 Photo: (L to R) Aron and our heroes, Drs. Kendra and Travis Hamilton.
Friends,
Earlier in the week, I got off the elevator on the neurology floor of Henry Ford's K tower and saw half of a familiar face. For a beat, I was at sixes and sevens. Just a beat, though, and I recognized the masked visage of Travis Hamilton (CHM '17). Travis and Kendra Hamilton (CHM '17) are alumni of the Advanced Baccalaureate Learning Experience (ABLE), were students in the summer pilot that turned into the Shared Discovery Curriculum, and are two of the loveliest people you can meet. Travis is a PGY-6 neurosurgery resident at Henry Ford, and Kendra, also at Henry Ford, is an attending neurologist, after completing her neuro residency there. I know them mostly from their time in the curriculum pilot after their ABLE year, and it was great to see them thriving. They have two beautiful, young children, which raised the question in my mind, how many ABLE-couple babies are out there?
There are no babies yet for the Spartan peregrine falcons, but there are three eggs. I spend much more time than I should watching the falcons on the MSU Fisheries and Wildlife Club Falcon Cam. Last year, I watched until the chicks fledged, and I am sure my vigilance was important to their survival…
Last week, I wrote about the Liaison Committee on Medical Education (LCME) process, and we are still many months from knowing the results of our visit and the total process. Our consultants told us that schools average 14-15 citations in a review cycle. We did get an exit report from the site team, but, as per their protocol, it does not identify which items they consider a citation and which they consider satisfactory but requiring monitoring. As I go through the material, I think we will end up with the average number of citations, but that is only based on the wording the team uses.
I believe we will have to provide monitoring data about the implementation of our strategic plan, the student research reorganization, student space in East Lansing, financial aid, and student access to health care in their communities. There are a few items I think will be citations, but which we can sort out very quickly. For example, we will need to better describe a patient case requirement in one clerkship. In addition, the team was confused by the approval process for student appeals and the policy that prohibits faculty from evaluating students who are also their patients. Those will be easy solutions. We will continue to focus on addressing student mistreatment wherever it occurs and student satisfaction with some particular experiences. To be honest there are a couple of items that I will not understand until we get the larger explanations in draft report this June.
After reading the exit survey, I am very proud of our team – this is a long road, and the stresses of the university and pandemic have complicated the process. As has been the case after every school's site visit, we have work to do. Finally, we need to remember that the LCME committee itself can subtract from and add to the report, so we will not know the true list of citations until after the LCME meeting in October. Last time, they added an item to our list at the LCME meeting.
The LCME can be a consuming effort, but during the process, we have continued with our teaching, patient care, research, and prepared for more growth. As you know, the college has been developing new statewide departments, which will help anchor our partnership with Henry Ford and other partners. Our proposals for departments of Radiation Oncology, Pathology, Urology, Dermatology, Otolaryngology, and Neurosurgery were approved by the University Committee on Faculty Affairs (UCFA) this week. If these new departments clear the University Committee on Graduate Studies next month, then the proposals go the Faculty Senate for approval before a final vote by the MSU Board of Trustees. My thanks to our own Jamie Alan, PhD, for her help and preparation for the UCFA meeting. These new departments will provide important clerkships for our students and will expand the opportunities for our faculty across the state.
Serving the people with you,
Aron

Aron Sousa, MD FACP
Dean
---
Archives: