Dean's Update
March 17, 2023 - Aron Sousa, MD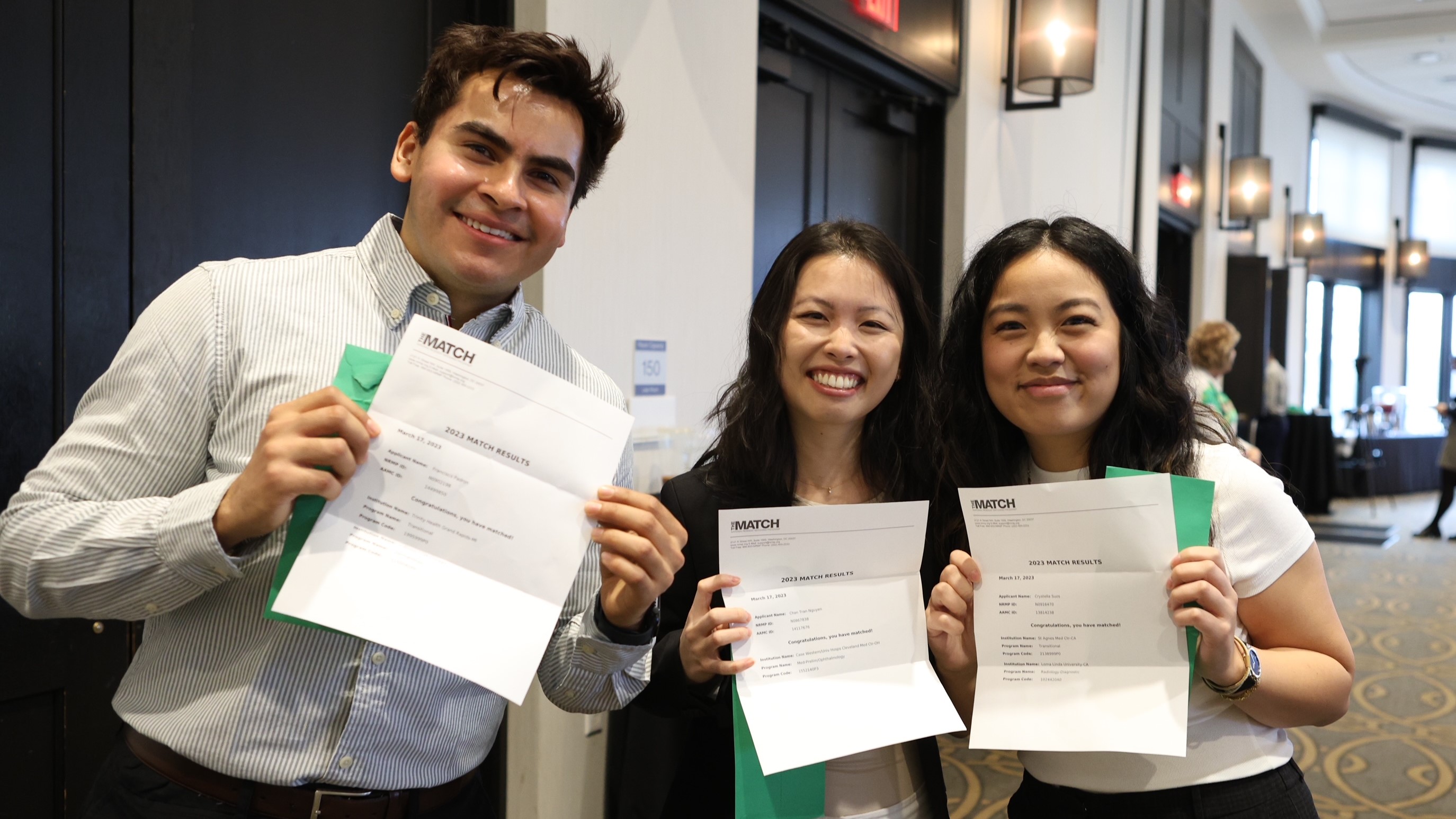 Friends,
Today is Match Day. Each year in mid-March, graduating medical students find out where they will be doing their residency training. This is the culmination of the entirety of their medical school experience, but much of the actual Match process plays out from summer through winter of the fourth year. In late summer, students write their personal statements, arrange for letters of recommendation, and take their USMLE Step 2 licensure examination.
Students submit applications to residencies in the early fall and then they do residency interviews through the end of the year and into January. In February both students and residencies create a rank order match list through the National Residency Match Program (NRMP). Students rank their preferred residencies, and the residency programs rank their preferred students. A computer algorithm then matches up high student ratings with high residency ratings and assigns students and residencies to each other.
The NRMP Match is like no other system I know in the employment or training market. It can be brutal, especially if your partner is not also in the match. My own match experience was weird although successful in the end. My wife was in the market for a job in history and philosophy of science, while I was in the match for internal medicine. We hoped to live together…Normally, the university might help arrange a spousal position for someone like me, but the match does not work that way, and the timelines were not the same. In the end, it worked out, Alice got the tenure stream position at Lyman Briggs, and I matched to MSU, but there were quite a few sleepless nights before and after the match.
This year, our students, who experienced the full brunt of the pandemic, had a great match. Today, I am excited to report that our overall residency placement rate for the 2023 graduating class is 100%. This includes seniors with placements through the NRMP, SOAP, Military Match, and Advance Matches. This year 48% of our students are entering a primary care field (Family Medicine, Internal Medicine, Medicine/Pediatrics, or Pediatrics) compared to 43% last year. Michigan residencies will be the home for 45% of our graduates.
My deep thanks to the staff and faculty, especially those in the community campuses, who support students during this process. This is an exciting day for students to be sure, but the faculty and staff are pretty excited too.
Tuesday was Give Green Day and we raised more than $40,000 for scholarships, including more than $19,000 for the CHM Alumni Scholarship Fund with a special shout out to the generosity of Dr. Divyesh Bhakta (CHM '94) and Mrs. Nadhi R. Bhakta. After Athletics and the general university, the college is the leading academic unit in Give Green Day fundraising! Thank you to the donors, our communications team, and the college's own record-breaking advancement team! 
The LCME survey site team arrives in Grand Rapids on Sunday, and our meetings with them begin on Monday morning. The survey team will be done and on its way midday on Wednesday, and there is a party planned for our team that evening! I am so proud of the work our students, staff, and faculty have done to prepare us for the visit. Not everything will go as we hope, but we have much to celebrate in our meetings with the site team. Years of work go into a site visit; my deepest thanks to everyone who has served in our accreditation effort.
Serving the people with you,
Aron
Aron Sousa, MD, FACP
Dean
---
Archives: