Dean's Update
January 27, 2023 - Aron Sousa, MD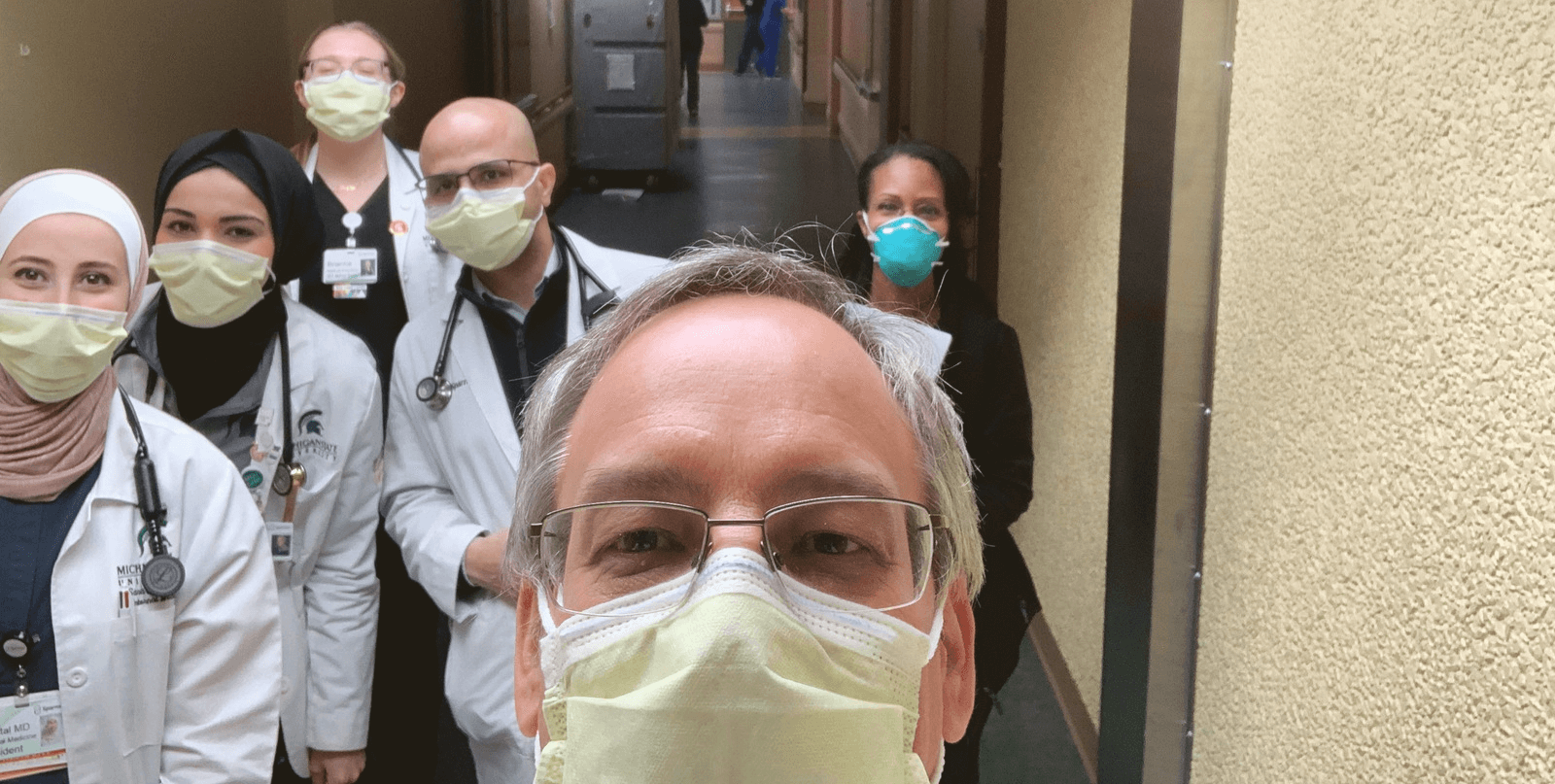 Team Sparty. From the left, Dr. Sara Al-Attal, Senior Resident; Rawan Hammoud and Brianna Sholte, MS2; Dr. Nikhil Regmi, Junior Resident – PGY-1; Dr. Aron Sousa, PGY-27; and Dr. Marlo M. Kleckley, Junior Resident – PGY-1.
Friends,
As most of you know, I round on the MSU Internal Medicine inpatient service a few weeks a year with our students and residents. Occasionally, people are surprised I still round, but the truth is, rounding is good for me. I enjoy the work and the patients, and I'm able to get a sense of the experiences of our patients and faculty within our system. Even all these months after the pandemic's peak, the emergency department is still experiencing challenges. In the last ten days or so, we've cared for extremely sick people in chairs in the hallway or in waiting room-sized wards not designed for this kind of use. This is the struggle in many places, and it is not a good setting in which to be a physician, a worse setting in which to be a nurse, and it is so, so tough to be a patient in that environment.
The chance to round is a bit of a gift to me from my colleagues in the Department of Medicine; rounding is part of their economic model and deans are not in the model for a reason. I appreciate the opportunity very much. This fortnight, I've had two very dedicated Middle Clinical Experience (MS2) students, Brianna Sholte and Rawan Hammoud, who have been diligent in their work with patients. To my delight, they have asked great questions not just about their patients, but also the other patients on the service. Nikhil Regmi, MD (first year medicine resident), Marlo Maddox-Kleckley, MD (first year psychiatry resident), and our excellent team leader, senior resident Sara Al-Attal, MD, have done a great job for our patients and have kept me out of trouble. (My thanks also to Cynthia Vincent and Allison Tilma, who work over my schedule to create time for me on service!)
Earlier in the week, I sent a note to our students and employed faculty and staff expressing my sorrow and frustration with the latest mass shootings. I wrote specifically about the shooting in the Chinese American community in Monterey Park, Calif., on the Lunar New Year. That tragedy was followed closely by another shooting of farm workers on the central coast of California. In the 27 days of 2023, there have been 41 shootings with four or more people injured or killed, six mass murders of four or more people dead, 21 children (ages 0-11) dead by guns, and 103 teenagers ages 12-17 have been killed by gun violence. Although a vast majority of mass shooters are white, mass shooters cross racial and ethnic lines. The gender differences are more striking. More than 95% of mass shooters are men. As a country, we have a gun violence problem we cannot seem to solve, and, men, we have a problem.
I find it hard not to become cynical and nihilistic at this point, but in that direction lies moral and practical failure. Everyone, including me, keeps writing and pontificating about gun violence, blah, blah, blah. Even the blah, blah, blah comes around to be its own blah, blah, blah. As I watched the news events of the last few days unfurl, I remembered a lovely piece, Words of Wellness: An Antidote for Despair, by our own Claudia Finkelstein, MDCM, who wrote last week as part of her "Words of Wellness" series on the college website. Her essay makes the turn for home when she quotes a passage of John Perricone, who writes about a Buddhist monk posting the following on a blackboard, "Everyone wants to save the world, but no one wants to help mom do the dishes."
Some things feel just too big for one of us or seem too big even for a majority of us. On the other hand, each day is a chance to help someone in need. And if we are going to build a safer, better world, most of us can only make progress one person at a time. That opportunity is all the more true for teachers and people working in health care, especially in a crowded room in the emergency department. That moment with a patient is the gift my colleagues give me, when I get the chance to round with students and residents.
Serving the people with you,
Aron
Aron Sousa, MD
Dean
---
Archives: