"Just Breathe" podcast connects through shared vulnerability
January 26, 2023
Third-year College of Human Medicine student Michael Knox started his podcast "Just Breathe Collective" in 2021 with the intention of connecting with others through shared vulnerability. He has since produced seven episodes and plans to continue it throughout his medical career. We interviewed Michael to learn more about his podcast and what the future holds.
Tune in to the latest episode with Dr. Angie Thompson-Busch, Grand Rapids community assistant dean.  
---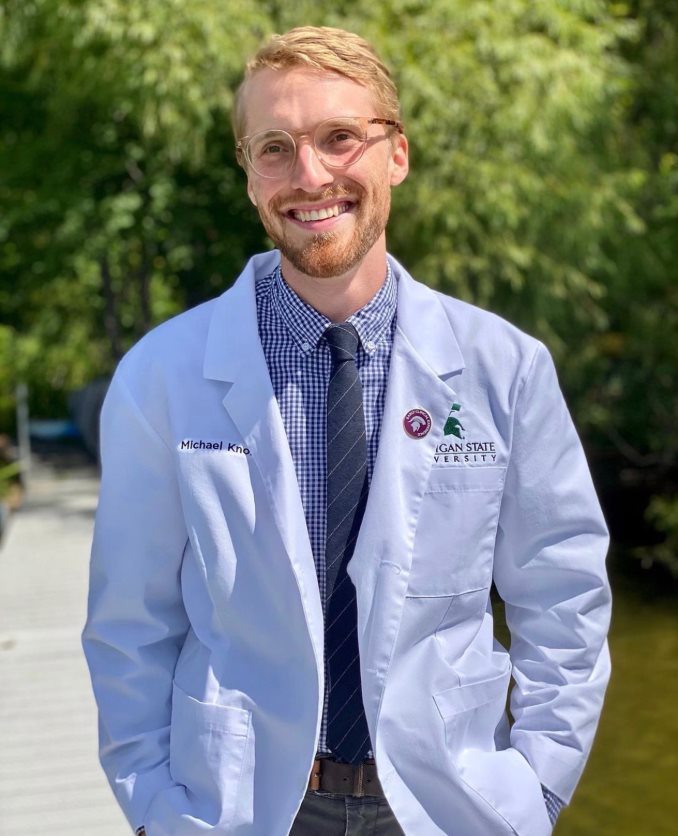 What specialty are you drawn to or plan to pursue in your residency?
I want to practice from a lifestyle/preventative medicine approach. I am leaning towards Family Med, as I like the idea of being able to provide care for various aspects of life; OB, pediatrics, palliative.
Can you tell us more about your podcast and what it's about?
I published the first episode in November 2021, but really its inception has been in the works for years. I've always enjoyed sharing vulnerable things on social media—I am very open about my struggles and times of depression, as well as the triumphs and "good times."
I've learned that a lot of our suffering comes from the story that we are alone. It can be really intimidating to expose your under belly and share how you are really feeling, and what I have found is that by being the first to put myself out there, it encourages courage.  
This is the intention with my podcast; connection through shared vulnerability. To host conversations, to share my meandering thoughts, all with the goal to help others feel a little less alone in whatever they are going through.  
And, we are a collective. As Ram Dass said, we are all just walking each other home. We are all on our journey, including myself, and I intend to share my journey as a method for helping others along theirs.  
What inspired you to start a podcast?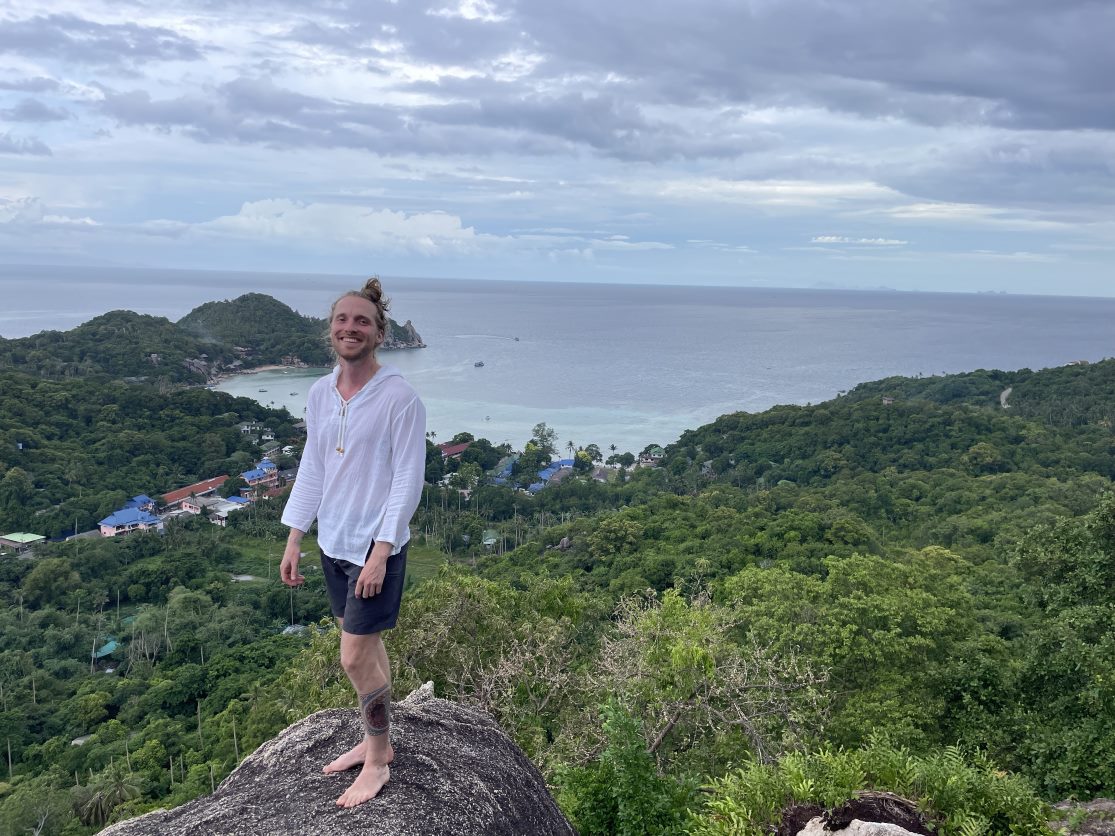 I've been very influenced by two podcasters in particular—Aubrey Marcus and Dax Shepard. As I stumbled my way through my 20s (I am currently 31), I often felt lost with depression.  
I did not know what to do, so I just started walking; I'd find a nearby hiking trail, toss on my headphones, and just walk for hours. This was immensely therapeutic for me, all the while tuning into these podcasts that host very vulnerable, open, and honest conversations about the curiosities of life.
This made me who I am today. I understand the power of sharing vulnerability through social media because I have felt what it has done for my life.
My podcast is my next step in doing this for others, as well as myself.

Who should tune in?
Anyone that wants to listen!
Anyone that might be feeling a little withdrawn, stuck on their path or in their mind. Anyone feeling alone.
Or just anyone that wants 'real' conversations to tap into.    
How do you find the time to produce a podcast while going to medical school?  
I make the time.  
Sharing who I am is necessary to feeling full and being well.    
Hearing from someone that my words positively impacted them is truly the most fulfilled I have ever felt in my life; so I will never stop and it will always be something I prioritize.    
What are your future aspirations for the podcast?  
My podcast will be an integral part of my life through my career in medicine.  
I am confident that a lot of my impact as a provider will be on a large-scale, community basis (vs. patient by patient). My podcast will continue to grow with me and be a way to speak to a larger audience.    
My goal is to change how we approach health care in our society; to not only prevent chronic disease, but to live in a way that gives us the highest amount of potential energy and fulfillment on a daily basis. I will do this by speaking to all aspects of health; physical, mental, social, spiritual…
… and I will host conversations with anyone that desires to speak to any of these aspects, because another goal of mine is to provide a platform for others to share their own vulnerability (again.. a Collective)—to those that have really awesome things to share, but perhaps don't have an avenue to do so. 
For example, I host "Wellness Week Takeovers" on my Instagram where I turn my IG over to someone in the community to post how they navigate their own wellness daily.
This platform isn't about me, it is about us - my patients, my community. And I will continue to grow my voice in order touch as many people as I can. 
What do you hope people will come away with after listening?
Simply, feeling a little less alone. A little more heard, understood. I want to provide a space for people that might not yet have found their community, to come have a seat down next to me knowing they are always welcome, never judged, and will always have someone to share in their journey with. 
Is there anything else you'd like to share? 
For anyone that tunes in, just know how grateful I am for your time. I take it as a privilege to reach past the surface and into people's more vulnerable states, even if through a recorded podcast.
Your willingness to step into that space with me, to share a few breaths together, means everything to me. 
If you'd like to have a recorded conversation with me, or know anyone that might, feel free to reach out! 
And most importantly, if you ever feel alone and want someone to sit down criss-cross-applesauce with, I am always here and open to connecting with you.

---
You can listen to "Just Breathe Collective" on Spotify and Apple Podcasts and follow on Instagram at @justbreathe_collective .