White Coat Ceremony begins journey into medical profession for 189 MSU medical students
August 22, 2023

Michigan State University College of Human Medicine welcomed its 2023 entering class at the medical school's White Coat and Matriculation Ceremony, Saturday, Aug. 19, at DeVos Performance Hall. The 189 medical students participated in the time-honored tradition of donning crisp new white coats and taking the medical student oath.
Dean Aron Sousa welcomed the future Spartan MDs to the College of Human Medicine and spoke to the significance of the white coat.
"The white coat is a symbol of professionalism in medicine, and it comes with responsibility,"  said Aron Sousa, MD, dean, College of Human Medicine. "As a future physician, today you will put on your white coat and walk before the community carrying the responsibility entrusted upon you by your patients."
During the ceremony, other leaders recognized the importance of the white coat and the profession of medicine as one of hope and healing.
"There is no more important pathway to serving others than the one you're on now," said Norman J. Beauchamp Jr., MD (CHM'90), executive vice president for Health Sciences. "You are stewards of hope."
This year's admitted class is one of the most diverse in the college's history.
"These students bring a wealth of knowledge, life experiences, and personal interest and character that will contribute to the betterment of the medical profession and to the well-being of their patients," said Joel Maurer, MD, assistant dean for admissions.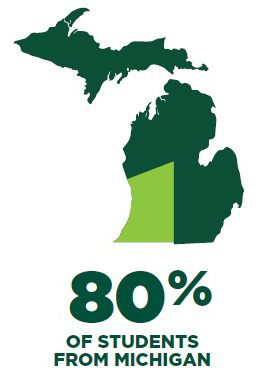 Of those entering the College of Human Medicine in 2023:
57% are female and 43% are male
Age range is 22 to 43
80% of students are from Michigan
63% are from disadvantaged backgrounds (low-income or first-generation college students)
23% come from rural areas
View more about this year's entering class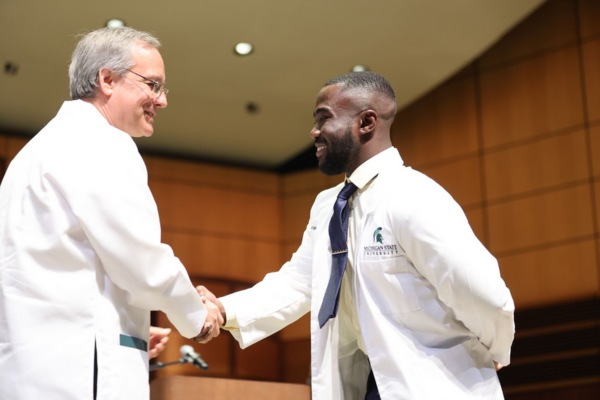 The path to medical school has been unique for each of the incoming students, with careers as nurses, EMTs, teachers, certified athletic trainers, business entrepreneurs, researchers, financial compliance officers, and cyber language analysts.
The college's mission and values are well represented in this incoming class with 16% of students being from populations underrepresented in medicine and 23% coming from rural backgrounds.
Matthew Foley grew up in a small town in the Upper Peninsula. He'll begin medical school at the Lansing campus to later return to the UP to participate in the Rural Physician Program.
"I chose the College of Human Medicine because I could see myself in the mission statement," said Foley. "Coming from a small, rural, medically underserved community, I wanted the opportunity to learn in a setting that could help me better give back to the community that made me who I am today."
For Pedro Bonilla, of California, MSU College of Human Medicine was his top choice because of its community-based approach and the importance of helping underserved populations. Bonilla's family had many negative health care experiences after immigrating to the US from Salvador, which motivated him to pursue a career in medicine.
"I want to become a physician that my community desperately needs," said Bonilla. "One that can empathize with patients in a special way that others might not."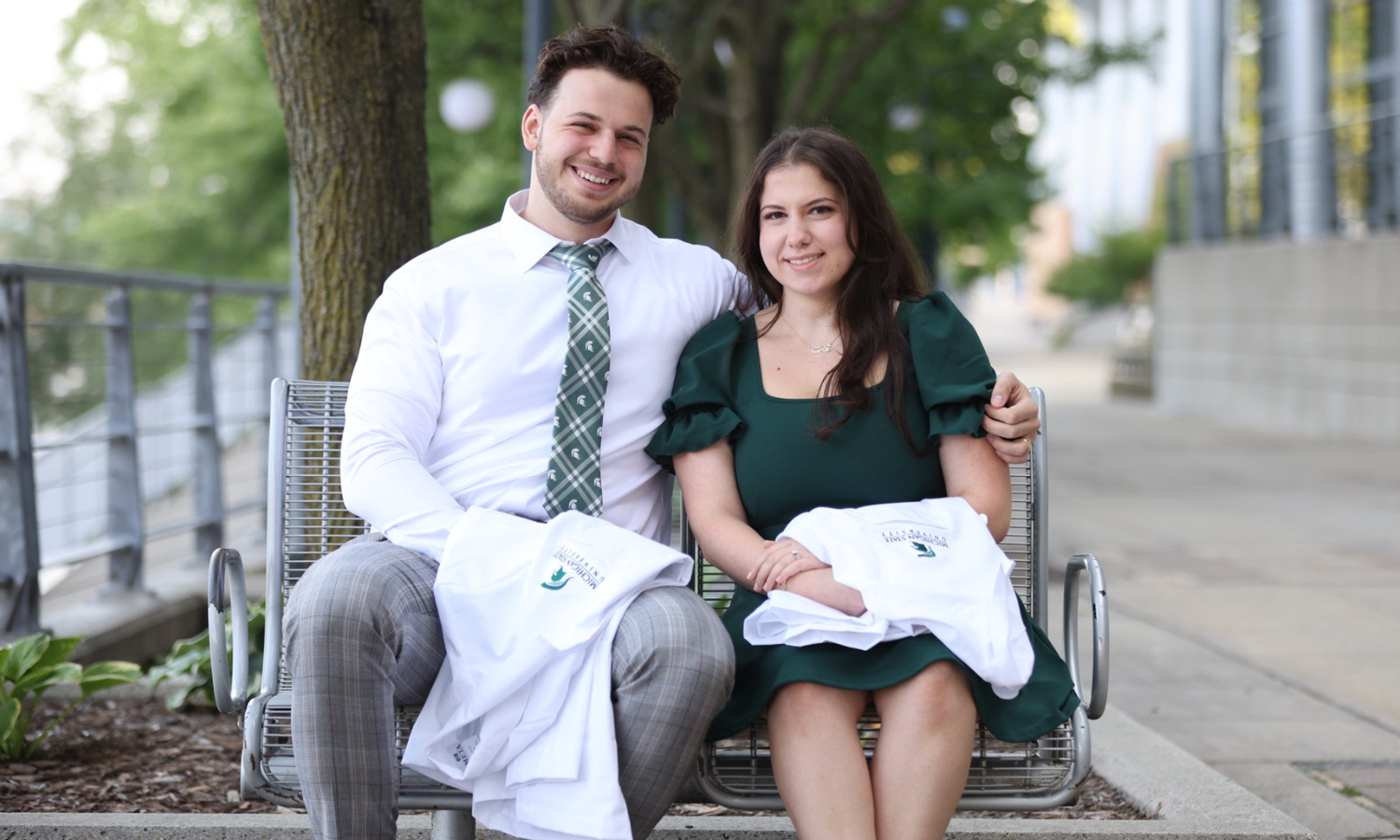 As these freshly coated students begin four years of medical training, Zeinab and Karim Mhanna will be experiencing it as newlyweds. The couple has been together since they were in high school and both pursued undergraduate degrees in biochemistry at the University of Michigan.
"We've been each other's biggest supporters and motivators, so to begin this next chapter together is something I still cannot believe," said Zeinab. "I'm so grateful to MSU College of Human Medicine for letting us reach our longest desired dream together and we can't wait to be Spartan MDs!"
---
With the help of generous alumni and donors, each 2023 incoming student received a white coat at no cost—to those supporters, we say thank you! This generosity also supported the Alumni Association Endowed Scholarship Fund, which benefits students like these.