Michigan as a Model to Address Infant Poverty
July 31, 2023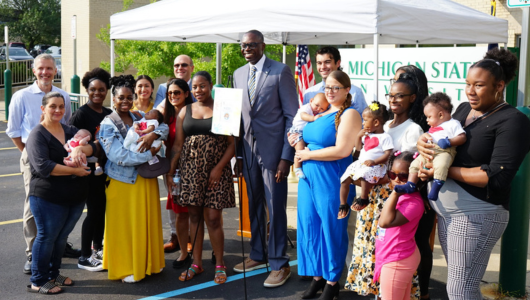 New Rx Kids Program Funded by $16.5M in State Budget
Rx Kids, the nation's first citywide prenatal and infant cash allowance program, receives approval of $16.5M from the Temporary Assistance for Needy Families (TANF) block grant in the FY2024 Michigan budget to propel a healthy start for all Flint babies during the critical first year of life.
With Governor Whitmer signing the "Made it in Michigan" budget later in the day, Senator John Cherry and Lieutenant Governor Garlin Gilchrist were joined by Dr. Mona Hanna-Attisha to celebrate the inclusion of Rx Kids funding in the state budget. Flint babies "endorsed" Rx Kids with their handprint signatures.

"Addressing poverty is one of the most direct ways to advance health access, improve nutrition, and remove obstacles facing young families," said Aron Sousa, MD, Michigan State University College of Human Medicine Dean. "We are proud of Dr. Mona Hanna-Attisha's vision for this transformative effort and thank the Michigan Legislature for improving economic stability for the youngest families in the city of Flint."
"I am so grateful for Senator Cherry's steadfast leadership and the entire Michigan Legislature for recognizing that we can boldly reimagine how we care for our youngest Michiganders," said Hanna-Attisha, Associate Dean for Public Health and C. S. Mott Endowed Professor of Public Health at the MSU College of Human Medicine. "As Flint often does, we can't wait to spark this innovation in our town and share this model of equity and opportunity with communities across the state and nation so that all children have the resources they need to thrive."
Through the Rx Kids program, care providers will "prescribe" cash to every pregnant person and infant in the city of Flint – with no strings or income requirements attached, empowering all families to make economic decisions that best fit their immediate needs. Every mom will receive $1,500 during pregnancy for food, prenatal care, rent, or whatever they need most. After giving birth, moms will receive $500/month for their baby's first year to cover formula, diapers, childcare, and everything else.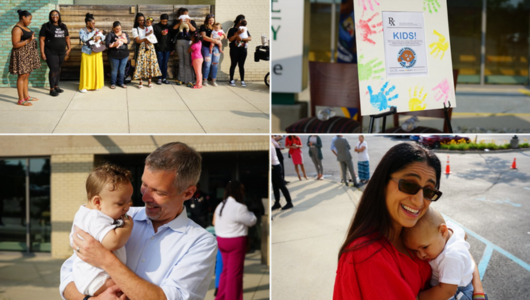 Rx Kids aims to improve health, equity and opportunity by increasing economic stability, housing and food security, health care utilization, and many other outcomes such as hope, joy, and dignity to improve infant and maternal health and well-being and life-long outcomes. Robust research will evaluate the impact of Rx Kids on participant health and community-wide outcomes.
Support from the Michigan Legislature ensures that the Rx Kids program launches in Flint, Michigan, and charts a path for rapid state and national replication.
"I strongly believe in investing in our future, and that starts with our kids," said Senator John Cherry. "We must invest in our children from the very beginning of their lives. Unfortunately, one in every two kids in Flint is born into poverty. By offering monthly support for infants, we can alleviate financial burdens on families, promote early childhood development, and ensure better access to quality health care and education."
The groundbreaking initiative includes a growing list of partners, endorsers, and funders. Partners leading Rx Kids include:
The project is estimated to cost $55 million for five birth years of mothers and babies. In April, the Charles Stewart Mott Foundation committed a $15 million challenge grant to catalyze support. Generous support has come from the Michigan Health Endowment Fund, Community Foundation of Greater Flint, Hurley Foundation, Ruth Mott Foundation, and the Jamie and Denise Jacob Family Foundation. With over $34 million raised to date, the program is guaranteed to launch in 2024.
To learn more about Rx Kids or to donate, visit FlintRxKids.com.
See what others are saying:
Director of the University of Michigan Poverty Solutions Project, Luke Shaefer
"I couldn't be more proud of our state and grateful to Senator Cherry for taking this bold, innovative step in charting a course for how we care for infants and families. Rx Kids builds on evidence from all around the world and right here in the U.S. on how to support families while also sending a clear message that we are walking alongside them during the critical first year of life."
Flint Mom, Ashley Strozier
"Rx Kids is the type of support that will fill a void and offer an intentional level of added support by encouraging all of those important milestones and well-care visits for mom and baby. This is the type of program that can enhance the success rates of healthy kids and healthy families for generations to come."
U.S. Director of GiveDirectly, Sarah Moran
"We are thrilled that the State of Michigan has committed to supporting Rx Kids, a program that will ensure expectant mothers and babies have the resources they need to thrive. We hope and expect that more states will follow Michigan's lead in spending TANF dollars as they are meant to be spent - not as earmarks that benefit the few, but as dollars in the hands of people who really need it. At a time when only 1 in 4 TANF dollars actually make it into people's pockets, this legislation represents a new social contract and has the potential to transform tens of thousands of lives."
CEO of the Greater Flint Health Coalition, Jim Ananich
"These resources will have a dramatic impact on the lives of mothers and babies and will be a model to be implemented statewide and across the country on providing dignity and support to pregnant mothers."
President and CEO of the Charles Stewart Mott Foundation, Ridgway White
"There's nothing more important than investing in the health and well-being of our children. We're supporting Rx Kids to help Flint families give their children a strong start — and to help to inform policies that will benefit kids and families throughout our state and nation."
Flint Mayor, Sheldon Neeley
"Rx Kids is a wonderful opportunity to strengthen Flint families by helping mothers and babies when they are most vulnerable. Our prayer is that this will reduce infant mortality rates in Flint and help Flint families raise strong, healthy babies."
---
Media Coverage
ABC News 12, City Pulse, MidMichigan Now, MLive, Michigan Advance, Michigan Radio, Newsbreak