Ferreira's lab explores rare isotopes to detect and stop cancer at the cellular level
January 25, 2023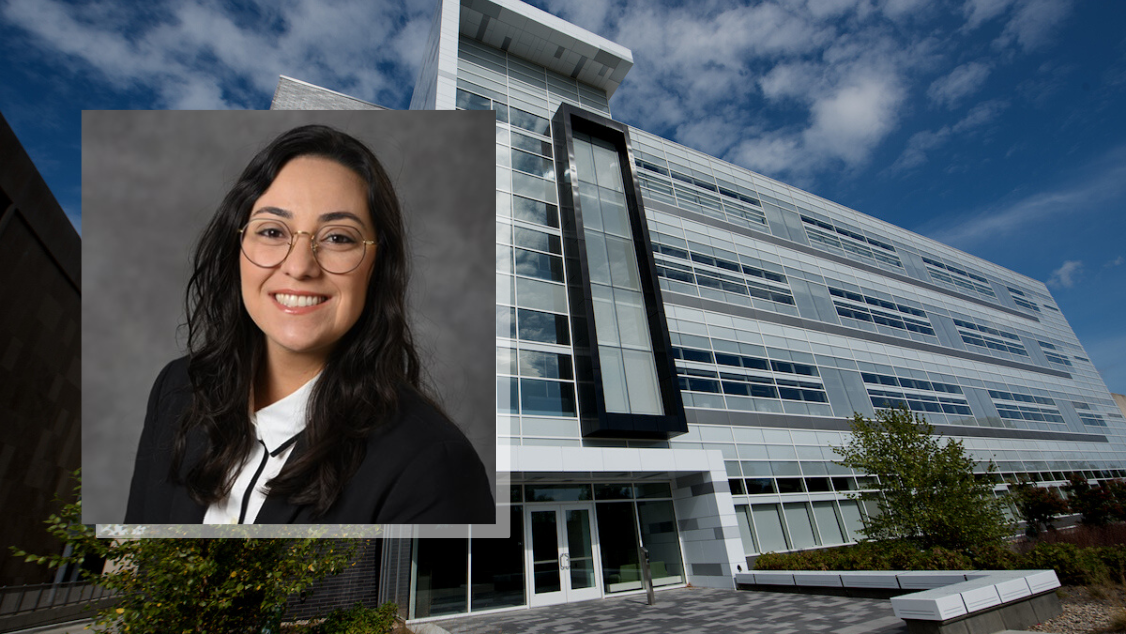 As a young girl in Brazil, while her friends played with dolls, Carolina de Aguiar Ferreira had other interests. 
"I always wanted to be a scientist," she said. At the age of 18, after she enrolled as a pharmacy student at the Federal University of Minas Gerais in Brazil, she knocked on a door that turned out to be a radiation lab and found her calling. 
Now, as a recently hired assistant professor in the Colleges of Human Medicine and Engineering, Ferreira, PhD, is opening her own lab to study promising new therapies that hunt down cancer cells and kill them with radioactive isotopes. 
While her research is still in the early stages, it holds the potential not only to treat many types of metastatic cancers that have spread throughout the body, but to cure them, Ferreira said. 
"The biggest problem today is, how do we treat metastasis?" she said.  
Unlike other kinds of cancer treatments, the radiopharmaceutical therapy she is studying does not use an external radiation beam directed at a tumor in the body. Instead, a compound is injected into the body to find cancer cells wherever they have spread. A radioactive isotope is attached to that compound, targeting only the cancer cells. The approach called "theragnostics" combines diagnosis and therapy. 
"It can also treat cancer we don't even know is there" by finding even small numbers of cancer cells that normally are undetectable, Ferreira said. 


Image of cancer cells absorbing Liposomal encapsulated IRN.

The Food and Drug Administration recently approved similar approaches for treating metastatic neuroendocrine cancer and prostate cancer. In August, medical innovation company BAMF (Bold Advanced Medical Future Health) used a PET/CT scanner inside MSU's new Doug Meijer Medical Innovation Building in Grand Rapids to diagnose and treat patients with metastatic prostate cancer and neuroendocrine tumors. 
The same therapy could be used to treat virtually any type of cancer, Ferreira said, including colon, glioblastoma, and non-Hodgkin's lymphoma. The key is in finding the right compound that can target each type of cancer. 
Her research has shown that the radioactive isotope not only kills cancer cells, but also affects the immune system, either suppressing or activating it.  
"That's one of the focuses of my lab," Ferreira said. "I want to understand how radiation affects the immune system in the tumor." 
She hopes to find a way of activating rather than suppressing the immune system, empowering it to join the fight against the cancer, a goal she will continue pursuing at MSU. 
"When I came to campus for my interview, the people here were so collaborative," she said. "They just wanted to move science forward. That made me choose MSU."   
In August, Ferreira assumed her new position with joint appointments in MSU's departments of Radiology, Pharmacology & Toxicology, and Biomedical Engineering. As she sets up her lab in the Institute for Quantitative Health Sciences and Engineering in East Lansing, she intends to recruit a diverse staff. 
"Diversity in science is really important to me," she said.

Kurt Zinn, DVM, PhD, professor of radiology, biomedical engineering, and small animal clinical science expressed his enthusiastic support for Ferreira by saying, "MSU and our Institute are very fortunate to have recruited this energetic and accomplished investigator and I look forward to working with her." 
Ferreira was recruited to MSU through the Global Impact Initiative, an effort to recruit new faculty in research thrusts that support MSU 2030, the University's strategic plan. 
"I'm so pleased to have Dr. Ferreira join MSU," said Doug Gage, PhD, vice president for Research and Innovation. "Her research complements the work being done both on the East Lansing campus and in Grand Rapids around the use of rare isotopes and imaging technologies that only Michigan State has available. Cancer diagnosis and treatments are top priorities in our sustainable health goal and she will be able to contribute right away." 
Looking back at her early days as a pharmacy student, Ferreira is certain she chose the right career. 
"It is science that matters," she said. Metastatic cancer "is a very difficult problem and we believe we can solve it with this novel approach." 
Find out more about her research in a recent publication, Meet Dr. Carolina Ferreira, Who Is Developing the Next Generation of Radioactive Theranostics, or visit the MIRA Laboratory's website.