MSU Alzheimer's disease expert bridges gap between 'bench' research and community
June 12, 2023
Michigan State University neuroscientist Irving Vega is often found in his lab studying the impact certain proteins have on the development of neurodegenerative disorders like Alzheimer's disease.
But when he's not conducting research, Vega makes time to go out into the community to talk about Alzheimer's disease and engage with students about their interest in science.
"I'll go to the Hispanic Center. I'll go to the school system in Grand Rapids. I'll go anywhere they invite me," said Vega, an associate professor in the Department of Translational Neuroscience at MSU. "I believe that it's important to build that bridge of communication between researchers and members of the community so that we can provide access to the new knowledge that we develop."
While that outreach often happens in West Michigan, Vega also collaborates with institutions across the state.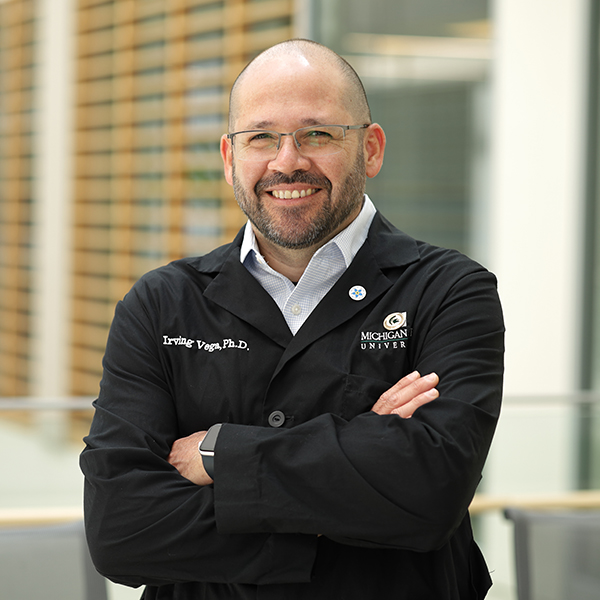 "I want to bring attention to the importance of building a bridge of communication between researchers and the community so that, in a way, we are actually better informed on what the important questions are that are relevant for the community so that we can go back to the bench and then do our research."
Originally from Puerto Rico, Vega obtained his undergraduate degree from the University of Puerto Rico, Mayaguez and was a National Institutes of Health Maximizing Access to Research Careers, or MARC, fellow. He obtained his doctorate from Rutgers University and completed his postdoctoral fellowship in the Department of Neuroscience at Mayo Clinic in Jacksonville, Florida, where he developed his research career focusing on the pathobiology of Alzheimer's disease.
Vega developed his interest in working with the community during his time at the University of Puerto Rico Rio Piedras campus, where he rose through the academic ranks from assistant professor to assistant dean of research. In addition to his research, Vega developed an undergraduate training program to enhance diversity in neuroscience and after joining MSU in 2014, he continued with both his research and his interest in mentoring students and reaching out to the community.
He directs the Bridge to Ph.D. in Neurosciences Program, a series of programs designed to help develop students for doctoral programs, such as the Enhancing Neuroscience Diversity through Undergraduate Research Education Experiences, or ENDURE, program funded by the National Institutes of Health.
In 2022, Vega was recognized as a Red Cedar Distinguished Faculty for his community-engaged research.
Vega was expected to present his work during this month's research presentation at the MSU Board of Trustees meeting on June 16th.
At the lab
Located on MSU's Grand Rapids campus, Vega's lab focuses on three main areas.

First, the researchers study the mechanisms that cause tau proteins — proteins that help stabilize the internal structure of neurons in the brain — to clump together, leading to toxicity within the cells that house them. The team also identified the tau protein EFhd2 and is evaluating the role this protein plays with Alzheimer's disease to establish models that could be used to test potential therapeutics against tau aggregation. The second focus of his lab is investigating the potential links between intestinal bacteria changes, inflammation and Alzheimer's disease.

A third area of focus is the development of better diagnostic tools for Alzheimer's disease. Vega's team is currently looking at noninvasive methods to detect biomarkers (such as the tau protein); checking whether race and ethnicity affect those levels as well as looking to identify new biomarkers that could eventually lead to better diagnostic tools.
The impact of Alzheimer's disease
According to the most recent report by the Alzheimer's Association, an estimated 6.7 million Americans are living with Alzheimer's disease. Experts estimate that 220,000 people in Michigan alone will be living with the disease by 2050.

The illness disproportionately affects communities of color, he added.

"We know that people in the Latino community are at a higher risk of developing these illnesses, but we don't know exactly why," said Vega, adding that while there's consensus on the risk factors — metabolic disorders, diabetes, high cholesterol, hypertension — contextual or social factors related to ethnic and racial health disparities are less clear.

About 13% of Hispanics older than 65 have Alzheimer's or another type of dementia and Hispanics are 50% more likely than their peers to develop Alzheimer's or other types of dementia.

"There are a lot of barriers to access health care. There are barriers to accessing healthy food. There are barriers to quality education. There is discrimination, and there is higher social stress due to discrimination," he said. "The high levels of stress lead to biological changes in the individual."

Coming up with solutions is not easy, he adds.

"We know what is very good for your brain: exercise, good quality of sleep, a healthy diet," Vega said. "For underserved populations there are things that prevent people from doing exercise. There's no safety on the roads or at the park. Sometimes they have two jobs and no time to exercise. Maybe they are not eating well or sleeping well. There's a lot of things that we can do to reduce the risk, but we have a huge fight against us to achieve health equity."
Bringing the research to the community
Vega recently presented his research in front of 35 community members at the request of the Catholic Diocese of Grand Rapids. He talked about how the brain works, the different regions of the brain that are responsible for different tasks and how they coordinate with each other to produce an outcome.

Then, he discussed neurodegenerative diseases, their risk factors and how to mitigate them.

Imagine it's construction season in Michigan, he says. Normally, it might take you 10 to 15 minutes to get from point A to point B. But when there is construction, it slows you down, now taking 15 to 20 minutes. And if the highway is closed, it might take you even longer.

"That's what happens in a brain that is undergoing neurodegeneration. The streets start to close, and it takes longer and longer to reach that memory to a point that now you don't have any alternative route to get from point A to point B, and that memory is completely gone," he said. "For some individuals, they can live all their life with those pathological hallmarks in their brain and never have clinical presentation. For others, they have the clinical presentation at 70. But it's not because they developed it when they were 70. They probably were developing that since they were in their 40s."

"Once I get to that part of my presentation, people start asking 'How I can reduce my risk?'" said Vega. "This is the third part of my talk — explaining how you can reduce your risk of developing these diseases. If you sleep well, this is what happens to your brain. If you eat well, this is what happens to your brain. If you exercise, this is what happens to your brain."

He says community members enjoy having researchers explain their work to them and adds that, often, researchers stay inside their lab to their own detriment.

"Sometimes by not being connected with the community and people living with the diseases that we're trying to understand, we miss a lot of points and references on how these diseases affect people in different ways and the risk factors that contribute to them," he said.
---
More about  Irving Vega