Kulkarni honored with HTRS Lifetime Achievement Award
April 27, 2023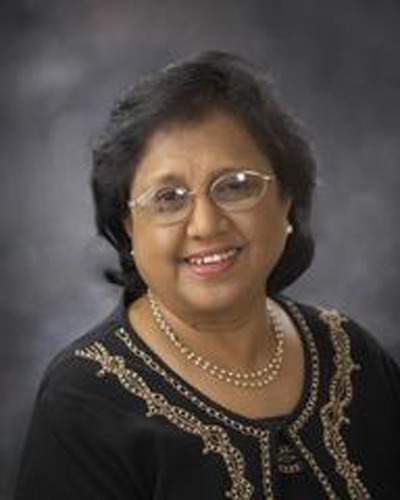 She has received countless honors over her career, but the latest was "a total surprise," Roshni Kulkarni said.
The Hemostasis & Thrombosis Research Society recently presented Kulkarni, MD, a College of Human Medicine emeritus professor of Pediatrics and Human Development, with its 2023 Lifetime Achievement Award.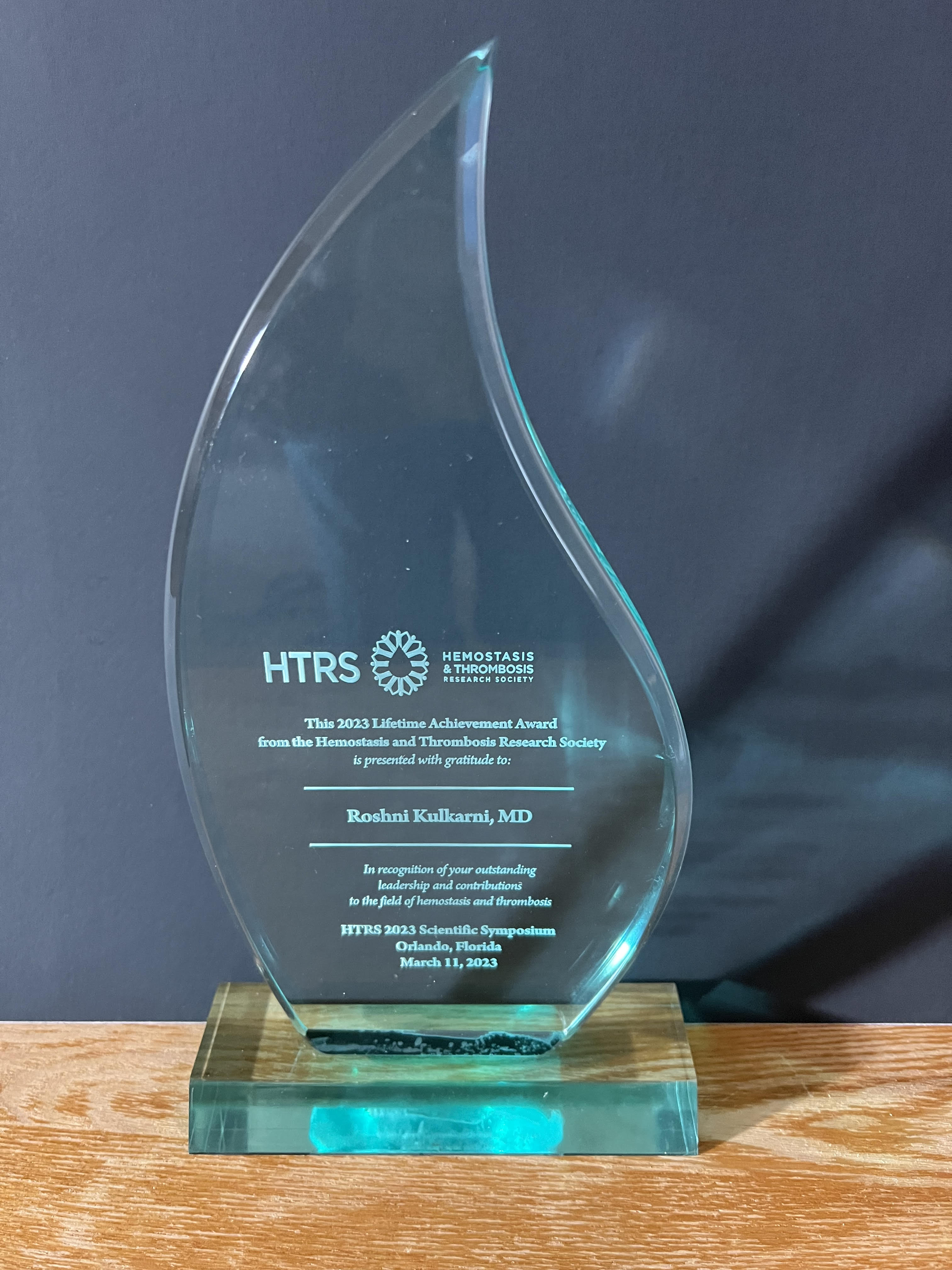 "I am honored and humbled," said Kulkarni, who also is emeritus director of the MSU Center for Bleeding and Clotting Disorders. "I was overwhelmed. There are so many people who are more deserving than me," an opinion her peers apparently do not share.
Members of the society voted to give her its highest honor in recognition of her "outstanding career and many contributions to the field of hemostasis and thrombosis," Shannon L. Meeks, MD, the society's president, wrote in notifying her of the award.
Kulkarni has long been active in the society, which promotes research, mentoring, workforce development, and continuing medical education about bleeding and clotting disorders. Trained as a pediatrician, Kulkarni became interested in bleeding disorders after an aunt died of postpartum hemorrhaging. She completed a fellowship in pediatric hematology/oncology at Children's Hospital of Michigan, Wayne State University School of Medicine in Detroit in 1975.
She joined the College of Human Medicine in 1977, established the Division of Pediatric Hematology Oncology, and was appointed Division Chief of Pediatric and Adolescent Hematology/Oncology. From 2006-2008, she served as director of the Division of Blood Disorders at the U.S. Centers for Disease Control and Prevention before returning to MSU, where she was director of the Center for Bleeding and Clotting Disorders.
In 2010 she helped create the Foundation for Women & Girls with Blood Disorders, a nonprofit dedicated to helping physicians correctly diagnosis and treat blood disorders and reproductive problems in women and girls.
"A major issue we have with these disorders is physicians don't always recognize them, especially with mild symptoms," Kulkarni said. "Our aim is to educate and raise their awareness."
She also encourages medical students, residents and fellows to consider a career in hematology (pediatric and adult) due to a shortage of such specialists.
Last fall, the Coalition for Hemophilia B gave Kulkarni its Eternal Spirit Award, which came with a bobblehead doll of herself. At its meeting in Orlando earlier this year, the Hemostasis & Thrombosis Research Society had planned to give her a trophy, but it was stuck in a snowstorm in Milwaukee.
"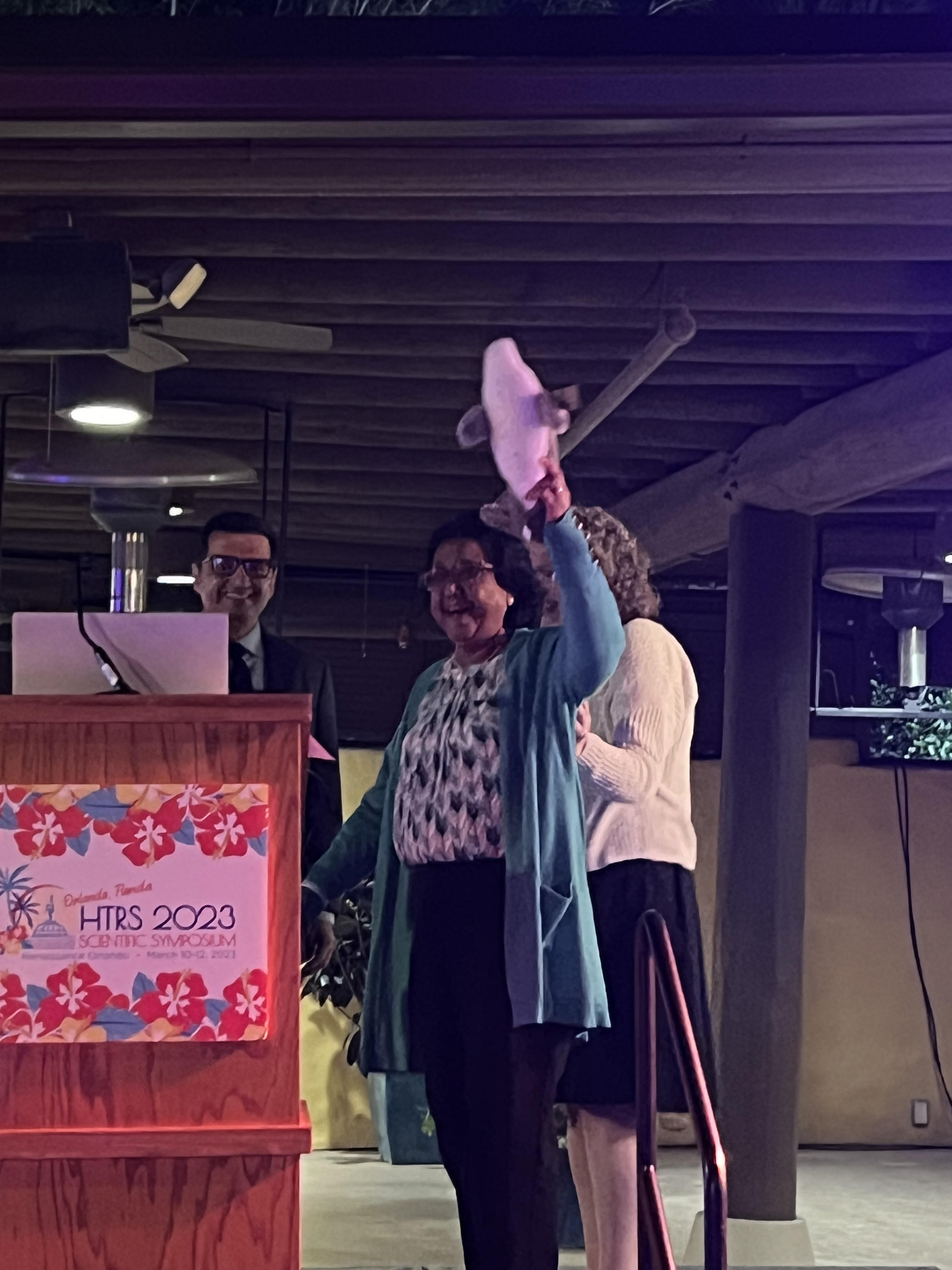 So, they gave me a stuffed dolphin as a placeholder," she said, until her trophy arrived a few weeks later. "My awards," she joked, "are getting weirder."
After assuming emeritus status in 2014, Kulkarni helped establish telemedicine and outreach clinics at Houghton Hancock in the Upper Peninsula and, in 2015, she founded the Women and Girls with Blood Disorders Lifespan Clinic. More recently, she was part of a group that opened a mobile dental unit to care for Amish patients in mid-Michigan.
Retirement does not interest her.
"I could be sitting home all day watching Netflix," Kulkarni said. "If I derive pleasure from what I'm doing right now, then why not do it? It keeps my brain alive, and, frankly, I enjoy it."
---