Dean's Update
September 8, 2023 - Aron Sousa, MD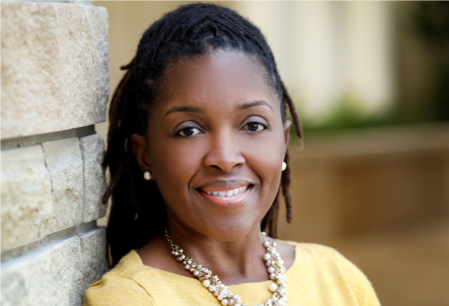 Candace Smith-King, MD, (CHM '03)
Friends,
September is Women in Medicine Month, and just as in 2021, I have asked a few women to write a piece for the Dean's Update reflecting their experience and thoughts related to women in medicine. This week, Candace Smith-King, MD ('03) is writing for us. After finishing her degree at the College of Human Medicine, Dr. Smith-King did a pediatrics residency at Helen DeVos Children's Hospital. She stayed in Grand Rapids after residency and took a position as an outpatient pediatrician. After a few years in practice, she returned to academic pediatrics as one of the preceptors in the residency clinic where she trained. She is now the vice president of academic affairs for Corewell Health – West.

Often behind every strong woman is another strong woman who has set an amazing example. What women, from past and present, have you drawn inspiration from?
Candace: I call the women who have helped me navigate my path my trailblazers. My mom was my first trailblazer. She set the example of being a barrier breaker and of pushing past my own fears. My mom was the first AND only one in her immediate family of seven siblings to go to college in 1968. She blazed a trail that my grandparents, who had not completed elementary school, could not have dreamed possible. She continued to blaze trails by moving across the country for a job in 1985, relocating her family from New Orleans, LA to Grand Rapids, MI. She showed me how to achieve and set high goals. She taught me to NOT live in fear but to live as though I can accomplish anything I set my mind to. My mom went back to grad school to get her doctorate when I was in medical school. And at 73, my mom is a full-time, tenured professor of social work. She blazed the trail, and I am following in her HUGE footsteps.
Another trailblazer in my life is Dr. Jeri Kessenich, my "opportunity blazer." Dr. Kessenich put me in positions and saw potential in me that my eyes weren't even wide enough to see. When Dr. Kessenich was the pediatric residency program director, she mentored me into becoming her associate program director, which opened the doors for me in graduate medical education. She helped to carve a path for me by giving me a template to follow. Dr. Lisa Lowery is another one of my trailblazers. She is my "confidence blazer." She is that person I can call on who will give me sage advice and then push me to implement the advice and move into my potential. As a woman who is often the "only," having another Black woman I can lean on has been essential to maintaining my emotional health.  

Many of our faculty and house staff are inspired by your passion for GME, your advocacy for our programs, and your leadership. What is the legacy you'd like to leave at Corewell Health?
Candace: That's a good question. If every resident and fellow graduated from Corewell Health with the desire, drive, and passion to treat EVERY patient with respect, then I have done my job. I remember being a single mom going to one of my OB appts. I told the OB, a White male, that I was a college student and that I was pre-med at the University of Michigan. The look on this man's face was one of disbelief, almost impossibility…as though there was no possibility that this young, Black, pregnant girl at 20 was going to become anyone's doctor. I want our residents to see the possibility in everyone, the potential in every patient. I want our residents and fellows to see every patient as a person with possibility.

If you had a superpower, what would it be and how would you use it to advance the cause of women's equity? 
Candace: I don't know if there is a word to describe my superpower…but its concept is to "depressurize" mom guilt. As a woman who works a TON of hours (historically outside of the home away from my kids), I used to feel so much guilt. If you recall my previous question, I had my oldest child who is now 26, while working on my undergraduate degree. When I went to medical school as a single mom, she was 13 months old. She grew up watching me read (books at the time), study and go to classes or do clinical rotations until she was 11 years old. She watched a lot of television. She spent a lot of hours in daycare and after school programs. And I felt a lot of guilt for years because of what I thought she was feeling. Turns out, she saw grit, determination, and perseverance. So, my superpower is to be able "to remove pressure"; the pressure that some of us as women place on ourselves to be the "perfect mom" while trying to balance being an outstanding physician.

Do you have any words of wisdom you'd like to share regarding DE&I...and please be candid?
Candace: Race is a social construct, it's not biological. Most of us went to medical school and were taught that genetic difference among races influenced health, but in actuality it's economic and social factors that impact health. As of 2-3 years ago, there was an eGFR calculation that took a patient's race into account, which we now realize led to less effective treatments for our Black patients. Lots of well known, well utilized tests use race in their calculations: PFTs, Osteoporosis SCORE, the National Cancer Institute Breast Cancer Risk Assessment. So much of what we learned in medical school put the cause of disease on the patient's race. As physicians called to serve all communities, we need to retrain our brains to think about race as a social construct and not as a biological phenomenon. To learn more, check out this article: Hidden in Plain Sight — Reconsidering the Use of Race Correction in Clinical Algorithms.  
---
My thanks to Candace for writing this great piece for us, and you can catch her on the Town Hall on October 6. The goal was to have each writer from Women in Medicine Month on a Town Hall in September, but that is not how the schedules of busy people play out.
Serving the people with you,
Aron

Aron Sousa, MD, FACP
Dean
---
Archives: