Dean's Update
August 25, 2023 - Aron Sousa, MD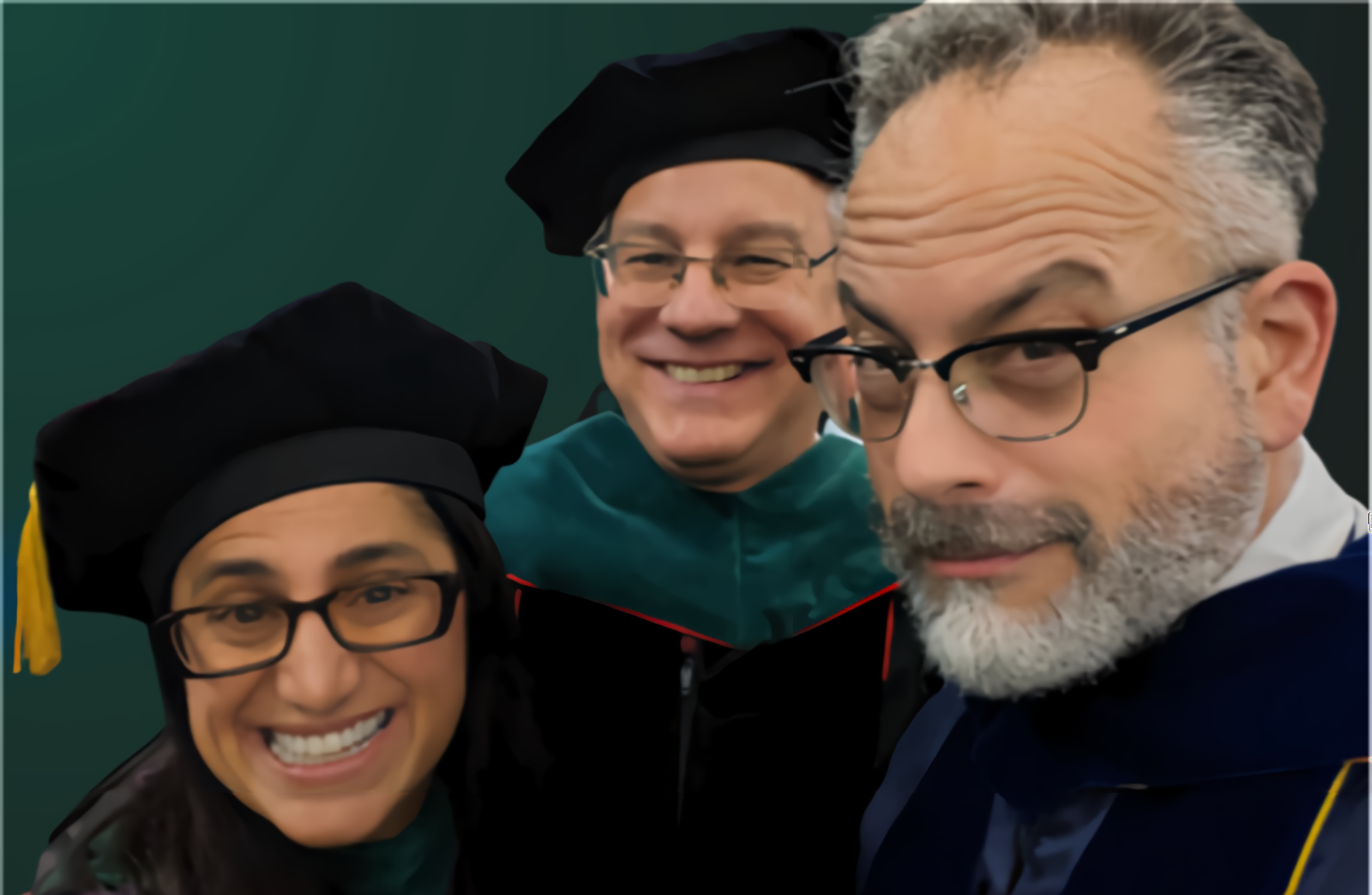 Left to right: Dr. Mona Hanna-Attisha, Associate Dean for Public Health and C.S. Mott Professor of Public Health; Aron "Boring Eyebrows" Sousa; and Dr. Jack Lipton, Chair of Translational Neuroscience, Mace Bearer, and Man of the Most Expressive Eyebrows.
Friends,
If you are in need of some inspiration, look no further than Thursday's Fall Convocation welcoming 11,000 new students to the university. There were many highlights: College of Human Medicine faculty member and university president Dr. Teresa Woodruff inducted the new students into MSU, the MSU Drumline was awesome as always, and CHM faculty member Dr. Jack Lipton was the university mace bearer! Jack gets mace duty as the chair of the Steering Committee, and he is our college's third mace bearer in a row – thanks to Karen Kelly-Blake and Jennifer Johnson for paving the path. For all of those glories, the reason to take a gander at the recording is Dr. Mona Hanna-Attisha's turn as featured faculty speaker. (Mona starts at about minute 51.) Not only did she crush it, but if you are not roused to action by her speech, ponder whether you have been surreptitiously pithed.
The excitement of students' mass return to the East Lansing campus takes a bit of the sting out of the end of summer. I noted this morning that the maples that line Shaw Lane are starting to develop fall colors! Fall is coming, but word to the wise, the next few weeks are a great time to enjoy the state's natural wonders. Most folks have returned to the routine of school and work, but the days are warm, the nights are cool, and the lakes are lovely – there are all the benefits of summer with fewer people. My best trips to Nordhouse Dunes Wilderness Area have always been in September, when it is more quiet, but the backpacking is still comfortable.
As the summer has progressed, one of our programs has come to the aid of physicians and other prescribing health care providers. Beginning last June, congressionally obligated MATE (Medication Access and Training Expansion) training has been required of practitioners with a DEA license. That training is now available for free through MICARES, led by our own Cara Poland, MD, and with free CME (certified medical education) from the College of Human Medicine. You can find this resource at the MICARES enrollment website; under "other" there is a check box for "MATE-ACT Learner."
MICARES helps expand training in care addressing additions to improve the lives of patients and their families as well as reduce deaths from overdose. The MICARES programs help expand the number of physicians who can provide these services while in their community and without going away for a fellowship. This program is one way the college can support our colleagues, our faculty, and help expand access to those who need care and our service.


Serving the people with you,
Aron

Aron Sousa, MD, FACP
Dean
---
Archives: