Dean's Update
August 18, 2023 - Aron Sousa, MD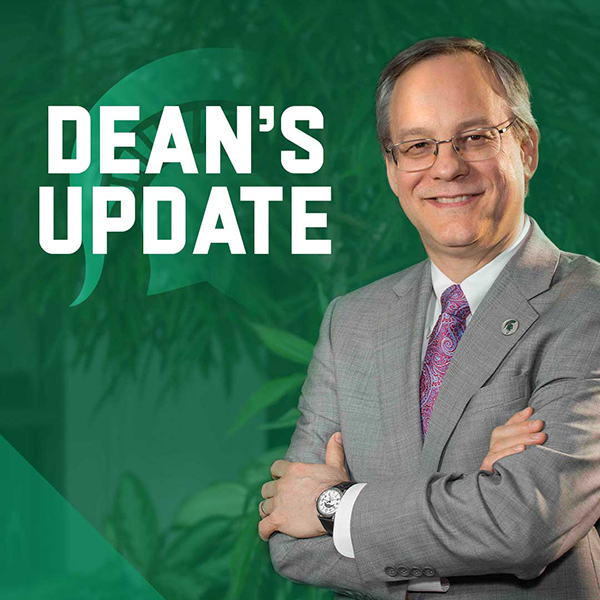 Friends,
Our White Coat Ceremony is tomorrow. Students begin their College of Human Medicine careers as they finish, walking before the community in a special place where a future colleague adorns them with clothing very specific to their future role in life. That sentence could describe the transition ceremonies of countless cultures over human history and to students and faculty of any era.
To be sure, medical school is a lot of work: some of it deeply emotional, some drudgery and toil. Oh, but that work astonishes. Life is the most astounding feature of the universe, and the study of life and the lives around us animates me. Emerson writes of the study of the world, what he calls the "other me," as, "Its attractions are the keys which unlock my thoughts and make me acquainted with myself. I run eagerly into the resulting tumult."
To spend time developing our brain and understanding the world is one of our basic needs and should be one of our most persistent appetites. From the beginning, babies are explorers, and we should hang on to that curiosity, which can carry us when little else can.
Astonishing as life is, understanding it, to the extent we do, is work. It is not possible for everything to be fascinating all the time, and we cannot afford to be fascinated all the time – we do have to get work done. If, however, all our work becomes toil, we will wear out, and we will not meet the person across from us with the required interest and respect. Here is the great power of curiosity: our interest in the "other me" inherently shifts our focus away from ourselves and our struggles. Like gratitude, curiosity opens us to the "other me[s]" all around us, whether we need to focus on a patient, a friend, a lover, or the bugs and drugs we need to know for patient care. Curiosity is always there for us, in the part of the brain we share with other curious creatures, in a part of our brain we have used from the beginning.
Over the last few weeks, there has been a story all over the news about the curious discovery of the first observatory on campus. I love this story. People from MSU facilities were putting in posts to support hammocks, and they hit a rock foundation as they were digging. They were curious and contacted our archaeologists. Soon archaeology students sorted out that the facilities workers had found the foundations of the first observatory on campus, and students will excavate it next year. The news stories always include fun archival pictures of the observatory.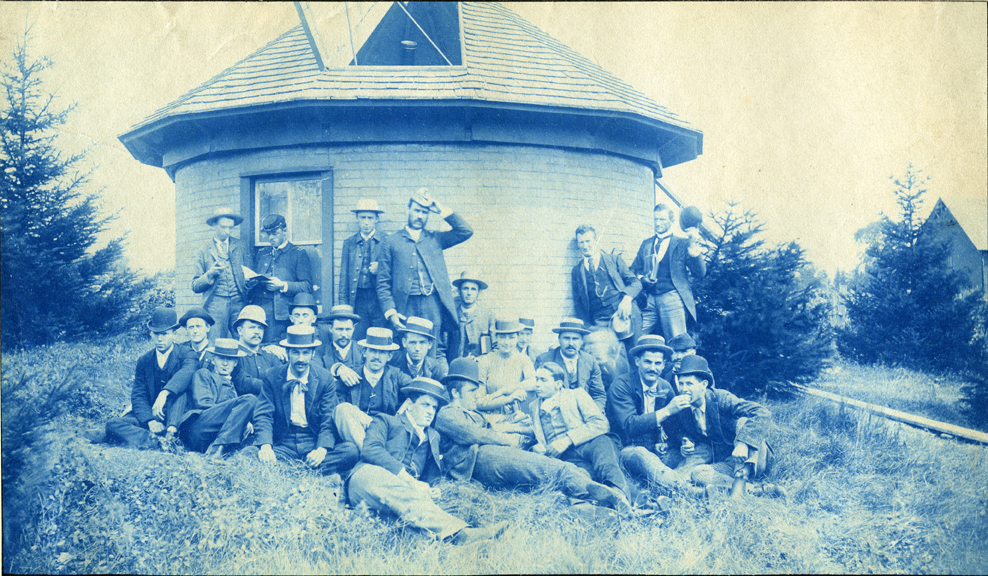 I've spent time with one charming picture from around 1888, which documents the old Michigan Agricultural College observatory and a tumult of students. At the base of the round, brick building are twenty-five young White men, including gents leaning on each other, one in an army uniform, one being fed by another, there's a ghost, a variety of hats, mutton chops, and one women of perfect posture, her left arm resting on a book clasped in her right hand, and the slightest smile I take as knowing and, I'd like to imagine, ever so slightly arch. I want to know her name and what became of her.
Like the men around her, she was privileged to be at MAC learning about the world. No doubt she had to work harder, be more talented, and be less silly than the men in order to be successful. In this way she is no different than the majority of our students, who come from a disadvantaged background. But she is there, ready, and game to be curious, and clearly very much in charge of herself. Regardless of the challenges or the drudgery, to my eye she is all in for the tumult.


Serving the people with you,
Aron

Aron Sousa, MD, FACP
Dean
---
Archives: