Dean's Update
August 11, 2023 - Aron Sousa, MD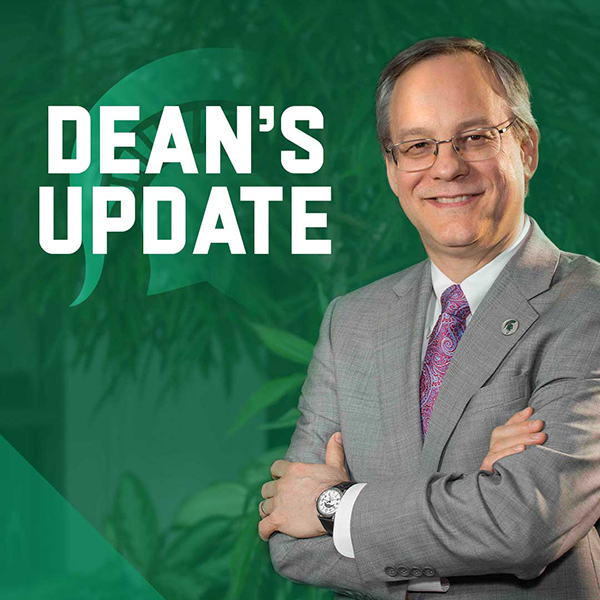 Friends,
I started the week in one of the best ways possible, welcoming a new group of students to the College of Human Medicine. On the first day of orientation, all 190 students come to East Lansing to meet each other and some of the leaders of the college in LS133. All our alumni will know that room, and no matter when you went to CHM, the room looks now as it did when you were here. When Marsha would welcome the class, she would point to "her chair" in LS133, then Norm did that when he was dean. I don't have a chair in LS133, but our associate dean for undergraduate medical education, Robin DeMuth, MD, does have a chair in LS133, down front, and each year in her comments, she shakes the hand of the student in that seat.
I use those comments as a time to introduce myself as an internist and educator, but mostly I talk about the College of Human Medicine, and the good work the college does in the world through the remarkable achievements of our students, alumni, staff, and faculty. We improve the world through the advocacy of students like those in Scrubs Addressing the Firearm Epidemic, MSU Street Medicine, and rural health care. We improve the world through recent discoveries in glioblastoma and the inequity in cancer burden. We graduate one of the most broadly diverse medical school classes in the country, and our graduates work in underserved urban and rural communities. We are delighted to have this new class of students and they are delighted to be at the college.
Last week, I sat in construction traffic as I tried to move across the state. This week I crawled behind Amish horse drawn carriages as I worked my way to Big Rapids. A small group of us went to Big Rapids to visit with leaders of Ferris State University including, President Bill Pink, PhD, and Provost Bobby Fleischman, JD, EdD. Our college has partnered with the Ferris College of Pharmacy for many years, and I have worked with their dean, Steve Durst, PharmD, since I began in the dean's hallway in 2005, when both of us were associate deans responsible for our colleges' educational programs. Our MS3 students in many communities round with the fourth year Ferris PharmD students during the internal medicine rotation. It is one of the most successful interprofessional educational experiences we have. It was a great visit and the opportunities for an Early Assurance Program, additional medical school admissions opportunities, and faculty collaborations are exciting.
And as I close, I thought to give you an update on the work of one of our amazing faculty. Teresa Woodruff, PhD, and her co-authors won the 2023 award for the best research in the journal Reproduction for a paper describing the isolation and activation of primordial ovarian follicles. Lest you think that is all Teresa is up to, she is PI on a new $471K NSF grant "to build inclusive and equitable work cultures that attract, retain, and advance women in STEM discipline, focusing especially on under-represented racial and ethnic minority women and LGBTQAI+ and gender expansive/non-binary faculty who are at higher risk of leaving academic STEM departments." (Also dig that Early Detection Program partner Laura Bix, PhD, of CANR is a co-PI on that grant.) But wait, there's more! Dr. Woodruff was just named to the National Academies' Action Collaborative on Preventing Sexual Harassment in Higher Education as well as the National Academy of Medicine Climate Change and Health Interest Group. Dr. Woodruff's productivity and impact are truly inspiring, especially given her day, evening, and night job serving the rest of us.
Serving the people with you,
Aron

Aron Sousa, MD, FACP
Dean
---
Archives: