Dean's Update
July 14, 2023 - Aron Sousa, MD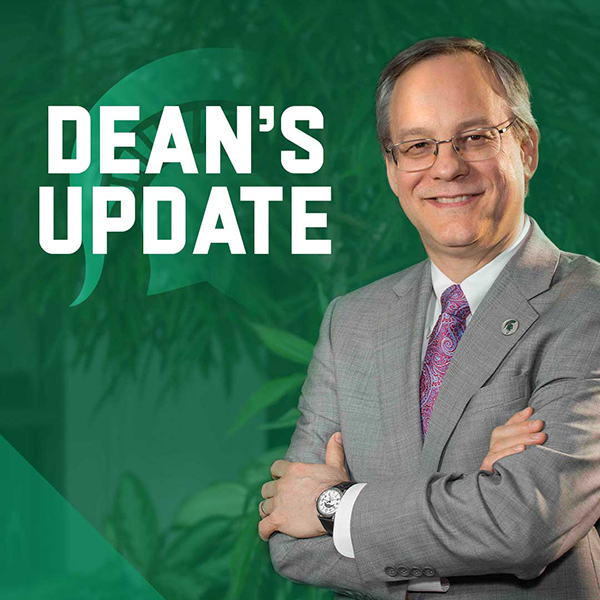 Friends,
This month our new second-year students have begun their Middle Clinical Experience and are off in clinics and wards. The third years, now rising fourth-year students, are studying for Step 2, and July 1 was the start of the year for new residents and fellows across the country. It may be summer, but our students, faculty, and staff are all working hard. There is not a slow time or a summer break for medical schools, but some parts of our work are reduced with the end of the academic year. Summer does drastically reduce the number of evening receptions, weekend galas, and the showier aspects of academic jobs. Fewer night and weekend duties make it easier to work on our summer projects like papers and proposals, gardens and woodshops, the occasional hike, and wandering the internet to discovery that 38 years ago as a I write, this magic happened.

All this work will lead to quite a bit of news in the coming months, but news is slow right now, so this seems like a good time for an update on a series of projects I've not written about in a while:

Our searches and recruiting continue during the summer. I am pleased with our work on the chair searches for the Departments of Medicine as well as Neurology and Ophthalmology. The search committee for the chairs of Physiology, Anesthesia, and the Charles Stewart Mott Department of Public Health are all working through the summer. I want to make sure to announce our search for a senior associate dean for research (SADR). Some time ago, I announced that Dr. Walt Esselman, after many years in the SADR role, has decided to focus on implementation of the Henry Ford partnership in the Office of Health Sciences. Happily, we do not lose Walt with this change, but we are doing an internal search for a new SADR, who will spend very nearly all their time supporting the research programs of the college. Feel free to consider the job posting or forward it on to another MSU faculty member.

The five strategic workgroups (Student Success, Faculty and Staff Success, Research and Scholarship, Healthy Communities, Grand Challenge/Steering Committee) have been meeting this summer, creating tactics that will support our success fulfilling the strategies and associated goals in the plan approved by the faculty last fall. These workgroups are formulating metrics while also clarifying how and when we will complete our work. By fall, these groups will send their work to the sixth work group (the Dean's Advisory Committee on Diversity) for analysis and feedback before the Steering Committee collects the revisions and metrics in time for the Fall Faculty Meeting.

The college's plan calls for "creating…a community of practice" around health equity work, and such a community is a recurring theme and frequently cited need in the conversations of the work groups. I don't mean to get too far ahead of the efforts of the work groups, but I am excited by this concept. Such a network or community will allow us to recognize faculty, staff, and students who are leaders in health equity and help provide guidance, mentorship, and sponsorship of people interested in doing more work in health equity. It looks like we will establish a planning group for such a "community of practice" in the coming months.

Our educational teams have been evaluating a series of potential new opportunities and challenges with the understanding not all investigations lead to eventual programs. The public health education team is evaluating a variety of expansion opportunities this summer for a decision this fall. Our MD curriculum work this summer will have to lead to changes in response to Step 1 as a pass-fail examination. While we can provide better data about our students' performance than nearly all other medical schools, residencies will still fancy a number from the USMLE, and the only board score now available for our students is Step 2, which our students now take at the beginning of the fourth year. This timing makes it hard for students to adjust their fourth-year schedules in response to their Step 2 scores and significantly limits how many electives they can fit in before their residency applications. So, we need to move Step 2 about several months earlier, which means the start of the third year needs to move up, which means the rest of the curriculum has to adjust as well. Some of these plans date back before the pandemic, which completely changed our work streams, and the LCME year, which consumed much of the oxygen in the place.

If, in the course of long summer days, you find yourself in need of excellent infotainment, consider checking out the story of three CHM faculty discovering and treating a new genetic, childhood disease in our June 16 Town Hall or watch last week's Town Hall featuring our students and faculty, who visited medical student colleagues at the University at Buffalo for the one-year commemoration of the Tops Supermarket racist killings. They are both, in their own ways, inspiring stories of dedication and service.
Serving the people with you,

Aron

Aron Sousa, MD, FACP
Dean
---
Archives: