Epidemiologist and physician Nigel Paneth retires after nearly five decades of service 
January 24, 2023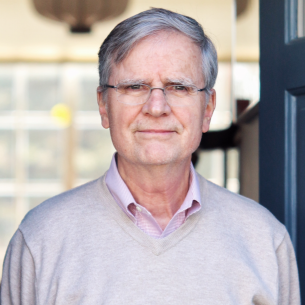 After nearly five decades as a pediatrician and an epidemiologist specialized in studying the causes and prevention of neurodevelopmental disabilities in infants, Nigel Paneth retired – sort of. 
Although he no longer is a fulltime College of Human Medicine professor, Paneth, MD, MPH, continues mentoring medical students and researching childhood neurological disorders, especially cerebral palsy. Despite stepping back from fulltime employment in May 2021, he has been unable to walk away from the work that has occupied most of his life. 
"Thankfully, it's impossible for me to do that," Paneth said. "My work as an epidemiologist and a researcher is part of me. The only thing that would stop me is illness or death. As long as I can make a contribution, I intend to keep going." 
After graduating from the Harvard Medical School in 1972 and during his residency at Jacobi Medical Center in the Bronx, Paneth became interested in understanding the causes of brain injuries in premature babies that occur before and during delivery, often leading to a lifetime of disability. 
"In a small amount of time, a lot can happen that can change the trajectory of a person's life," he said. "I was intrigued by that. I thought I should be able to do something to change that." 
That led him to the Columbia University School of Public Health, where he obtained a master's degree and became an assistant professor of epidemiology and pediatrics. In 1989, Paneth joined the College of Human Medicine as an associate professor of epidemiology and pediatrics. 
When the college created a Department of Epidemiology and Biostatistics, Paneth became its first chair. A few years later, he took on additional responsibilities as associate dean for research. 
In 2009, the Michigan State University Board of Trustees honored him as a University Distinguished Professor, a title reserved for faculty members who are nationally and internationally recognized for their achievements. 
Medical advances usually come in small increments, and Paneth modestly said that when it comes to understanding and preventing cerebral palsy and other neurodevelopmental disabilities in infants, "we did, I believe, contribute a tiny amount." 
In the late 20th century, the rate of babies born with cerebral palsy increased, likely because more premature infants were surviving thanks to improved neonatal care. In more recent years, the rate of cerebral palsy and other neurodevelopmental disabilities in newborns has declined by about 25 percent in Europe, he said, a trend he suspects is mirrored in the United States. 
He has spent much of his career dispelling the myth that cerebral palsy usually occurs when newborns are deprived of oxygen during birth, which often was blamed on physicians. While that can happen, "most kids with cerebral palsy did not have birth asphyxia," Paneth said. "The causes are multiple." 
Brain lesions associated with cerebral palsy can be caused by inflammation, infections, low birth weight, and problems with blood flow to the brain before or during birth. 
Paneth's studies and other research have shown that administering magnesium sulfate during preterm birth can reduce the incidence and severity of cerebral palsy. He has conducted research suggesting that a deficiency in thyroid hormone also is linked to cerebral palsy in premature infants, which could be alleviated by administering a short course of thyroid hormone, a finding he would like to study further. 
Paneth has received countless awards for his work, has served on several national and international advisory committees, and has led or participated in scores of federally funded studies. 
He is co-principal investigator in the Prenatal Exposures and Child Health Outcomes (ECHO) study, an ongoing, federally funded project. He continues working with an alliance of researchers from five Michigan institutions, including MSU, called CHARM (Child Health Advances from Research with Mothers), which includes the ECHO study. 
His goal, Paneth said, is not to treat cerebral palsy, but to prevent it. 
He quoted E.B. White: "Every morning I awake torn between a desire to save the world and an inclination to savor it." 
For Paneth, it is the former. 
"I think that did resonate with me," he said, "because, as a physician and an epidemiologist, the bottom line is, did anything improve? Did we save lives?"