Ellie Gschwendtner: The Parallel Between Ceramics and Plastic Surgery
May 3, 2023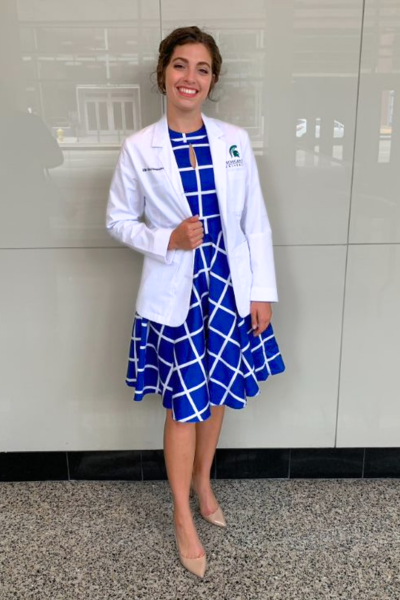 For years, her passion was ceramics, but then Ellie Gschwendtner found a second interest that, to her, is more closely related to the first than you might think.
She is about to graduate from the College of Human Medicine and begin a residency in plastic surgery at Corewell Health in Grand Rapids.
While studying for a bachelor's degree in ceramics at Northern Michigan University, Gschwendtner worked as an anesthesia technician at Marquette General Hospital (now UP Health System-Marquette), where she watched a plastic surgeon at work.
"Moving tissues and shaping tissues was so similar to ceramics," she said. "I was so intrigued by that."
She concedes the two pursuits might seem like an odd combination, but she believes her experience in ceramics will make her a better physician.
Her road to medicine, she believes, began with a family tragedy. When she was 8 years old, her father, an air traffic controller at O'Hare International Airport, died of a heart attack at the age of 39.
After his death, her family, including two younger brothers, struggled financially.
"I'm not sure how my mom managed," Gschwendtner said, but she somehow did.
As the first member of her family to graduate from college, Ellie, herself, worked as a restaurant server, a lifeguard, a hotel concierge, and a variety of other jobs. After graduating from Northern Michigan and before starting at the College of Human Medicine, she taught English in South Korea and studied ceramics in Italy.

She concedes she once had a stereotypical view of plastic surgery.
"I thought it was mainly nose jobs and boob jobs," she said. "The whole reconstructive part of plastic surgery is something that most people don't know much about."
While other physicians save lives by removing cancerous tumors or fixing defective hearts, plastic surgeons can help rebuild a face disfigured by an accident or cancer.
"I think the way people feel about themselves is equally important," Gschwendtner said. "How am I going to give this person's life back? It's such a life-changing thing for a patient."
That includes patients far from big-city medical centers, which is why she enrolled in the college's Leadership in Rural Medicine program, completing her last two years in Traverse City.
"Rural areas are pretty much short of any kind of physicians," including plastic surgeons, she said. "With the variety of cases, especially in a rural area, you can really make an important difference in someone's life in so many ways."
She still enjoys ceramics and sees another parallel with plastic surgery.
"Every time I was in the studio, I felt calm," Gschwendtner said. "Being in the OR feels like being in the studio."