Dean's Update
October 7, 2022 - Aron Sousa, MD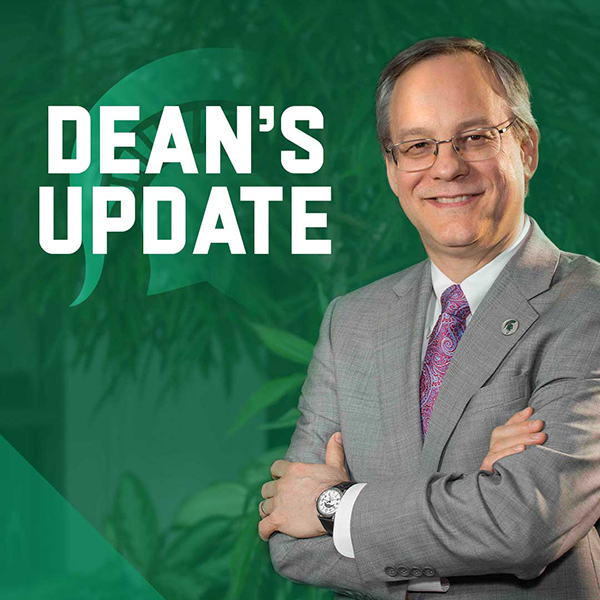 Friends,
Last week the college lost one of its stalwart leaders and teachers with the passing of Margaret "Peggy" Thompson, MD, at home and surrounded by her family. Peggy started in the college by precepting students before becoming the community assistant dean for Grand Rapids. She went on to be an associate dean in Academic Affairs and led us into the Secchia Center. She was always respectful and sage, but she was also willing to take a principled position. She constantly made the college a better place for patients, students, faculty, and staff. Peggy was a light when it was darkest and lifted all of us when we were down. I miss her and grieve her loss as so many of us do. She is gone way too soon.
When Peggy retired last spring, her colleagues created a scholarship in her name. We asked her to describe the kind of student she would like to see receive this scholarship, and she wanted it to support a future generalist with a "go anywhere" attitude. You can read about and support Peggy's scholarship here along with other tribute funds of the college.
Also last week, the National Hispanic Science Network held its 22nd Annual International Conference at the Secchia Center. The conference's focus was "Biological and Social Determinants of Drug Use: Addressing Hispanic Health Inequities in the Age of COVID." The first panel presentation focused on Hispanic health in the community and included representatives from Clinica Santa Maria, Exalta Health, and the Hispanic Center of West Michigan. The organizers were extremely pleased with how the conference went, and I really appreciate all the people from the college and Experience Grand Rapids who helped host the events.
It is no accident this conference falls during National Hispanic Heritage Month, which celebrates the contributions of the Hispanic community in our local and larger society. The college and its alumni have a long history of these contributions.
Engaging with Hispanic communities is an essential part of our work. We are a community-based medical and public health school and always will be. Connecting to community is core to our educational programs and anchors more and more of our research. Our community-based participatory research focused Division of Public Health in Flint is clearly all about community engagement, but a growing number of our bench scientists are moving in this direction as well, including Irving Vega, PhD, Red Cedar Distinguished Faculty, who has expanded his bench work in Alzheimer's Disease to community-based science with the Hispanic community in West Michigan.
Dr. Vega, in the Department of Translational Neuroscience, draws upon his own experience in a Puerto Rican program that helped him, and others underrepresented in the field, to pursue a career in neuroscience research. You can read about Dr. Vega's great work with the ENDURE program. You also can read about Dr. Bierema (CHM '84) and her pediatrics practice in her own words; and read about the aspirations of one of our first years, Joseph Mariscal.
Our LANAMA (Latin American and Native American Medical Association) students have been hosting events throughout the month. They are very active with the Midwest Latino Medical Student Association (MLMSA) and will be hosting the Midwest LMSA in Grand Rapids in February.
Engaging in this kind of community-based science, especially with strong links to traditional bench science, has the potential to address long-standing, systematic biases in the science currently available to further advance the health of minoritized populations. You can expect that our strategic plan will have focus on community-engagement and addressing health equity as key areas of attention.
One specific, strategic project designed to expand this work is the 1964 Project, which will support department hires of faculty who will expand our scholarship related to diversity, justice, inclusion, and equity. The funding for these positions comes from the package I negotiated when I took on the "less interim" dean's role last spring. This is the
formal launch
of the 1964 Project, which has been created in collaboration with the college's new Dean's Advisory Committee on Diversity. I appreciate the work of the committee in helping design the program and look forward to reviewing proposals. You can read about the project, the timeline for submissions (due November 30), and the review process (complete by mid-January 2023) at the
1964 Project page
. I am excited by this project and anticipate the great work these faculty will do in service of our communities.
Serving the people with you,
Aron
Aron Sousa, MD FACP
Dean
---
Archives: