Vega Honored with Red Cedar Distinguished Faculty Award
August 30, 2022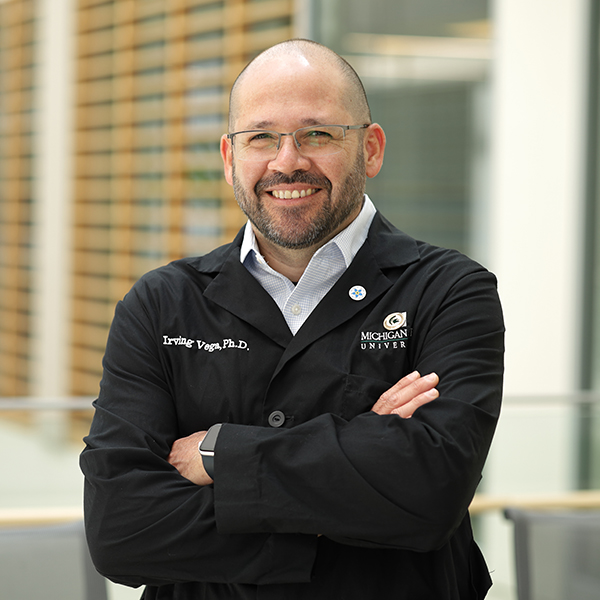 Out for a run in San Juan, Puerto Rico, where he had given a presentation about his Alzheimer's disease research, Irving Vega paused to check a message on his phone.
That is when he learned the College of Human Medicine would honor him with the title of Red Cedar Distinguished Faculty. In the email, Dean Aron Sousa praised Vega not only for his research into the causes of Alzheimer's, but for his engagement with the community.
"This award is humbling," said Vega, PhD, an associate professor of translational neuroscience. The honor, he added, not only affirmed his laboratory research, but his efforts to bring his findings closer to the community.
Medical researchers often talk of taking their work "from the bench to the bedside."
"I believe that's too late," Vega said. "There is a lot of research we can put in the hands of the community so they can make decisions about their health and understand what the risk factors are."
Eating a healthy diet, exercising, staying socially active, and avoiding smoking and excessive alcohol use all can reduce the risk of Alzheimer's, he said.
Vega has spread that message throughout the community, particularly among African-American and Latino residents, who are at higher risk for developing Alzheimer's. Other factors in minoritized and marginalized communities – including racism, lack of access to healthy food, and pollution in low-income urban areas – contribute to the disproportionate incidence of Alzheimer's, he said.
Since the start of the COVID-19 pandemic, Vega has stepped out of his laboratory to promote testing and vaccination in minority communities.
In his lab, he studies the pathobiology of Alzheimer's disease, particularly how the accumulation of a protein called tau causes the death of neurons, leading to Alzheimer's and other neurodegenerative diseases.
"It's important in academia to train the next generation, to reach out to the community, and to generate new knowledge," Vega said. "I hope receiving this award sends a message that we cannot stay at the bench. We need to engage more with the community."