Dean's Update
September 2, 2022 - Aron Sousa, MD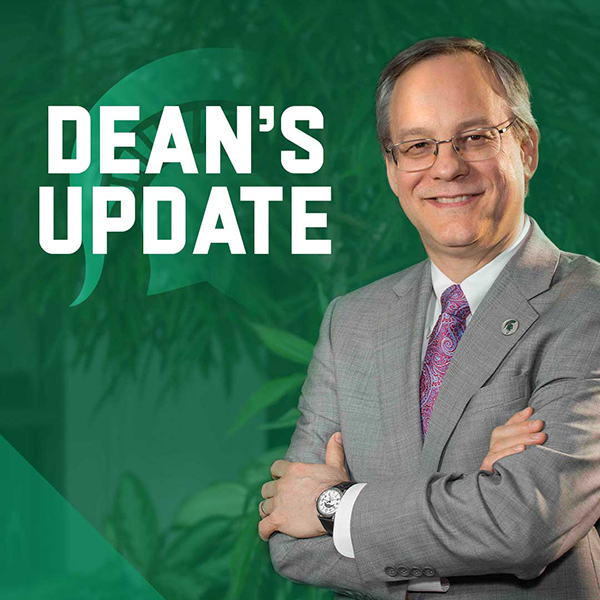 Friends,
If, at some point in your career, you get the chance to run a medical school, one of the fun parts of the job will be meeting the people who make your school special. Now that summer has begun to give us the slip, I've started a bit of a "meet the new dean" tour of campuses and one-on-one meetings. For deans new to the job and the institution, this typically occurs shortly after they arrive. Since I am not new to the job or the college, we have waited until after summer vacations with some additional hope that omicron would settle down a bit.
On Wednesday, I had the pleasure of visiting our Southeast Michigan campus, based out of Ascension Providence in Southfield and Novi. I met with students, clerkship directors, and hospital leaders including our new community assistant dean, Basil Abdo, MD, and their director of medical education, Abdul Sankari, MD. It was a great visit, and it was delightful to be with partners we have only seen on Zoom for the last few years. The campus is going very well, and through partnerships with Dawn Misra, PhD, our chair of Epidemiology and Biostatistics, there are now parts of three NIH studies with our faculty at Ascension Providence.
The importance of outreach and visits in our communities became evident when I met with a Lansing politician, and they thought the college had moved to Grand Rapids back in the aughts. So, we have redoubled our efforts to educate the metro Lansing community about the college.
I realize most of you are part of the choir and know what is going on with the college, but here's a quick refresher on our Lansing campus. First off, we are still very much in Lansing. Last week, 95 new medical students (half of our class) began their medical education on the south side of the East Lansing campus. These students do longitudinal rotations in Lansing area primary care clinics during their first year. In the second year, these 95 students will complete nearly all their clinical rotations at Sparrow Hospital. Sparrow has been a great educational partner for these rotations, and our students receive wonderful experiences in adult wards, pediatrics, nursery, emergency medicine, women's health, nutrition, pharmacy, nursing, respiratory therapy, social work, and palliative care. About 18 students stay at Sparrow for their third and fourth year. (Generally, the students at the new Lansing McLaren are from the College of Osteopathic Medicine.) Overall, we have the same number of students in the Greater Lansing area as we did before we began the Grand Rapids class expansion in 2007.
But, wait! There is more. When you are out and about, feel free to let people know about 60% of our NIH funding is brought in by faculty based in East Lansing/Lansing. It is true we have great growth in Flint and Grand Rapids, but the majority of our NIH work and research is where we have always been. We also have about 100 clinicians caring for patients in Lansing (again, mostly at Sparrow). In fact, we do not have a clinical practice anywhere except Lansing. We are not a huge practice, but we provide a range of essential services in the community like neonatology, neurology, stroke care, adult in-patient medicine for patients without a primary care physician, biliary surgery, vascular surgery, endocrinology and endocrine surgery, infectious disease, cancer care, and a range of other specialties. I'm sure I have said this before, but I want the Lansing community to know we serve them and are focused on helping the community develop stronger health care and a more vibrant intellectual economy.
A core part of our work in the Lansing area is in the basic science departments we share with other colleges on campus. One of those departments, the Department of Biochemistry and Molecular Biology (BMB), is moving through the preliminary stages of its search for a new chair. While we are completing the search, I am happy to report Tim Zacharewski, PhD, has been appointed interim chair. Dr. Zacharewski is a professor in BMB and the Institute for Integrative Toxicology. He is well funded by the NIH and has really stepped up to help bring the department through the last stages of the search. Being an interim is never easy, and I am so happy he has agreed to take on this role for us.
Campus is humming with students this week, and it still seems novel to have so many people in classes and filling the sidewalks. Naturally, with the influx of people, we have had some increase in COVID cases among students and faculty. Even though MSU is no longer mandating masks, for people who have been exposed, or out and about after 5 days of isolation following being sick with COVID, masks are the considerate thing to wear as we protect each other.
For most of us, having COVID means feeling crummy and losing time at school or work. Hospitalizations are stable across the country, as are deaths; however, deaths are stable at about 500 deaths a day, which is still pretty astonishing. If that rate keeps up, COVID and stroke will kill similar numbers of Americans this year. Think about wearing masks when you are around people at risk or if you think you have been exposed, just to be a good neighbor.
Serving the people with you,
Aron
Aron Sousa, MD FACP
Dean
---
Archives: