Dean's Update
March 25, 2022 - Aron Sousa, MD
Right: Aron signs his offer letter on the Looking Glass River. Photo credit: Alice Dreger.
Friends,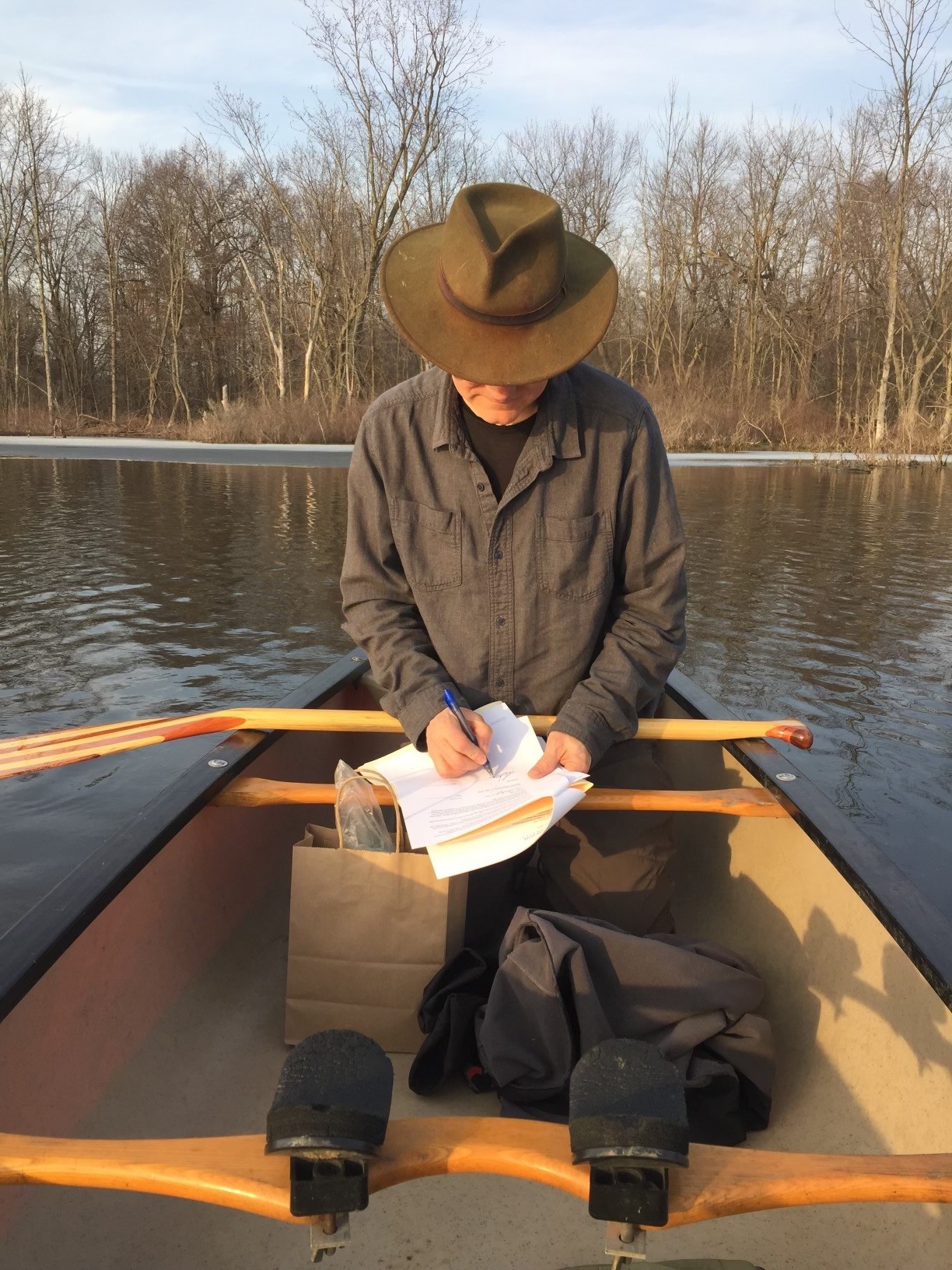 Late last week, I had the pleasure of signing my letter of offer for the deanship at the Michigan State University College of Human Medicine. By now, you all know how special I think the college is. In the last fifteen years or so, our people have demonstrated how science can make communities safer and more sanative, how to advance curricula using the best available evidence, and how to expand opportunity and the diversity of the health care workforce.
Our scientists have expanded their work and recruited colleagues such that we have leading scholars in many fields. While we have done all of this work, our people have been essential care providers in communities across the state. In the metro-Lansing area we are the backbone of primary care and primary care teaching. And across many specialties and sub-specialties, our teams provide care otherwise unavailable in the area and at consistently high-quality levels.
Many have asked me, "what will change when you are the regular dean?" I do not expect much to change with the change in title. Over the years, I have done my best to ignore the "interim" prefix, and besides, when it comes right down to it, everyone who serves at the pleasure of the person they report to is an interim. The college and its people are very special to me, and it is a delight and honor to be your dean, with or without the interim modifier.
Although the search is over, some parts of the transition are a little confusing, particularly the titles. So, let me lay out the timeline on the dean-ish titles:
Until the end of March, I continue with the interim title
On April 1, I become the dean designate, and then
With a vote of approval of the Michigan State of University Board of Trustees, "dean designates" become "dean". The next board meeting is April 22.
While I claim not much will change, finishing the dean's search does make some of my work easier. The strategic planning work is clearer knowing who will be the dean; and, with few exceptions, I have generally held off searching for chairs and some dean's office positions until the conclusion of the search. Now that applicants have a better sense of who they will report to in the longer term, I will begin preparatory work for more chair and associate dean searches. Over the next several weeks, I will spend some time in these updates writing about these searches and my proposed next steps for the college.
This week, the college faces a couple of big personnel transitions. And, while I very much wish these people were staying at the college, their opportunities are too big for our colleagues to pass up. I hate to lose people, but I am very happy when our people are successful. Part of being a great institution is helping prepare people for their next great opportunity. Hopefully that opportunity is with us, but if it is not, then a happy and active CHM diaspora is to our benefit.
I'll start with our stellar Director of Operations, Brian Jespersen, who has taken a remarkable offer from UCLA to be a key part of their strategic grand challenge addressing depression across the world. Brian has been a great leader for us managing our space, security, buildouts, and key parts of the saliva collection logistics for the MSU COVID-19 Early Detection Program. We have turned to him for many special projects, and he has been a great contributor to our success. In a sign of the new world order, Brian will be working for UCLA but will continue to live in Laingsburg. Brian did so much good work for us across many areas, and we will have to dig deep to pick up the pieces. Per Brian, "MSU and CHM taught and reinforced tackling the big challenges of the day, while serving the underserved, under-represented and those in need, which is what I am heading off to help do." This is a great opportunity for Brian, and I am very happy for him and his family.
Next. During my first stint as interim dean, I had my first meeting with Debra Furr-Holden, PhD, over glasses of wine in Washington, DC. The college was recruiting her from Johns Hopkins to be one of our first CS Mott Professors of Public Health. As you can imagine, she was passionate about Flint, where she lived briefly as a kid, and public health, which she lives and breathes. We did recruit her, and she has gone on to be director of the division of public health and the associate dean for public health integration. And now, she will be the dean of the New York University School of Global Public Health. That is a great job, and I am so happy for her. She is working toward smooth transitions for her programs and plans to keep an adjunct role with our public health team. Her outreach in the community, partnership with the NIH, and collaboration with local, state, and national governments have been outstanding. Her leadership and faculty recruitments have been key to the success of our division and our next opportunities. To be sure, we will not really fill Debra's shoes, but we will continue to grow and recruit, and Dr. Furr-Holden will go on to new successes as a partner of the college and people of Flint. We will miss her, but we will have a friend at 4th and Broadway.
When you apply for a job, usually someone asks you a version of the question, "why this, why now?" Here's a piece of my answer. The College of Human Medicine has a near 60-year legacy of advancing broadly understood social justice, health, and opportunity through innovative education, expansive science and scholarship, dedicated clinical care, and work with and in communities of our state. We were founded to make a difference for those people who did not have ready access to the broad benefits of academic medicine. We now have innovative education programs across the state and NIH level science in four (soon five) campuses. We are at the cusp of new growth and innovation across multiple missions – this is an exciting time at the college, and I am delighted to be at your side…
Serving the people with you,
Aron

Aron Sousa, MD
Interim Dean