MSU Grand Rapids Research Center
PROJECT UPDATE: April 12, 2017
Steve Heacock, Senior Vice President of Public Affairs and Research at Spectrum Health, discusses collaborations with Michigan State University, the importance of tying together research and patient care, and how the Grand Rapids Research Center fulfills this vision.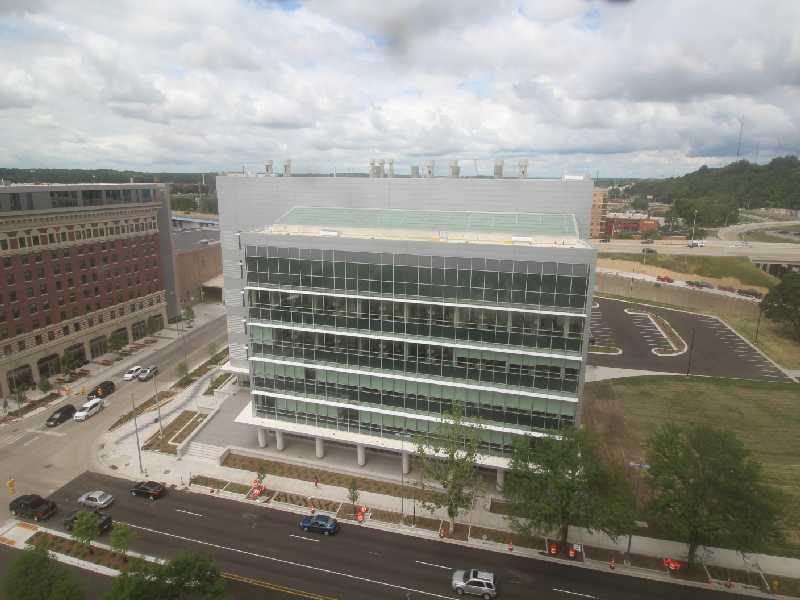 Mobile users: Download the OxBlue App, use Openlink and type "MSU/GRRC" (no spaces).

PROJECT UPDATE: March 13, 2017
Dean Norman J. Beauchamp Jr., MD, MHS, speaks to the importance of having a great project director for building a research center of this magnitude, while Project Director Dick Temple discusses the construction progress of the Grand Rapids Research Center.
PROJECT UPDATE: FEBRUARY 13, 2017
Dean Norman J. Beauchamp Jr., MD, MHS, congratulates Peter F. Secchia for his and Rich Devos' award from the Grand Rapids Business Journal. Secchia and Beauchamp then discuss the importance of the MSU Grand Rapids Research Center and how community collaboration makes everything possible.
PROJECT UPDATE: JANUARY 12, 2017
PROJECT UPDATE: January 3, 2017
HAPPY NEW YEAR! Construction for the Grand Rapids Research Center continues on time and on budget. Watch for an update next week from College of Human Medicine Dean Norman J. Beauchamp Jr., MD, MHS.
PROJECT UPDATE: May 23, 2016
More than 100 Clark-Rockford construction workers received new work boots as Wolverine brought its national Project Bootstrap campaign to the downtown MSU Grand Rapids Research Center construction site. Wolverine outfitted all crew members on the site with free Wolverine work boots and apparel, as well as other giveaways and breakfast.
PROJECT UPDATE: May 6, 2016
Gifts of $15 million - $10 million from Richard and Helen DeVos and $5 million from Peter and Joan Secchia - will help construct the Michigan State University Grand Rapids Research Center. 
"Michigan State's research enterprise is ushering in a whole new era of medical discovery and there is no place we'd rather see that happen than Grand Rapids," said Rich DeVos. "Helen and I are proud to be a part of it."

Peter Secchia notes that the addition of a Big Ten research facility in Grand Rapids creates a new level of opportunity that he believes will move the economic needle in West Michigan.

"MSU is a proud member of the Big Ten's Committee on Institutional Cooperation, which is responsible for more than $10 billion in funded research — far more than the Ivy League's $4.3 billion. The center will help to tap into this network on a deeper level and expand the medical research agenda. It will be a magnet to attract business in the life sciences and growth in biotechnology. Joan and I are really excited to be a part of it," Secchia said.

Construction for the MSU Grand Rapids Research Center continues to be on time and on budget. The center is expected to open late 2017.
WHY A NEW LABORATORY BUILDING?
The Grand Rapids Biomedical Research Building will allow the College of Human Medicine to advance its trajectory of NIH-funded research growth. In 2010, MSU College of Human Medicine opened the Secchia Center, a $90 million privately-funded facility constructed specifically for medical education and not designed to accommodate research laboratories. This was part of a long-range strategy that involved MSU partnering with Van Andel Institute and Grand Valley State University to lease laboratory space to support new NIH-funded researchers recruited to Grand Rapids. Through December 2014, the medical school has recruited 18 principal investigators (PIs) and their scientific teams to West Michigan and now fully occupies all desirable laboratory space available to MSU in Grand Rapids. Over the next two years, college anticipates recruiting another 6 to 9 additional PIs, for a total of 24 to 27 – plus their research teams.