Dean's Update
September 23, 2022 - Aron Sousa, MD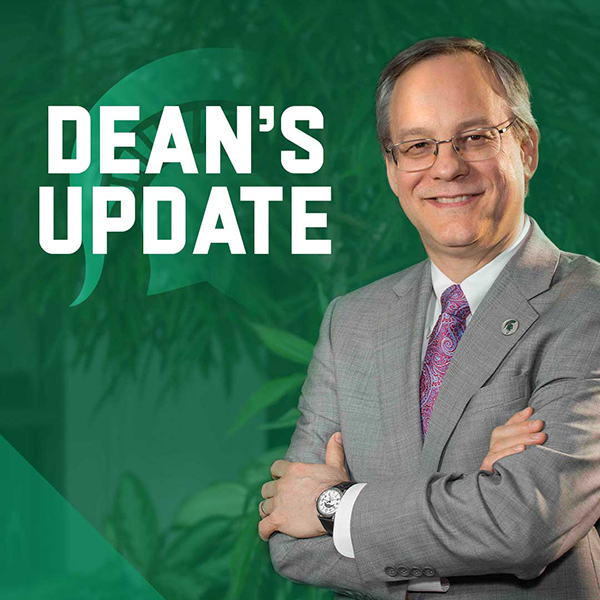 Friends,
Big week. Big alumni week. Today, I had the remarkable pleasure to join about 70 alumni for an in-person Dean's Town Hall. I had so much fun with the alumni on the panel, in the room, and our friends online. That said, I am not ready to be a TV host.
Later this evening, we will celebrate Farhan Bhatti, MD (CHM '12) who is this year's recipient for the MSU Young Alumni Award. Dr. Bhatti is the CEO of Care Free Medical in Lansing, near the old St. Lawrence hospital. Care Free Medical is focused on providing care to the uninsured and underinsured in our community. Our students, residents, and faculty work with Dr. Bhatti, and it has been a great opportunity for clinical and service learning for our students. Dr. Bhatti is an inspiration for so many in the Lansing area, including our students and me. I am delighted the university is recognizing his work. Congratulations and thank you, Farhan!
This is the 50th reunion of our first, four-year graduating class. For those of you thinking about our timeline, the college was founded as a school working its way toward accreditation in 1964. And for the first few years, we admitted students for the first two years of medical school before they transferred to other schools for their clinical training. But in 1968, we admitted our own students for the full four years of medical school. It is this group of people who graduated as our first class in 1972, and who were welcomed back to East Lansing this weekend for their 50th reunion.
I also met with the alumni board today, and I am pleased with our progress as led by this board and Marci Muller, our director of alumni and donor relations. Last year was our best year ever for scholarship fundraising, and nearly all that success is due to the generosity of our alumni. Each year we recruit a group of wonderful students, but competition for students is increasing. More schools think broadly about their student body than in the past, and many schools are using philanthropy to reduce or eliminate tuition costs. The state does not fund us like it used to, and closing the gap is about helping our students and competing for the kind of brilliant, dedicated, engaged individuals we have admitted for our entire history.
If you are not going to the Alumni Banquet tonight, consider going to Brews and Views this evening. During this iteration of Brews and Views, Asgi Fazleabas, PhD, from Ob/Gyn and Reproductive Biology, is moderating a conversation around Reproduction in a Dish: The Science and Ethics of IVF & Artificial Wombs with panelists Jennifer Carter-Johnson, PhD, JD, College of Law, Richard Leach, MD, Department of Obstetrics, Gynecology and Reproductive Biology, College of Human Medicine, Leonard Fleck, PhD, Center for Bioethics and Social Justice, College of Human Medicine, and Margaret Petro°, PhD, Department of Pathobiology & Diagnostic Investigation, College of Veterinary Medicine. Brews and Views is a collaboration of the Institute for Quantitative Health Science and Engineering and the Center for Bioethics and Social Justice. You can find the Brews and Views on September 23, 5:00 - 6:30 p.m. in the Atrium of the IQ Bldg. (Bioengineering Bldg.), 775 Woodlot Drive. To have BYOB views, attend by Zoom: 914 947 13495, passcode: BNV.
Next week, the dean's update and the town hall are getting a pass as I travel to India with colleagues from Henry Ford Health. They already have existing partnerships there and I'm excited to meet with new potential partners and collaborators for the college. Both the update and the town hall will be back October 7.
This past Wednesday evening, the college celebrated the initiation of the College of Human Medicine Department of Anesthesiology and the appointment of Michael Lewis, MD, as our interim chair of the department. We were joined by incoming faculty and colleagues at Henry Ford Health, and I appreciate people driving to the event from Grand Rapids and Lansing to help celebrate. I've already announced these events, but it was delightful and useful to get together with colleagues to celebrate progress and work on the future.
Every day our people make the future better for a patient, a student, a community member. Meeting with our alumni makes clear just what a difference the college has made to the people of our communities, in science, and to the world. My deep thanks to the staff, faculty, and students over the years – you have made the college a force for good in the world.
Serving the people with you,
Aron
Aron Sousa, MD FACP
Dean
---
Archives: