Dean's Update
August 6, 2021 - Aron Sousa, MD
Friends,
This week I had the pleasure of gathering with the good folks in Academic Affairs to recognize and celebrate ten colleagues who retired over the course of the pandemic. We gathered outside at Fitzgerald Park in Grand Ledge, which was lovely and remarkably mosquito free if not quite as centrally stationed between Grand Rapids and East Lansing as our more usual midway gathering ground, Portland's Wagon Wheel. The park was delightful, and the people, as always, were the absolute best!
As you all know, I have worked in Academic Affairs since 2005, with a few years out here and there for various interim duties. Some of our retirees have been at MSU for nearly 40 years – these are people who have run admissions for thousands of physicians; staffed curricula, campuses, and simulation; written curricula and taught thousands of students; and led national organizations and supported colleagues around the country and particularly here at MSU. Happily, some of these folks are hanging around a bit to help us out (thanks, Brian!).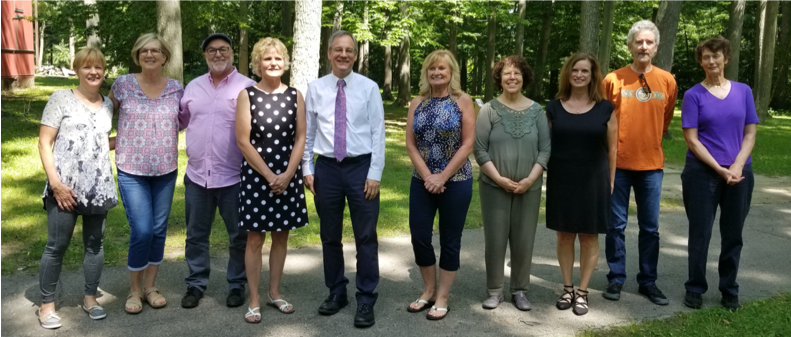 Starting Monday, August 9, our new Early Clinical Experience students begin their in-person, masked, vaccinated or soon-to-be vaccinated orientation to the College of Human Medicine. While Student Affairs and the UME offices of Academic Affairs do all the work on orientation, I will put on my mask, coat and tie, find some presentable shoes, and welcome these students to the college and the profession. Orientation runs through August 20, and on August 22, we will be together again for a masked White Coat Ceremony in Grand Rapids with a small, hard working group of coaters.
Our MCE students have been in clinics, simulation, and virtual groups since the start of July, but soon they too will be doing their small and large groups in person. I had the pleasure to do large group sessions on sodium/water and calcium/magnesium/phosphorous the last two weeks – the students and my colleagues were very patient with me and my drawing skills. It will be so good to have the classes in-person again. The MSU vaccine and mask mandate make it much easier for us to approximate a normal fall semester.
And more:
Later this month, the College Advisory Council has its first meeting of the year, and this semester there will be important work for the CAC to do regarding departments, our partnership with Henry Ford Health System, and initial work on the college's strategic plan.
This will be the first year for the college's new Dean's Advisory Committee on Diversity, which will begin this fall. Be on the lookout for the call for nominations and consider nominating a colleague or yourself.
Because clinical sites are requesting vaccination verification, the college will be collecting vaccine information from students in addition to the university attestation that is required of all MSU staff, faculty, and in-person students. Students will soon get the college survey. Check out the university

 

FAQs

 

on the vaccine and mask mandates.
While MSU has a mask mandate, I encourage you follow the CDC guidelines to wear a mask when you are indoors and in public if you are in a county with "substantial or high" levels of COVID-19. As of August 5, the number of Michigan counties in these categories is increasing – Kent County is "moderate" and Ingham County is "substantial." At last week's Town Hall, a participant asked in the chat for evidence that masks work, and I refer anyone interested in that question to the CDC's impressive collection of community based studies.
As always, wash your hands, wear a mask indoors in places with substantial or high COVID-19, be vaccinated, and get your adolescents vaccinated.
Serving the people with you,
Aron
Aron Sousa, MD
Interim Dean