Dean's Update
April 1, 2022 - Aron Sousa, MD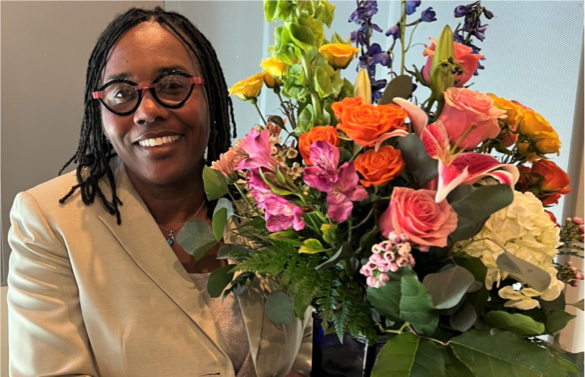 Congratulations to Linda Cornish, recipient of the 2022 Jack Breslin Distinguished Staff Award!
Friends,
This was a week with a lot of news in it, so let's just get straight into it.
I had the pleasure to meet with the Dean's Staff Advisory Committee, which helps me learn about the interests and concerns of the people who make the college run, our incredibly talented and dedicated staff. They had a number of questions/concerns about the reductions in MSU retirement contributions in their contracts, the evolving remote work planning, the college's strategic planning process, and the pace of posting positions, among other topics and questions. I did my best to provide answers, and we will return to some of these issues in upcoming Town Halls. Most importantly, the Dean's Staff Advisory Committee wants to hear from our staff so they can help solve problems and answer questions. You can contact the Committee at: CHM.DSA@msu.edu.
The college was host to a daylong meeting of our hospital systems and university related investment groups at the Grand Rapids Research Center. The Michigan State University Foundation and its related investment arm, Red Cedar Ventures, and entrepreneur support effort, Spartan Innovations, met with innovation teams from Sparrow, Spectrum/Beaumont, Henry Ford Health, Trinity Health, Mary Free Bed and other partners. This kind of outreach is important to our communities, our faculty (who invent new technologies), and patients, when everything works out. It was an interesting and highly collaborative meeting that I hope will help support intellectual economies in many of our communities.
Today is April 1, April Fool's Day. Today is also the day I move from interim to dean designate. Fortunately, I understand coincidences.
On Tuesday, two members of the Michigan State University Board of Trustees, the Hon. Melanie Foster and the Hon. Kelly Tebay, visited the people and spaces of our Flint campus. We had a great morning with the trustees, who had a chance to visit the amazing Flint Farmers' Market, tour our home in the former Flint Journal Building, learn about the recent $25 million grant from the Charles Stewart Mott Foundation, and meet with our people. They had time with our community partners, our medical and public health students, and with the faculty and staff of the Division of Public Health and our Flint medical school campus.
I want to thank staff members Mark Brieve and Tae Blair for their excellent organization of the events, and faculty Jennifer Edwards-Johnson, DO, Debra Furr-Holden, PhD, and Wayne McCullough, PhD, for hosting and being tour guides. I have deep gratitude to the students, community partners, and everyone who came to the meetings and events. Finally, I want to thank Trustees Foster and Tebay for a great visit with our people.
During the reception with the trustees, Wayne McCullough, our interim director of the Division of Public Health (DPH), announced the spectacular news that our own Linda Cornish, DPH's division administrator and the facility manager of the Flint Journal Building, won the 2022 MSU Jack Breslin Distinguished Staff Award. Each year the award is given to six staff people nominated by their colleagues who "display overall excellence in job performance, supportive attitude and contributions to their unit and the University." It is a rare and special award for rare and special people like Linda. I want to include my thanks to Steve Ondersma, PhD, who led the nominating committee for DPH, and a special shout out to Allyson Cole-Strauss, who won last year. I can't recall a time the college had two winners in a row!
Long ago, back when the pandemic was young, our own Nigel Paneth, MD, MPH, joined a core group of scientists leading efforts assessing whether convalescent plasma could be useful in treating COVID-19. While convalescent plasma does not seem to help in the hospital or in very severe COVID-19 cases, this week the New England Journal published a randomized controlled trial of outpatient, high-titer convalescent plasma resulting in clinically meaningful decreases in hospitalization beyond an already known reduction in progression to severe disease. It did not have to turn out that way for Dr. Paneth's and the team's effort to be worthwhile or to demonstrate the value of his advocacy. That said, I saw Nigel this week, and he was pretty chuffed, as he should be.
Serving the people with you,
Aron
Aron Sousa, MD
Dean Designate