"Say His Name! Patrick!"
April 28, 2022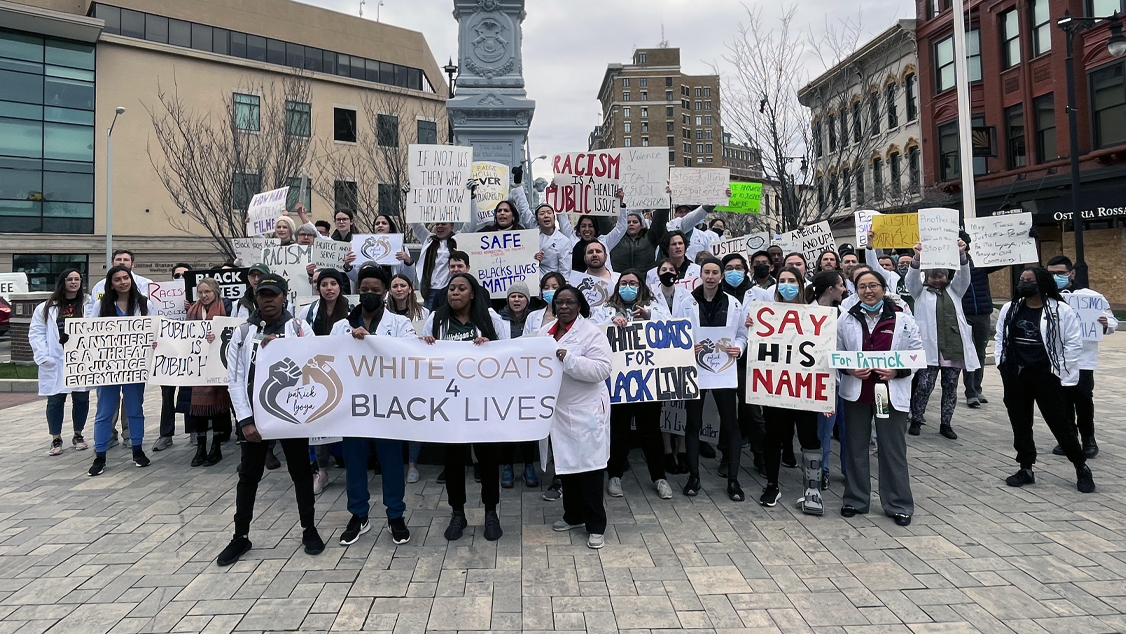 By Marissa Solorzano (M1), Patricio Ruano (M1), and Jasmanpreet Kaur (M2)
On April 15, 2022, College of Human Medicine students organized the White Coats for Black Lives: Justice for Patrick Lyoya march to stand by their friends and colleagues and to advocate for a more just and equitable future for all.
After news of Patrick Lyoya's murder began circling within the College of Human Medicine community, the heaviness of his execution was felt in the air of the Secchia Center. Some students struggled to participate in class, while others were brought to tears throughout the week. Some sought community through protesting during the week of April 15th at Rosa Parks Circle. Here is where Patricio and Marissa began talking about ways to organize an event where medical students could participate, in their white coats, together. Simultaneously, the Refugee Outreach Collective (ROC) was also having similar conversations – a call to action as Patrick Lyoya and his family are refugees from the Democratic Republic of Congo.
During a Listening Circle, an event organized by college faculty with the purpose of creating a healing space for students, more students contemplated ways to stand together in solidarity for Patrick Loyoya. Many student leaders understood that their fellow Black and/or African American colleagues were exhausted and devastated by this tragedy. They understood that as allies they could take on the responsibility of organizing this event, and then invite these students to be present and, even more so, lead the march.
After the meeting ended, more Zoom calls were held, which then turned into shared Google documents, poster and sharpie errands, and social media posts. From 6 pm Thursday to 11 am Friday, the entire event - including a city of Grand Rapids permit – was organized.
"I was impressed how quickly my classmates put this event together," said Jasmanpreet Kaur (M2). "In less than 24 hours, we designed social media posts, created posters, emailed students and faculty, obtained city permits, and organized a moment of silence – in addition to a protest. These 24 hours brought me back to why I chose medicine and ultimately, why I chose to attend the College of Human Medicine."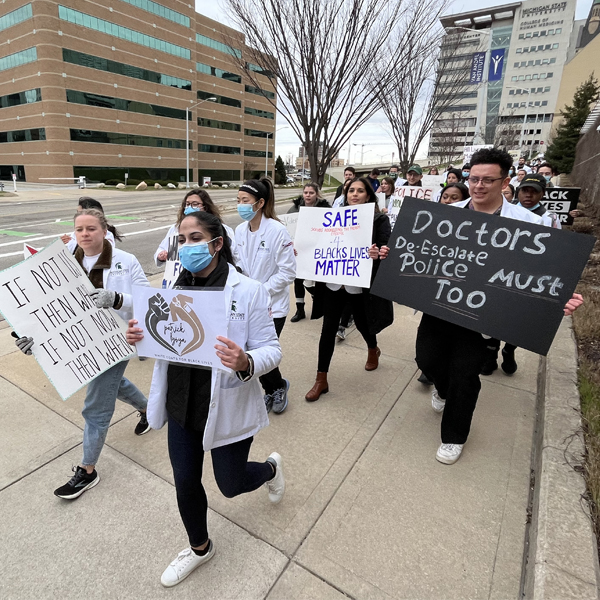 At 11:55 am, students gathered in a circle in the Secchia Center atrium and held a five-minute moment of silence for Patrick Lyoya. The entire time the students held hands in silence until a local church bell struck noon. As each person let go of hands slowly, people moved to the Community Commons to make signs for the march and watched the Dean's Town Hall.
Many of these signs represented why the students chose to march. These included sayings such as 'Justice for Patrick,' 'White Coat for Black Lives,' 'Racism is a Public Health Issue,' and 'Physicians De-Escalate, Police Must Too.'
At 1 pm, the White Coats for Black Lives group assembled and departed from the Secchia Center, heading south on Division Ave. This route was chosen so the medical students walked through the heart of Grand Rapids, turning around after passing several mutual-aid organizations where many students loyally serve and commit to the people of Grand Rapids.
"We chose this route as it allowed us to be present in the very community we serve," said Kaur. "We wanted our Grand Rapids community members to know that we hear them, we see them, and we will support them beyond the walls of a hospital. It was important for us to be seen beyond being medical students, and to be seen as allies."
As students marched, multiple student leaders of SNMA and LANAMA led the chants. These included:
"Say his name! Patrick", Black Lives! Matter!" & "Show me what democracy looks like! This is what democracy looks like!"
People in their cars honked in support and many proudly lifted their fist as they drove by. Some community members even joined the march and chanted with the medical students along the route.
As the students headed back up Michigan Street towards the Secchia Center, the group decided to pass Secchia and continue up Medical Mile. They gathered in front of Helen DeVos Children's Hospital and continued to chant Patrick's name as workers and patients came to the windows to see and hear their voices.
When students reached the Secchia Center at last, another circle formed. In contrast to the first circle, this was filled with conversations about how collaboration and teamwork made this march happen. Students reflected on how the real work of activism occurs every day in their lives and urged each other to keep this fire burning.
Soon after the medical students dispersed, one of the organizers returned to the Commons to pick up any leftover supplies. He found one of the college's custodial staff cleaning the room and chatted with her as he helped pick up markers and scrap paper. When he asked for the staff's name [rescinded for confidentiality], she turned around. She was a Black woman, her eyes red and wet. "Did you see me? I was on one of the top floors of the building watching you all!" she shared with him. "I was praying for you. I hope none of my tears fell on any of you when you got back."
This brief interaction illustrates the ripple effects of activism. Although many students may not see these effects directly, they should know they have made a difference beyond their imagination in their community.
---
Related media coverage: FOX 17, WGVU Public Media, WQAD News 8, WOOD TV8, WZZM 13.
---
White Coats for Black Lives: Justice for Patrick Lyoya
Lead Student Organizers: Gloria McGurn (M1), Jasmanpreet Kaur (M2), Eric Kaltz (M2), Marissa Solorzano (M1), and Patricio Ruano (M1)
Additional Student Organizers: Subah Nanda (M2), Amanda Schoonover (M2), Carina Grain (M1), Enrique Cazares-Navarro (M2), and Carolina Eckertova (M1)
Student groups in support: American Medical Women's Association (AMWA), Asian Pacific American Medical Student Association (APAMSA), Latin American & Native American Medical Association (LANAMA), Physicians for Social Awareness (PSA), Refugee Outreach Collective (ROC), Scrubs Addressing the Firearm Epidemic (SAFE), Student National Medical Association (SNMA), and White Coats 4 Black Lives (WC4BL)