Dr. Ryan Thomas' Career in Pulmonology Comes Full Circle
July 28, 2022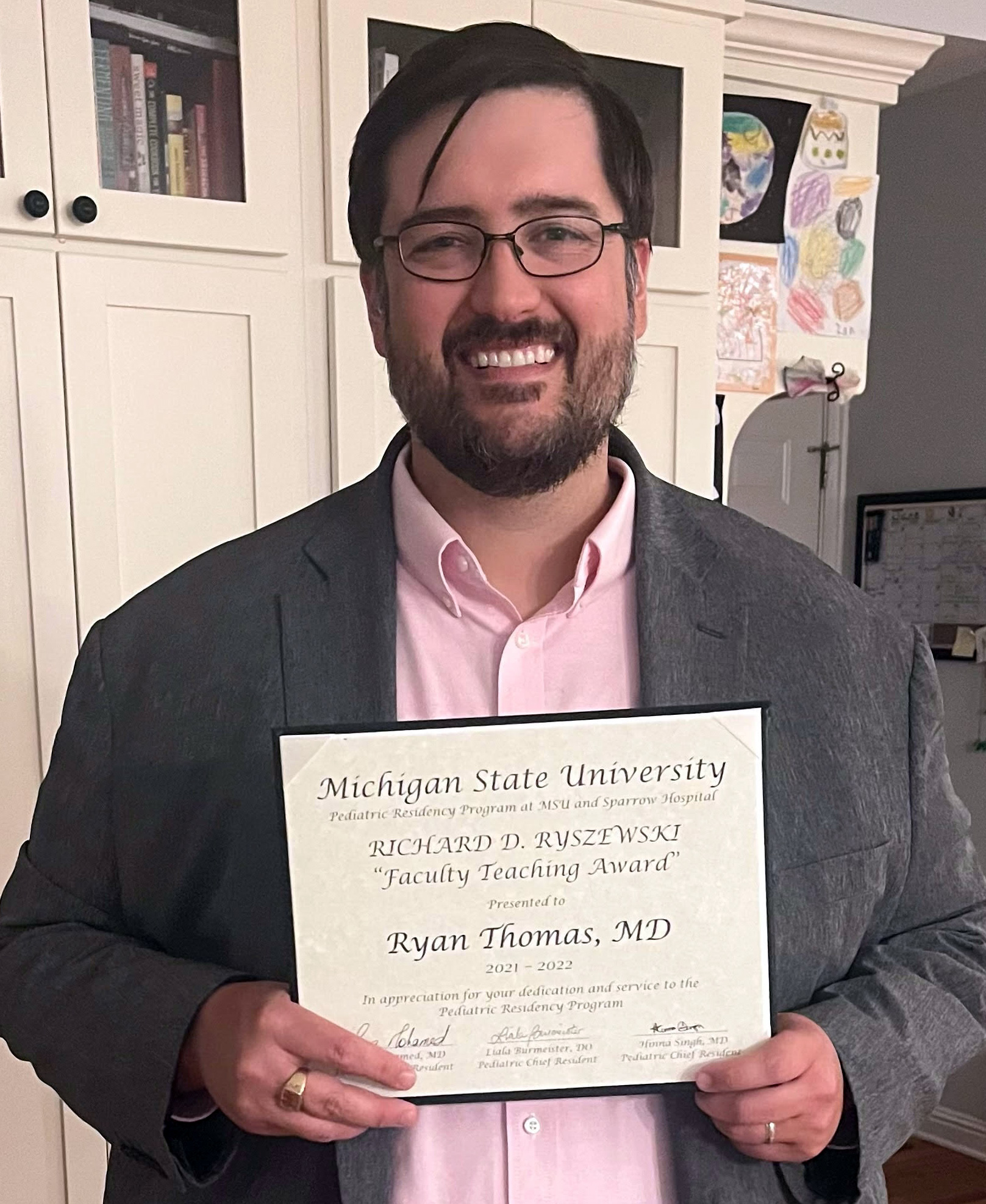 College of Human Medicine assistant professor of pediatrics and human development, Ryan Thomas, MD, felt "incredibly honored" when he received the Richard Ryszewski Resident Teaching Award recently.
When he returned home later that evening and showed the plaque to his mother, Michelle, who was visiting, the award took on even more meaning.
She looked at the name of the award and said, "Ryan, that was your first pediatrician. He saved your life during an asthma attack."
"I was flattered to be nominated, let alone chosen," Thomas said, "and then to find out I have this connection with Dr. Ryszewski, it was mind blowing. I was speechless."
He was 10 months old, his mother recalled, when he developed a persistent, barking cough that worsened over the coming months. Ryszewski, who then had a practice in Grosse Pointe, told the parents to take the toddler to the emergency room if his conditioned worsened and tell the staff to call him immediately.
They spent that night in the emergency room, where their son received no treatment, and the staff ignored repeated requests to call Ryszewski. The next morning in his office, Ryszewski took one look at the boy, cancelled his morning appointments, and rushed him to the pediatric intensive care unit, where he began treatment.
Their son could have died, he told the parents, and he was livid that the emergency room staff had not called him.
Thomas has heard the story many times over the years but was unaware of the name of the pediatrician who had saved him. As a young man, he was interested in science and later enrolled in the Wayne State University School of Medicine. He did some rotations in pulmonology, "and I decided this was the right fit for me. I was incredibly fascinated with pulmonology and pulmonary disease."
He became a pediatrician and, likely because of his own experience, a pediatric pulmonologist, specialized in treating lung diseases in children.
Ryszewski, meanwhile, had joined the College of Human Medicine and the staff at Sparrow Hospital in Lansing, where he earned a reputation for his sense of humor and his dedication as a physician and teacher, who often asked residents what they had learned in clinic that day. He died in 2004, and the college created the Richard Ryszewski Resident Teaching Award in his memory.
Thomas, 37, knew none of that, nor of his connection with Ryszewski, when he stepped forward to receive the plaque.
"It means a lot learning more about Dr. Ryszewski and what an incredible advocate for children he was," he said, "and to then be given an award named for him is an incredible honor. Even to be in the same conversation as him, it's hard to put into words."
In his practice, Thomas has treated children who have suffered near death experiences similar to his own. His asthma is well controlled, and treatments have improved greatly since he was a child.
At MSU, Thomas is chief of the Division of Pediatric Pulmonology, Allergy, and Clinical Immunology and director of the Cystic Fibrosis Center.
In addition to treating patients, he teaches residents about pulmonology.
"I realize that what I teach will set the foundation of their understanding of lung disease," he said. "If I didn't have my own experience with asthma, I wouldn't have that personal connection.
"I'm really lucky to love what I do. I can't imagine doing anything else."