Barbara Forney Retires After 24 Years of Service
July 28, 2022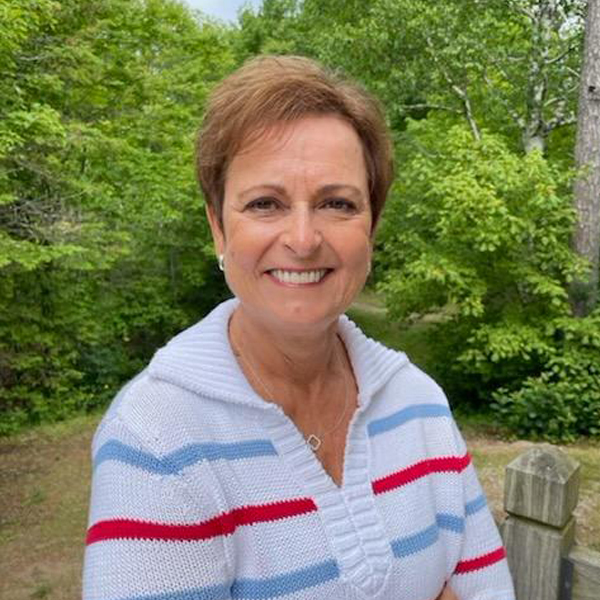 In 2019, Barbara Forney, the College of Human Medicine's associate dean for administration, began thinking of retirement.
"I couldn't leave the college during COVID," she said, so she put retirement on hold.
Last August, Norman Beauchamp Jr, the university's executive vice president for health sciences, asked her to transfer to the Office of Health Sciences, a temporary position overseeing human resources that was supposed to be halftime, allowing her to phase into retirement.
"It took only a couple of weeks to realize I wasn't working 50 percent," she said, so she was back on fulltime.
Finally, on June 6, she officially retired, although she agreed to continue temporarily at 20% employment to help with the transition.
"I'm one of those people who has been failing at retirement," Forney said. "It's hard to stop when you've been going 100 miles an hour for so long."
After graduating from the University of Michigan, Forney moved to California, where she worked for Scripps Clinic for several years before returning to Michigan and earning a master's degree in clinical laboratory sciences from MSU in 1984. She worked for Sparrow Hospital in Lansing for a while, and, in 1997, joined MSU's Olin Health Center, eventually becoming associate director.
In 2006, former College of Human Medicine Dean Marsha Rappley recruited Forney to join the team overseeing the expansion in Grand Rapids. In 2010, she was appointed assistant dean, and two years later, the college's associate dean for administration.
A couple of weeks into retirement, she sat on the deck of her family's Northern Michigan cottage overlooking Lake Michigan. Her husband of 48 years, Jim, retired in April.
She looks forward to traveling and spending more time with him, their four adult children and seven grandchildren. "Five of the seven grandkids are only an hour away from us," Forney said, "and spending time with them and attending their activities is important to us and truly something we enjoy."
She added: "I also know there's something I'm meant to do. I'm figuring out what that is. I truly think there's something else out there for me," such as volunteering for a nonprofit organization.
At MSU, "my role was facilitating other people's success by removing barriers, making it easier for them to do their work," she said. "That's really what drove me. That's why I think there's something out there for me to help others be successful."