Rayamajhi Receives Early Career Physician Award
October 31, 2022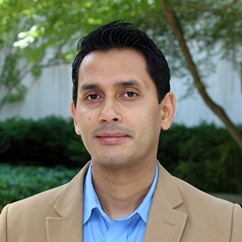 When Supratik Rayamajhi came to the College of Human Medicine in 2008 for an internal medicine residency, 12,000 miles from his home in Nepal, teaching medical students was not his goal.
Fourteen years later, he is an associate professor in the college's Division of General Internal Medicine, director of the Internal Medicine Residency program, and interim chair of the Department of Medicine – all while caring for patients.
"I came here to do a residency," said Rayamajhi, MD. "I never intended to stay in academia. I stumbled into it, and then I liked it. It was all serendipity."
In recognition of his contributions to medicine, the American College of Physicians Michigan Chapter presented Rayamajhi the 2022 Raymond Murray Governor's Award for an Early Career Physician on Oct. 14.
"You are an inspiration to all of us," Ved Gossain, MD, a College of Human Medicine professor emeritus and chair of the awards committee, said in an email notifying Rayamajhi of the honor.
Since joining MSU, Rayamajhi has received other awards, including Research Teacher of the Year chosen by internal medicine residents in 2017-2018, the same period for which he received the Rose Award for outstanding service in graduate medical education. In 2018-2019, internal medicine residents named him the Outstanding University Teaching Faculty member.
The Raymond Murray Governor's Award is his first statewide honor.
"I was pleasantly surprised," Rayamajhi said.
His parents, who still live in Kathmandu, where he was born and raised, always encouraged him to become a doctor. In 2006, he received his medical degree from Tribhuvan University in Kathmandu.
Since coming to Michigan, his research has focused on hypertension, "the number one killer worldwide," he said, "and the number one cause of cardiovascular disease."
While the work is demanding, Rayamajhi said he enjoys doing research, teaching, administering, and caring for patients.
"When you have your limbs in all four baskets, it can be daunting," he said, but he added: "I feel like I'm contributing to a larger cause. When you see a patient, you are touching one patient. When you are teaching, you are touching thousands of patients. You are creating a new workforce."