In Memoriam: E. James Potchen, MD, JD
August 25, 2022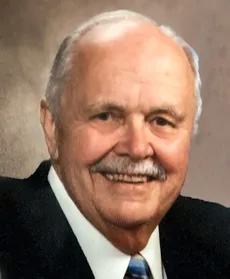 E. James Potchen, MD, JD, Michigan State University Distinguished Professor and inaugural chair of the MSU Radiology Department, passed away August 20, 2022, at the age of 89.

In 1975, Dr. Potchen was appointed the first professor and chair of the new Department of Radiology at Michigan State University. While at MSU, he taught numerous courses for the Colleges of Human Medicine and Osteopathic Medicine and Lyman Briggs College. In 1990, Dr. Potchen was recognized as a Michigan State University Distinguished Professor.
Throughout his life, Dr. Potchen had a passion for nature. Perhaps his most celebrated and enduring successes was his vision for and orchestration of the Radiology Healing Gardens. This calming environment includes beautiful gardens and waterfalls, and has been a destination for patients, students, visitors, and university employees since 2000.

Dr. Potchen received his bachelor's degree in horticulture from Michigan State University, his Medical Doctor degree from Wayne State University, his Master of Science degree in management from the Massachusetts Institute of Technology (MIT), and Juris Doctor degree from the University of Michigan. He practiced general medicine in Grand Rapids before completing his residency at Harvard Medical School, where he was the chief radiology resident. He was appointed the inaugural director of nuclear medicine at the Peter Bent Brigham Hospital and was selected to be the first chief of nuclear medicine at Washington University's Mallinckrodt Institute of Radiology. Upon completion of his Sloan Fellowship at MIT, Dr. Potchen was appointed professor of radiology and dean of management resources at Johns Hopkins University.
A particular interest of Dr. Potchen's was studying the quality of human decision making in medicine, business, and law. He is the author or coauthor of more than 30 books, 40-plus book chapters, as well as numerous journal articles, abstracts, book reviews and invited lectures around the world. In addition, Dr. Potchen was active in numerous professional societies and committees.
Dr. Potchen was an advocate for academic excellence at MSU. His legacy includes the E. James Potchen, M.D., and Geraldine J. Potchen Endowed Scholarship Fund for College of Human Medicine students.
A celebration of life will be held for Dr. Potchen on October 23, 2022, at 10:30 a.m., at the James B. Henry Center Atrium, Michigan State University, 3535 Forest Road, Lansing. Brunch to follow. In lieu of flowers, donations in Dr. Potchen's memory can be made to the MSU Radiology Healing Gardens AS192, care of MSU Development, 300 Spartan Way, East Lansing, MI 48824.