Michigan State University Welcomes Perrigo North America to Innovation Park
July 6, 2022
New corporate headquarters will bring over 150 jobs to Grand Rapids
Through a $45 million investment reflecting the momentous growth of Michigan State University's Grand Rapids Innovation Park on the city's Medical Mile, Perrigo Company plc, will bring over 150 jobs to Grand Rapids through the opening of its North American corporate headquarters.
As the newest member of MSU's Innovation Park, Perrigo — a leading provider of consumer self-care products — will work alongside thought leaders dedicated to consumer well-being and pursue collaborative efforts focused on breakthroughs in life sciences.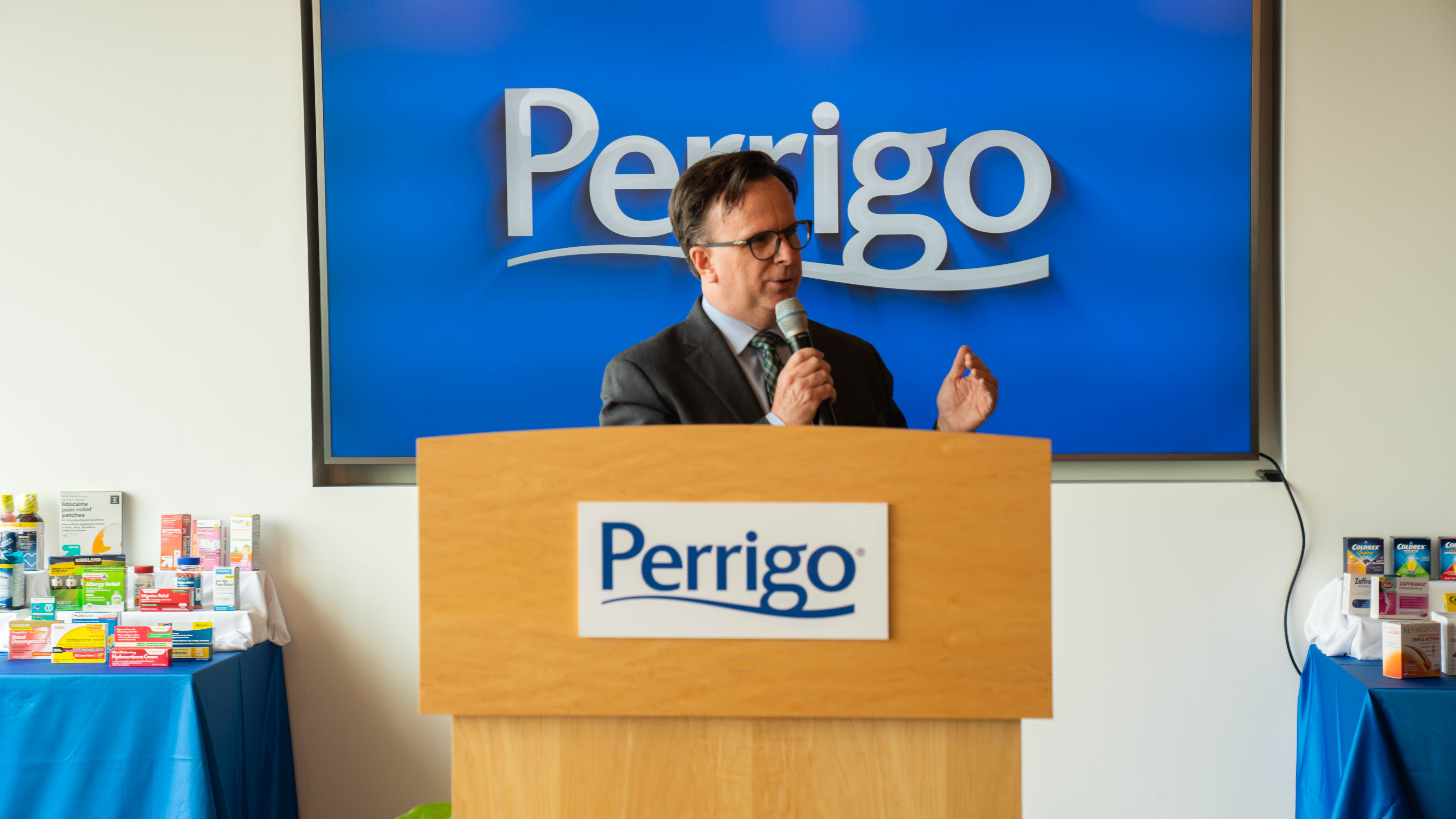 "MSU serves as a hub for renowned leaders and minds in health care to foster new ideas and advancements, and our partnership with Perrigo will help us extend innovative technologies and devices to consumers worldwide," said Norman J. Beauchamp Jr., MD, MHS, executive vice president for health sciences.
Locating Perrigo's North American corporate headquarters in MSU's Innovation Park deepens the company's roots in West Michigan, where the company began operations over 135 years ago. The move will provide a tremendous opportunity to drive advancements in the global self-care market. Currently, there are over 4,000 Perrigo team members in West Michigan and approximately 10,000 globally.
"This new building in MSU's Innovation Park creates a high energy and innovative environment that will increase Perrigo's access to top-tier talent and energize our teams as we work to make our vision of Making Lives Better through Self-Care a reality," said Murray S. Kessler, Perrigo president and chief executive officer. "Importantly, we believe the opportunities available by collaborating with the many outstanding partners available along the Medical Mile will turbo-charge our progress."
Perrigo is also welcomed by Health Innovation Partners — a real estate development joint venture between Rockford Construction/Rockford Development, Walsh Construction/Walsh Investors and Murphy Development Group — who first broke ground on the North American corporate headquarters in April 2021.
Perrigo employees will occupy 63,550 square feet on the top three floors of the 125,000-square-foot building, which features a working café, terrace and office space designed to support collaboration and personal wellness.
---