Students Honored with Appointments to Academy of Family Physicians Boards Take to Heart the Importance of Women of Color in Leadership Positions
January 25, 2022
Adjoa Kusi-Appiah, MAFP Board of Directors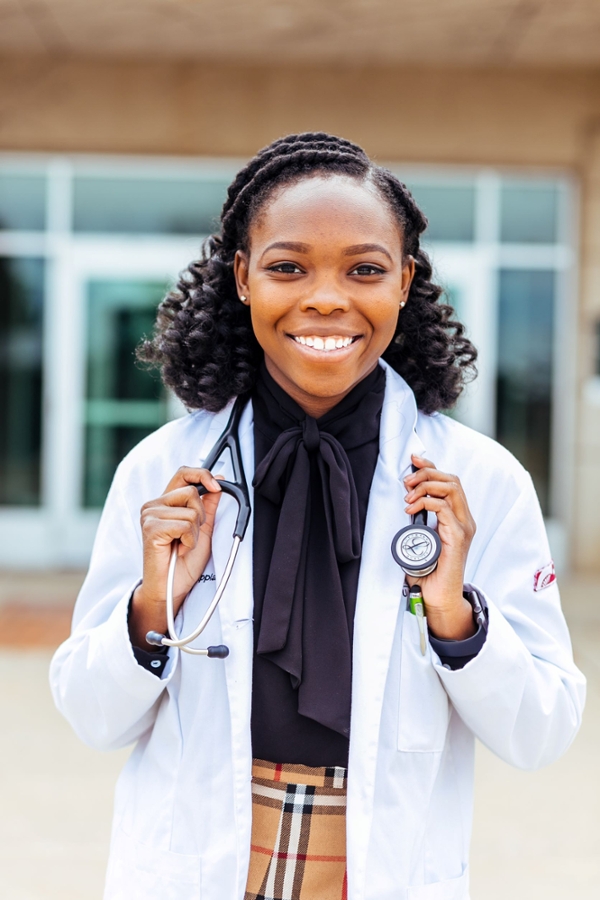 Each year, a medical student is elected to serve a one-year term on the Michigan Academy of Family Physicians Board of Directors. For one College of Human Medicine student, having the opportunity to serve in such a role for such an organization was a poetic turn of events.
"Stepping foot into my first Future of Family Medicine Conference in 2018, I knew I found my people," says fourth-year student, Adjoa Kusi-Appiah. "A panel of Family Physicians led the conversation about the breadth and depth of Family Medicine. Their joy, unique stories, and lens of advocacy affirmed that I was in the right place."
An ability to advocate for various causes is important to Adjoa, and she acknowledges that representation is an element of that advocacy. As a woman of color, the opportunity to share her perspective was one of the core reasons for applying to the MAFP Board of Directors position.
"The opportunity to fill a role and maximize voices as a student, a black female student, in a state-level organization is a privilege and another piece of the puzzle in increasing representation," she says.
Prior to being elected to the board, Adjoa was selected to participate in the 2020 Family Medicine Leads Emerging Leader Institute and even spent time as a board member for the college's Family Medicine Interest Group. She knew she wanted to engage opportunities centered around family medicine upon entering medical school, ultimately attending Michigan Future of Family Medicine conferences and annual advocacy days along with serving on the MAFP Member Engagement Committee and participating in the MAFP Mentorship Program.
Through these opportunities, Adjoa feels she has grown in advocacy, relationship-building, and problem solving in her pursuit of being a servant leader. As a student underrepresented in medicine, a servant leader is a role Adjoa has long desired to fill. The former Health Equity Summer Research Scholar acknowledges her ability to offer a "different perspective" to the Board of Directors. Beyond family medicine, for instance, Adjoa's lenses on issues such as health equity aim to serve underserved populations via work like community-based research.
So, when she was reminded of the Board of Directors student application deadline, she truly believed she had a valuable vision to offer.
"I thought back to my experience when I was initially introduced to the organization, I valued their mission and work but felt far from the leaders as no one looked like me. It was hard imagining myself in those positions and in the same light. It was rare that I met Black or Latinx Family Physicians in Michigan. I submitted my application with excitement and urgency to change this narrative."
Now several months into the appointment, Adjoa hopes to build momentum, both for her personal ambitions as well as for the work being done by the organization.
"The MAFP has played a pivotal role in my journey through medicine; by serving on the board, I hope to magnify the momentum of the MAFP in hopes that other students may capitalize on the work that is being done."
Julie Ngo, AAFP Annals of Family Medicine Editorial Advisory Board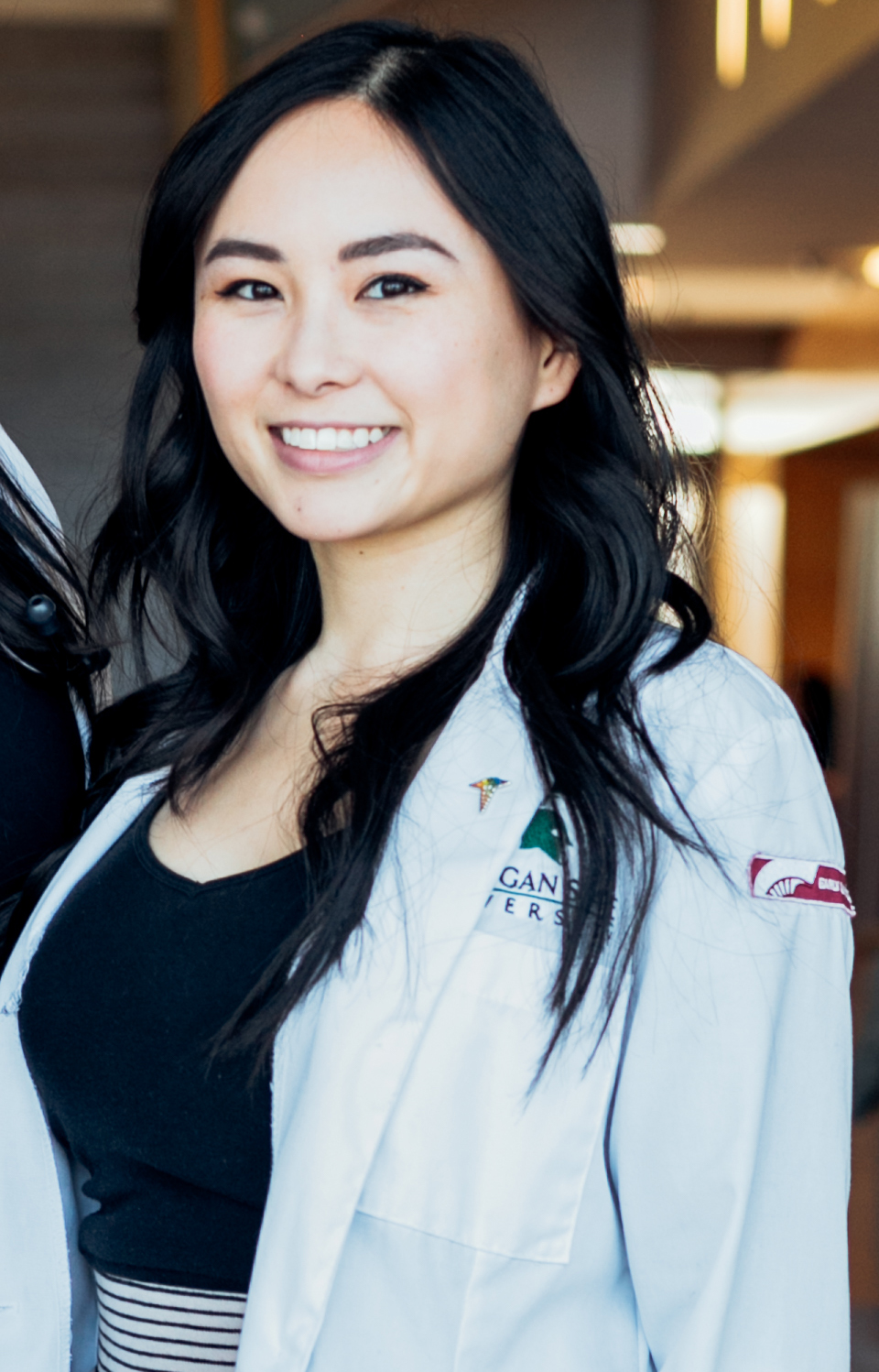 For Julie Ngo, advocacy and representation is equally vital. They are efforts the third-year student hopes to build on upon also being appointed to a board for the American Academy of Family Physicians (AAFP). Ngo is serving as student representative to the Annals of Family Medicine Editorial Advisory Board for a one-year term.
"I am honored to be selected for this position," said Julie. "As a first-generation medical student and first of my family to pursue higher education, I look forward to paving the way for those who will take these steps after me. I am very excited to be a bridge between medicine and research for the underserved and underrepresented communities."
Annals of Family Medicine is a peer-reviewed clinical research journal, publishing work certainly from clinicians and policymakers, but also patients and families across communities. According to the AAFP, the journal is "dedicated to advancing knowledge essential to understanding and improving health and primary care."
It's a big task being on the editorial board and Ngo is among good company. The publication consists of leaders in primary care healthcare and research as well as medical education. Yet the first-generation student of Vietnamese-American descent understands that her presence, her lens is an important piece of the board. Especially at a time where the issues of equity in health care and women in medicine have become a more prominent focus than in the past, Julie's experiences have helped inform her perspective.
Julie cares about advocacy and amplifying voices beyond her own. She is passionate about health care access for the underserved and equity in medicine, even leading a non-profit student-run free clinic prior to entering medical school. Those important issues drove Ngo to pursue the Leadership in Medicine for the Underserved certificate among other efforts as an official medical student. Taking action on the Health Affairs Branch of the Asian Pacific American Medical Student Association (APAMSA), Julie has also helped to organize a social awareness campaign for Families at Borders.
The LMU Program, for third and fourth-year students, is based in Flint, where she's directly observed under-resourced populations that need better representation. As part of LMU, she now has more opportunities to engage in behavioral health and primary care services for houseless populations and those experiencing substance use disorders.
Most recently, Ngo was among those selected for the Blake Smith Memorial Primary Healthcare Endowed Scholarship upon presenting a research project addressing language barriers in healthcare.
The increasing percentage of women in medicine has become a steady movement. Yet while the physician workforce has seen some advancement, women continue to encounter persistent obstacles. The rise in figures hasn't always resulted in more women acquiring leadership roles. With each appointment such as these for Adjoa and Julie, barriers lessen, and opportunities widen further as the number of women leaders in medicine should match proportionately.
The two students know that they have great opportunities to enhance their resumes, yes, but also promote equity for women in medicine, especially as women of color. It's an ongoing process and both understand that these roles serve to benefit a larger purpose.