College of Human Medicine Students Earn Important Designations at LMSA Midwest Regional Conference
February 24, 2022
Members from the College of Human Medicine's chapter of Latin American & Native American Medical Student Association (LANAMA) hit the road to take part in the Latino Medical Student Association (LMSA) Midwest Regional Conference earlier this month.
With the college well represented at the Northwestern Feinberg School of Medicine for the 32nd annual event, several future Spartan MDs received special designations. Students Kimberly Flores and Aldana Garcia were appointed to the executive board and Valerie Rozen received "Best Poster Presentation" at the conference's research symposium. Read more on their special designations.
Kimberly Flores Elected Next LMSA Co-Director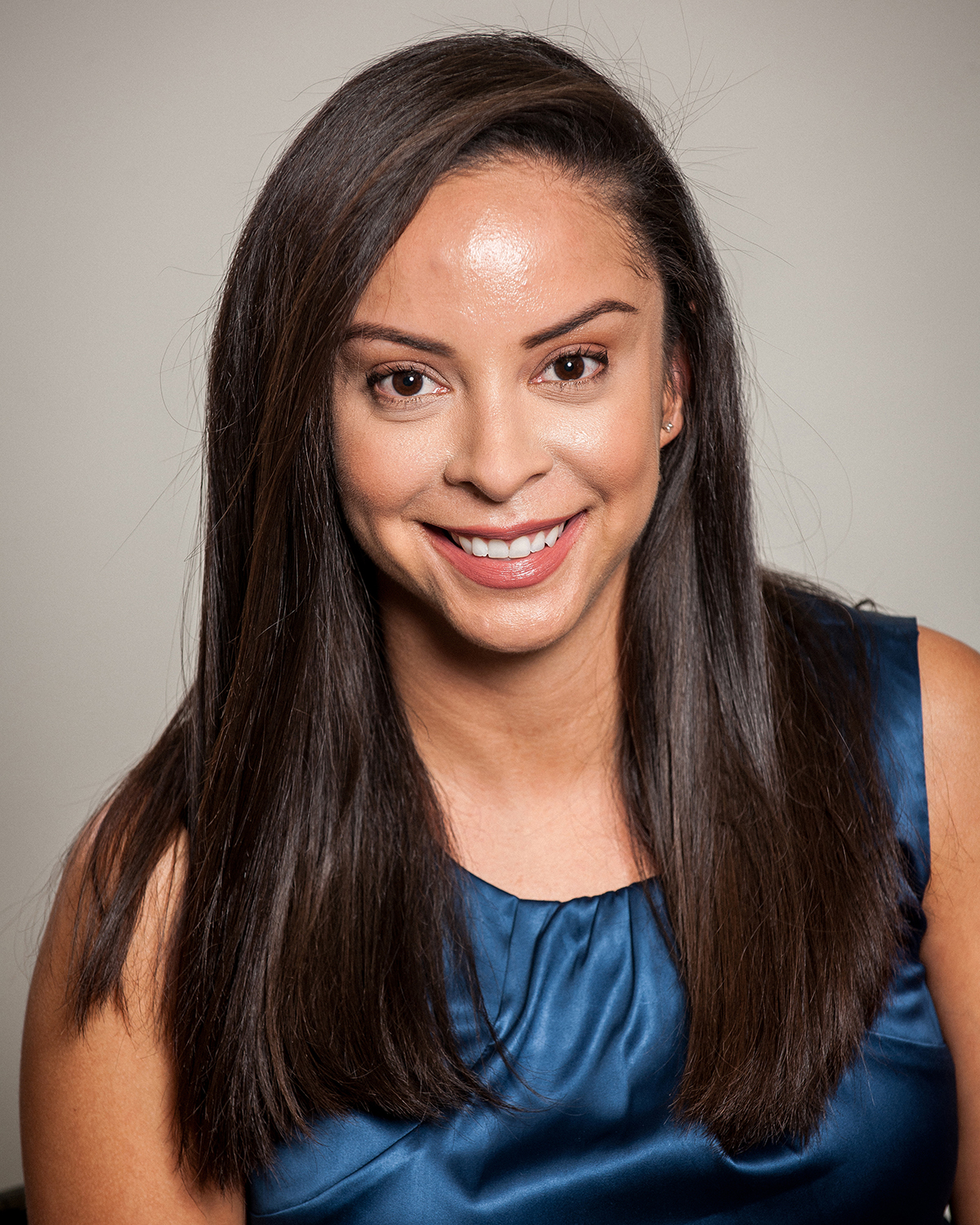 Third-year student, Kimberly Flores, will be helping to lead the organization as the next Co-Director, filling the role of outgoing co-director and fellow College of Human Medicine student, Jennifer Chinchilla. New core executive board members are elected each year at the conference.
During the process of electing the new core executive board, Flores received an initial floor nomination for the role and subsequently delivered a speech and participated in a Q&A.
"I honestly was so nervous and my hands were shaking from anxiety. I had written some bullet points of what I wanted to convey but ultimately spoke from my heart," Flores said. "The time waiting for the decision was nerve-racking, to say the least. I didn't know what to expect. I really wanted to get this position but knew that every person running had the strength and leadership skills to be great."
Though she believed she had a good shot, Flores still found herself surprised when she was finally announced as one of the two next co-presidents. "My eyes watered and all I wanted to do was hug my friends."
It was those friends and fellow peers, after all, who inspired Flores to follow up on the nomination. She appreciated their support and felt as though they truly have understood the challenges she's faced on her medical school journey. It hasn't always been a linear experience for the Southern California-native. But that path has driven Flores to want to help other Latinx and Native students in medicine.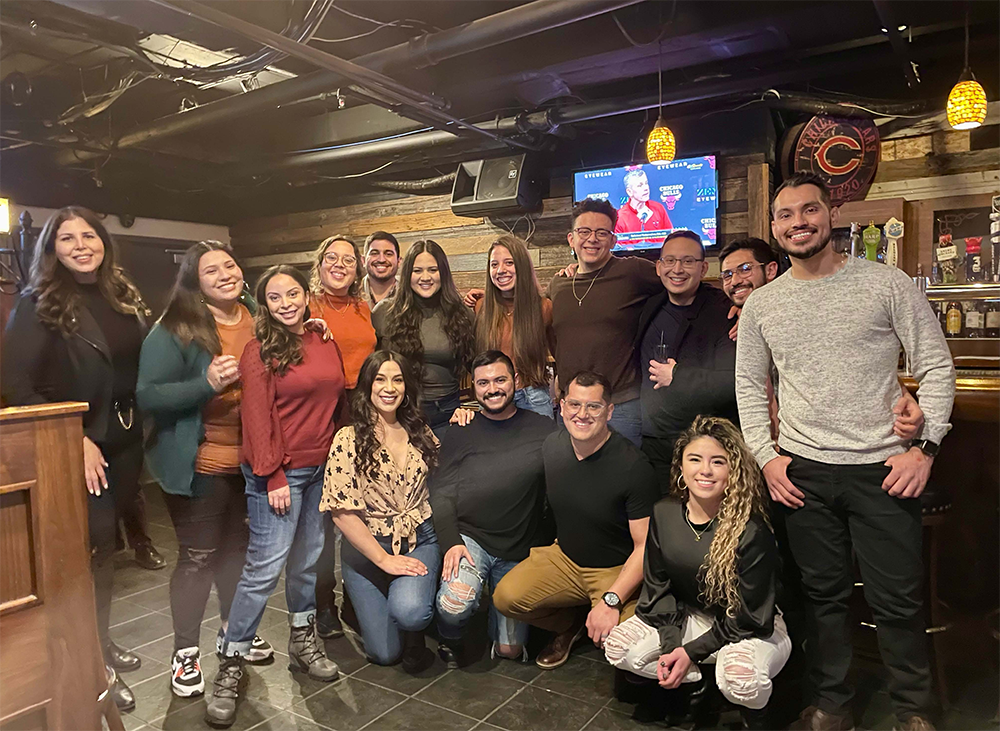 "I remember being a nontraditional pre-med student and sitting in conference rooms hearing from keynote speakers, hoping to one day matriculate into medical school. Now I have the honor and privilege of helping to organize the same types of conferences that always inspired me despite a few setbacks," Flores said.
She felt it was the genuine story in her speech from the heart that made the difference.
"I spoke about transparency and the desire to create a united organization. I have been a part of LMSA since my pre-med days and I felt that I've upheld the resilience and commitment to the LMSA mission. It feels incredible!"
Moving forward, Flores' ultimate goal as Co-Director is to build a greater sense of community and help others be inspired by the wonderful work being done by Latinx students, physicians and medical professionals across the Midwest. She looks forward to working in this capacity with other like-minded students throughout the Midwest who wish to see communities effectively supported.
Aldana Garcia Appointed Chief Development Officer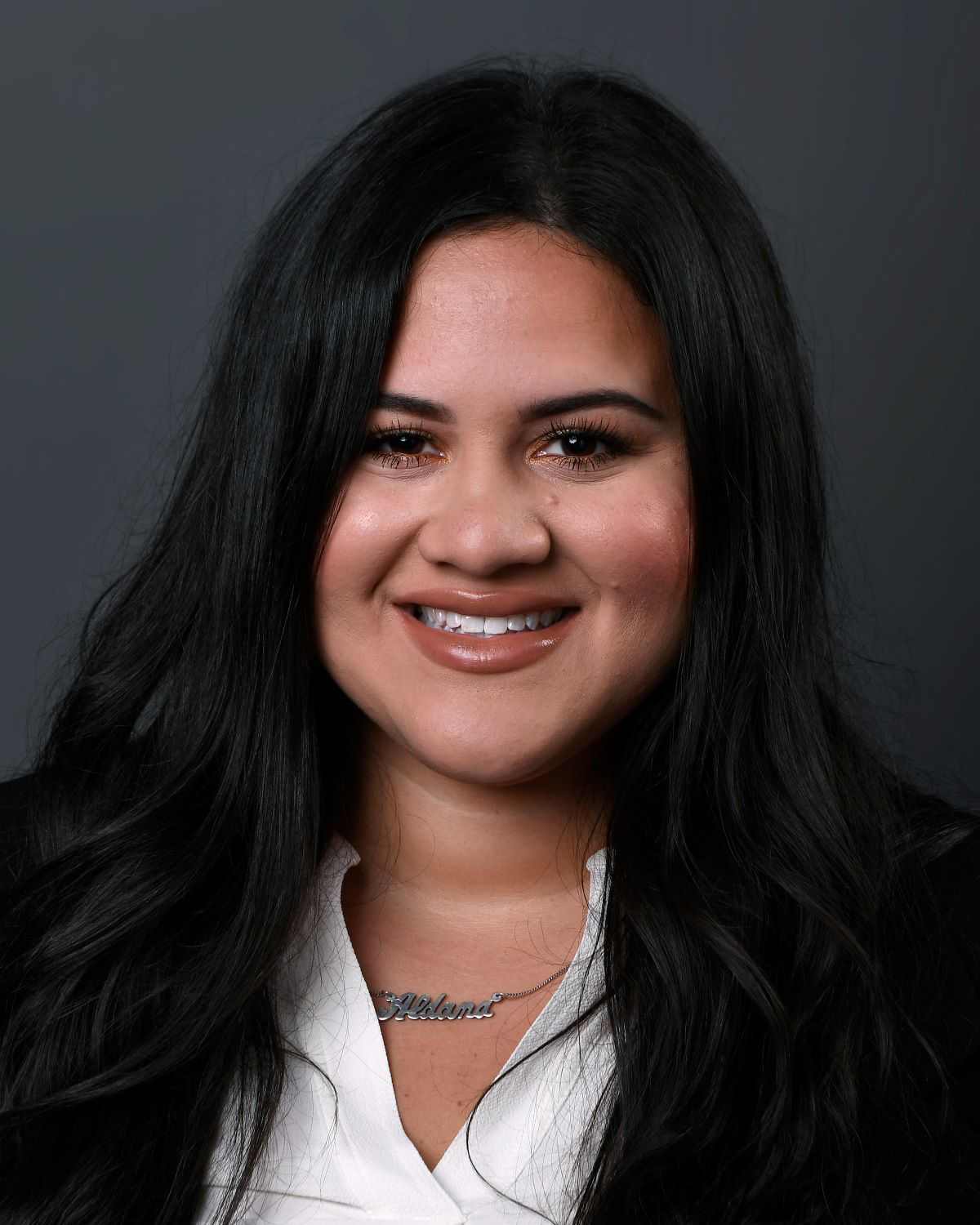 Like Flores, Aldana Garcia, also wishes to support her community. The second-year student was appointed to the LMSA Executive Board as the upcoming Chief Development Officer.
The opportunity to be part of the executive team for LMSA's regional core is an opportunity not lost on her.
"I feel so grateful to be a part of the LMSA family. I feel so empowered by my colleagues after the LMSA Midwest Regional Conference. There are not many Latinx medical students in the Midwest, so it's always nice to get together and remind us that we do have a community, even though at times being a Latinx medical student can feel isolating," Garcia admitted.
Garcia, also a California-native, moved to East Lansing for medical school just months into the pandemic in 2020. Moving across the country, she didn't know what to expect. But upon arriving, she knew she wanted to get involved and find community. It's one of the aspects that influenced Garcia's sentiment on the matter of getting active with organizations and helping other Latinx-identifying students.
"As an Argentine immigrant myself, it is my personal goal to provide mentorship to other students who come from a similar background as me."
Her commitment to the group isn't new. Prior to coming to medical school, Garcia knew that she wanted to continue being involved with Latinx Medical Student Association to uplift Latinx communities. For the last year, Garcia has been serving as a President for the East Lansing cohort of the college's LMSA group, LANAMA.
"I had the honor to serve as President for this past school year. It was a very rewarding experience that motivated me to apply to be a leader on the LMSA Midwest Regional Executive board."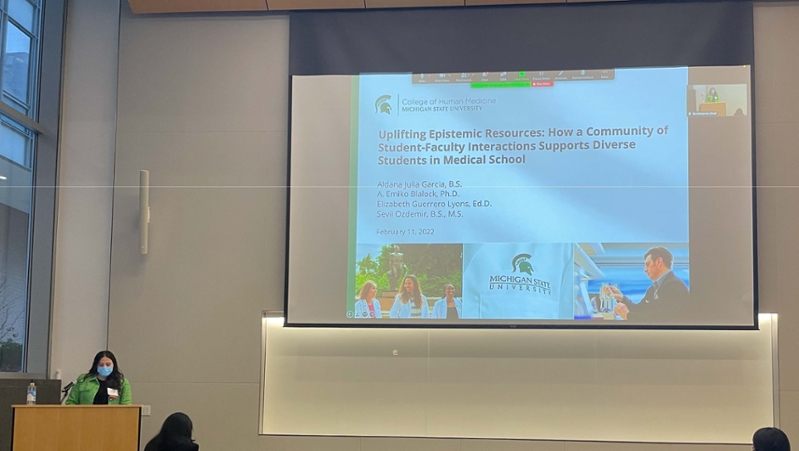 She's thrilled to work alongside four other Latina leaders and future physicians to represent the College of Human Medicine. Garcia acknowledged how empowering it is to see women of color in leadership roles.
"I hope to inspire other women of color to pursue leadership opportunities and learn to take up space to share our stories and motivate others. As CDO, some of my goals include creating a greater networking and community of Latinx medical students and physicians within the Midwest region."
Valery Rozen Wins Best Poster Presentation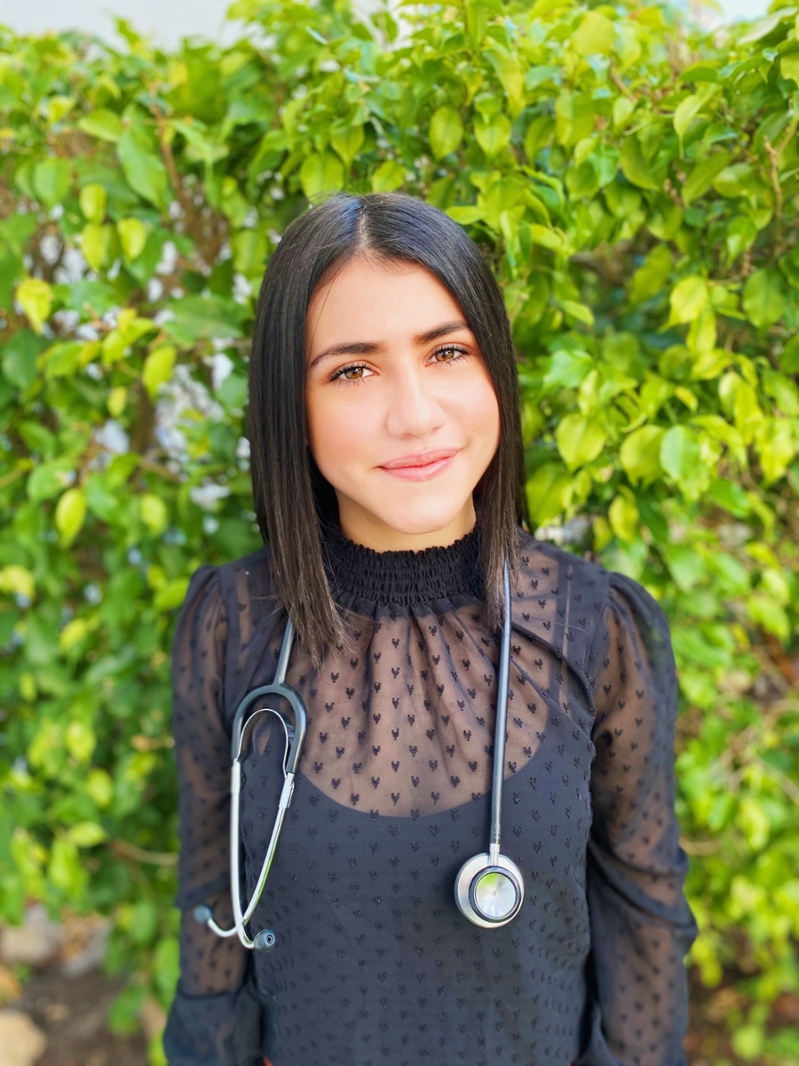 At the LMSA Midwest Research Symposium, second-year student, Valery Rozen, was named first place winner for the best poster presentation. The acknowledgement was a rewarding culmination for an interesting turn of events.
A little after undergoing surgery nine months ago, Rozen joined the laboratory of reasercher, Jae-Wook Jeong, PhD, in the Department of Obstetrics, Gynecology, and Reproductive Biology. Coincidentally, her surgery was the reason she learned about Dr. Jeong's research focus.
Rozen had been diagnosed with an ovarian tumor and naturally became interested in the pathways and mechanisms that allowed development of such. Dr. Jeong has several research projects focusing on this specific subset of tumors. She reached out to join his laboratory and became involved in female genital tract malignancy research.

The team studies the plausible ability of statins drugs in preventing recurrence and metastasis in endometrioid endometrial cancer. Rozen presented preliminary results at the symposium.

"I was able to learn and interact with the other 14 wonderful students who presented their research posters. It is exciting to announce that our poster presentation won first place, and just as exciting is the promising results of our data," Rozen shared. "Confirming our hypothesis can have immediate implications for treating some cases of endometrioid endometrial carcinoma in some individuals."

Rozen felt her connection to the research and subsequent passion for the material shined through in the poster presentation. At the end of the day, "I have a story to tell. I have experiences that have developed certain interests and professional goals in me. I know I'm headed in the right direction."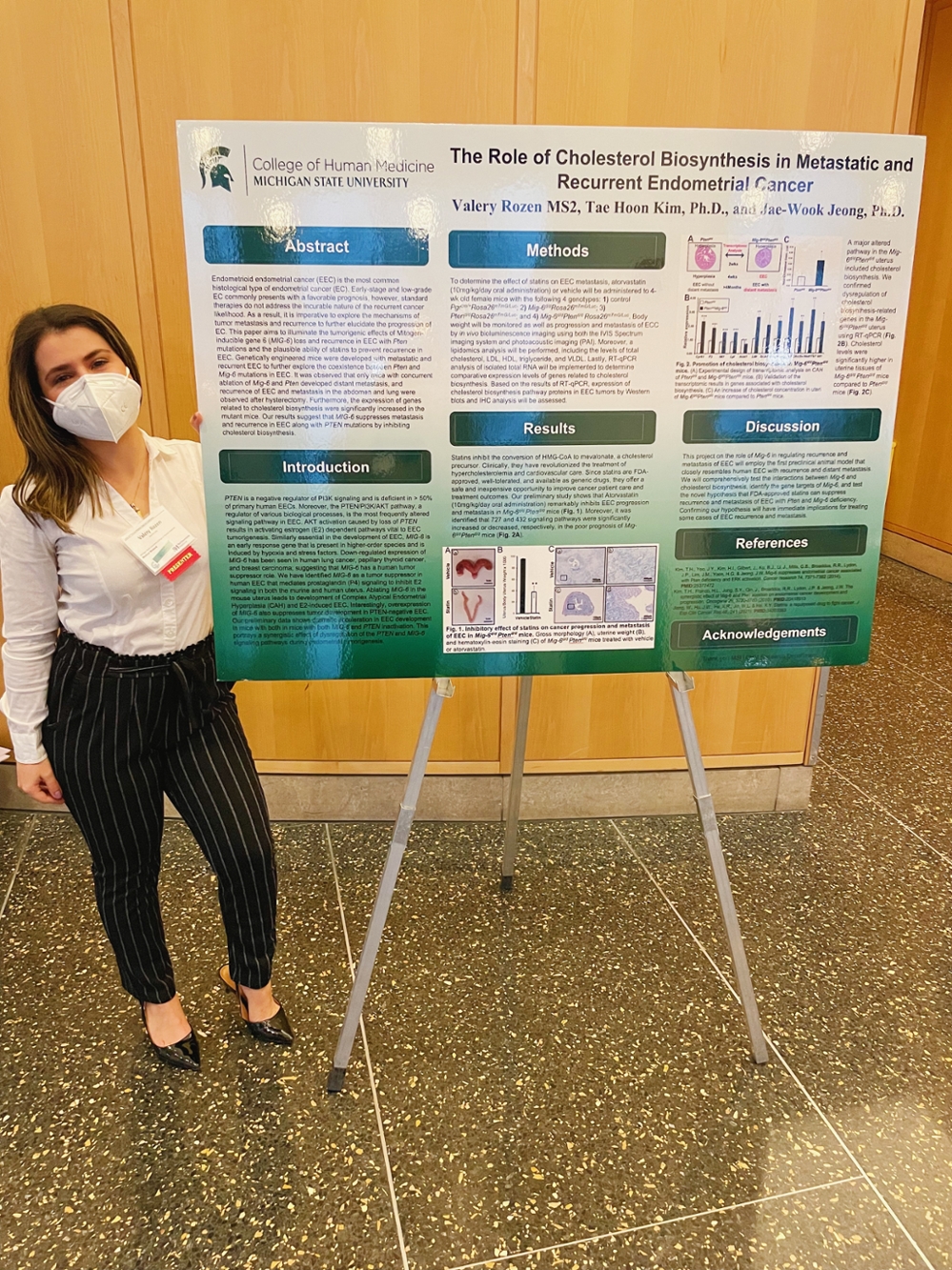 Experiences are powerful tools in searching for opportunities to further develop and grow in areas of interest, according to Rozen.
"Our passion is evident when we speak about what brings us joy, what makes us curious, as well as our professional desires. Most importantly, it will be evident when we are interested, and that is our power as students in getting involved in projects, programs, and studies designed to help us grow. We all have a story to tell, and that is one of our biggest assets."

Flores agreed. To her, these experiences and opportunities are precisely what's needed and is honored to be able to play her part. "These conferences are so important for us, they inspire us to continue la lucha, to continue the fight, to continue defining the odds and silencing the nay-sayers. These conferences help students connect and find a sense of community to know they are not alone."