Laird-Fick Receives Laureate Award
October 31, 2022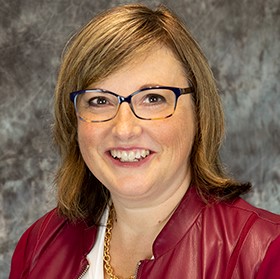 Rising to accept an award from the American College of Physicians Michigan Chapter recently, Heather Laird-Fick recalled attending the same annual meeting 18 years earlier.
She was eight months pregnant at the time and had taught a workshop on work-life balance that morning when she sneezed, causing her water to break, she told her fellow physicians. The next day she gave birth to her daughter.
"Life intervened," said Laird-Fick, MD, a College of Human Medicine professor and director of assessment for its Shared Discovery Curriculum.
The most notable event this year was her receipt of the organization's 2022 Laureate Award for her dedication to patient care, research, and medical education.
"I think it's an amazing show of appreciation for the things that I've done," she said. "Yet it's also humbling, because I know what previous recipients have done."
As an undergraduate at Alma College, she was drawn to medicine by a professor, Larry Lawhorne, who later joined the College of Human Medicine, where he became director of geriatric education and a professor of family medicine.
Laird-Fick graduated from the College of Human Medicine in 1997 and later earned a Master of Public Health degree from the University of Michigan while chief resident in internal medicine at St. Joseph Mercy Hospital in Ann Arbor.
At the time, she thought she might want to become a hospital administrator. That changed in 2001 when she returned to the College of Human Medicine as an assistant professor assigned to what then was the Saginaw campus.
"That's when I realized how much I love teaching and decided to go more in that direction," Laird-Fick said. "It was really just a phenomenal opportunity, as far as I was concerned. It's a wonderful way to expand your impact by helping others to provide good patient care."
In addition to teaching, she sees patients at the MSU Clinical Center and at Sparrow Hospital in Lansing. Much of her research focuses on the health of aging adults and management of complex and interacting medical problems of older patients, who often are excluded from medical studies.
Teaching the next generation of doctors is as much of an educational experience for her, she said, as it is for her students.
"It keeps you sharp," she said. "I can't teach something that I don't know. They ask me things I don't know all the time. It's fantastic."