Advocating for Gender Equity in Medicine
September 29, 2022
In honor of Women in Medicine Month, the College of Human Medicine celebrates alumna Shikha Jain, MD. She is a renowned oncologist, advocate for gender parity in medical professions, founder of the Women in Medicine Summit and was recently named one of Medscape's Rising Stars in Medicine.
---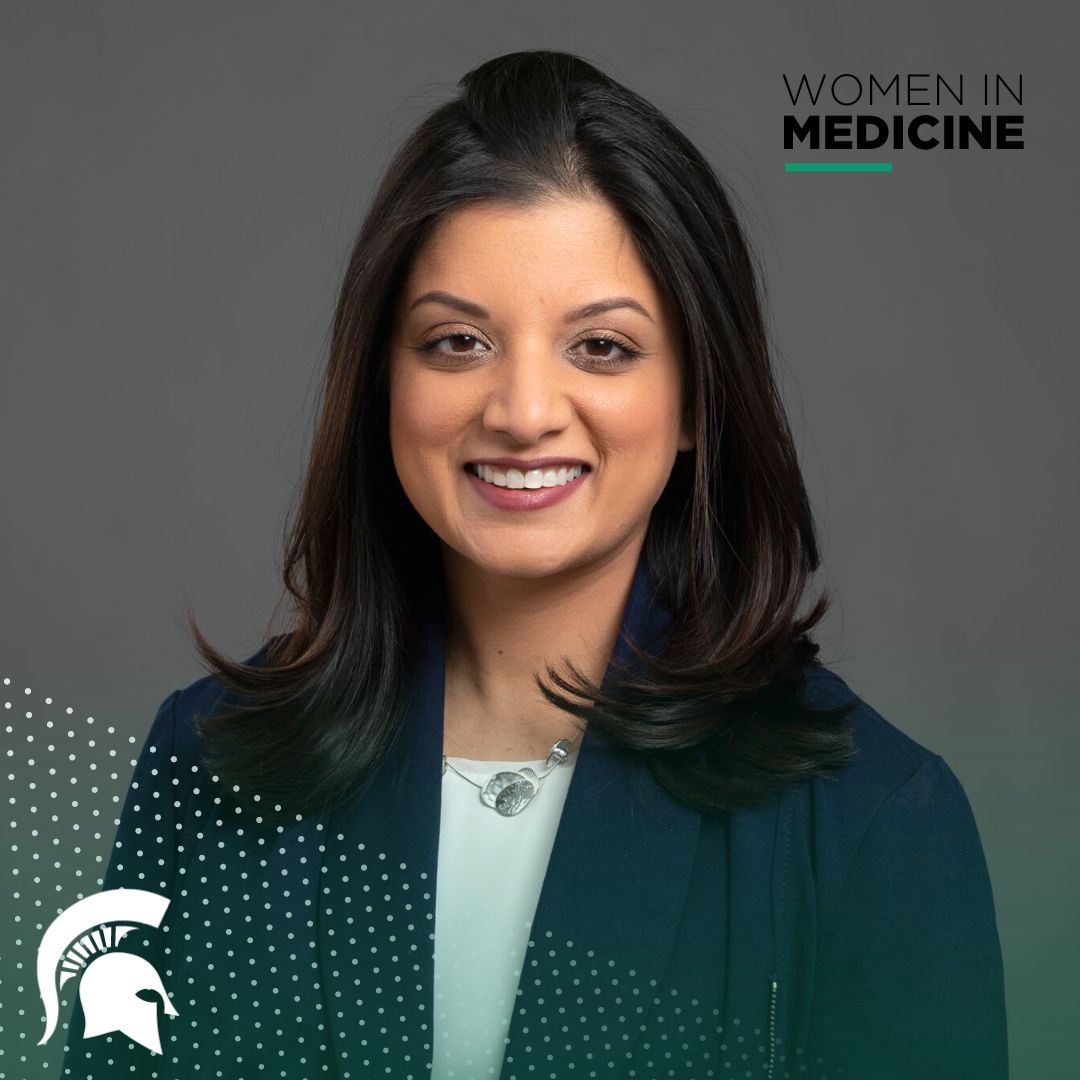 During her time as a College of Human Medicine student and co-president of the American Medical Student Association MSU chapter, Shikha Jain organized a rally at the state capitol to raise awareness of health care disparities.
That event several years ago presaged her career as an internationally renowned oncologist, a medical school professor, an expert in public health messaging, and an advocate for gender parity in the health professions.
"These inequities have existed throughout our health care system," said Jain, MD, a 2008 College of Human Medicine graduate and now an associate professor of medicine at the University of Illinois. "The question is, has it gotten worse? The answer is yes, this pandemic has highlighted, exacerbated, and worsened inequities that have been present for ages." For women with intersectional identities, such as race and gender orientation, the disparities are even more significant.
Jain has founded organizations, given countless lectures, and written extensively about the obstacles women face in the medical profession – all while teaching, holding administrative positions, and treating patients at the University of Illinois Cancer Center.
"I don't sleep much," she joked.
Although since 2019 slightly more than half of the nation's medical students have been women, gender inequality persists in pay, promotions, and research funding, Jain said. Over the course of a career, a female physician earns on average $2 million less than her male colleagues, she said, even when accounting for maternity leaves and other variables.
"It's an ongoing cycle because of the way the health care system is set up," Jain said. "We see this system that is set up for women to fail."
That is perpetuated by the fact that much of the networking goes on over drinks, on the golf course, in the locker room, or in other settings that tend to favor men and where conversations often include the phrase "I know a guy who would be perfect for that." Even women who are promoted often are criticized for being too aggressive – or not aggressive enough, she said.
The current system not only is unfair to women physicians, but can negatively affect health care for women, Jain said, noting that patients in medical studies often disproportionately included men, particularly white men, whose symptoms for heart attack, for example, are different than for women.
"When women are in leadership positions, there is an impact on women's health," Jain said.
During a TEDx talk in 2019, she called for a "gender moonshot" to achieve parity for women in the medical professions. She has written on that and other subjects in medical journals and general interest publications, including CNN, USA Today, Scientific American, The Hill, US News, and Physician's Weekly. She has been interviewed by The New York Times and The Washington Post and is a frequent guest on MSNBC, ABC, CBS, and other stations.
Jain is the founder and chair of the Women in Medicine Summit and the founder and president of the nonprofit Women in Medicine organization. She co-founded and is CEO of IMPACT, a nonprofit that has worked to overcome misinformation in public health, particularly about COVID-19. During the pandemic, IMPACT created infographics and social media postings and organized vaccination clinics for the underserved in Illinois.
The Department of Homeland Security and the National Academies of Sciences, Engineering, and Medicine appointed Jain to a committee created to address misinformation about biological threats.
At the University of Illinois Cancer Center, she is the director of Communication Strategies in Medicine and associate director of Oncology Communications and Digital Innovation.
Her list of activities, honors, and achievements – including Medscape naming her one of 25 Rising Stars in Medicine in 2020 – is extensive.
"As you can see from Dr. Jain's bio, she is incredibly accomplished," said Sareh Parangi, MD, a professor of surgery at the Harvard Medical School, where Jain has lectured about leadership skills for women in health care.
While some male colleagues have joined the call for gender equity in medicine, "a lot more needs to be done," Jain said. "We need to work at fixing the system, rather than fixing women in the system. We need to think more about who is missing from the table, rather than 'I know a guy.'"
Jain traces her success and activism to her years as a College of Human Medicine student.
"I will always be grateful for the education I got at Michigan State," she said. "It allowed me to become the physician I wanted to be."