Samuel Surgalski: Military and Medicine
April 29, 2022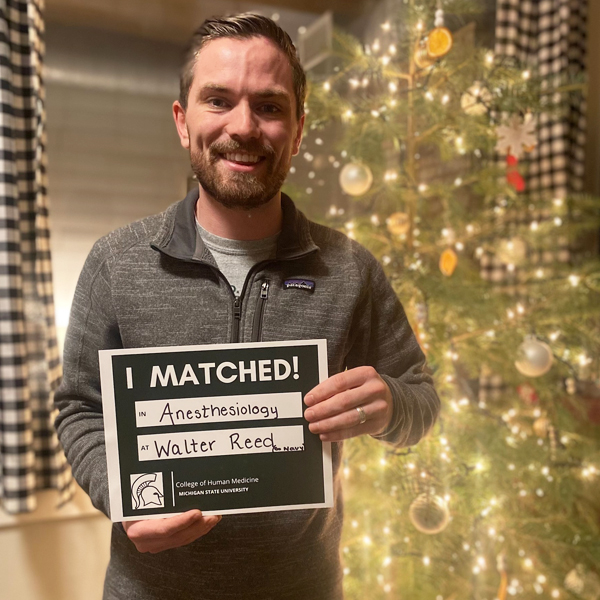 While most of his College of Human Medicine classmates were still sweating about their futures, Samuel Surgalski already knew where he would spend the next four years.
At noon on Dec. 8 – more than three months before most graduating medical students would learn where they would go for residency training – Surgalski received an email saying he had been accepted into the anesthesiology residency program at the Walter Reed National Military Medical Center. It was his first choice of the three to which he had applied.
"When I signed the contract with the Navy – I was 22 at the time – it was really hard to know where my life was going to go," he said. "But I knew that if I hadn't done that, I'd have regretted it when I got older."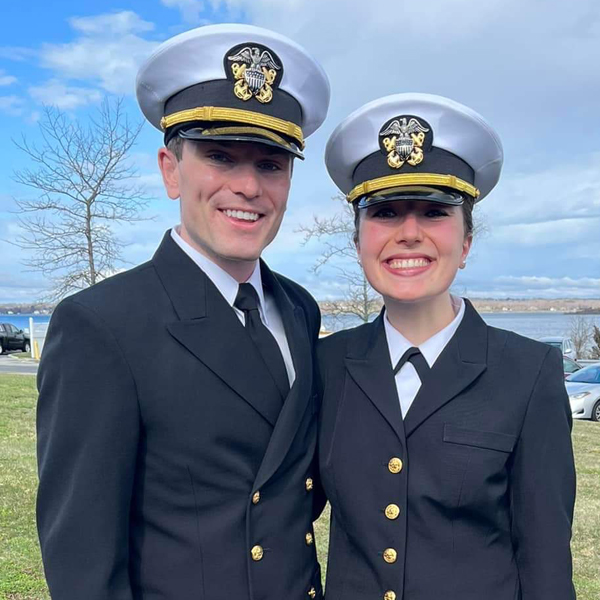 Unlike most of his classmates, Surgalski had received financial aid through the military's Health Professions Scholarship Program, obligating him to go through the Military Match and serve four years of active duty in the Navy after his residency. Of the 166 College of Human Medicine students who were matched into residency programs this year, only Surgalski and Emily Bush went through the Military Match. All the others applied through the National Resident Matching Program, which held this year's Match Day on March 18.
For Surgalski, the scholarship program not only paid his tuition, fees, and a stipend for living expenses, but it allowed him to combine the careers of his parents. His mother, Mary, is a cardiothoracic intensive care nurse; his father, Michael, is a captain of a training ship with the Great Lakes Maritime Academy.
As a Traverse City native, Surgalski always felt drawn to the water. His mother's stories about her work also held allure.
"I never had an 'ah ha' moment for choosing medicine," he said. "I definitely knew I was going to join the Navy. The medical part was always there for me. It was something I knew I wanted to do."
Between his junior and senior years of college, he worked as a nursing assistant in Traverse City, giving him first-hand experience caring for patients. He sat with them, listened to their stories. After one of his patients died, he bathed him. "I really felt it was one small way that I could help the family and the patient," he said.
It confirmed that his mother was right: "Medicine is the place you want to be if you want to make a difference in people's lives."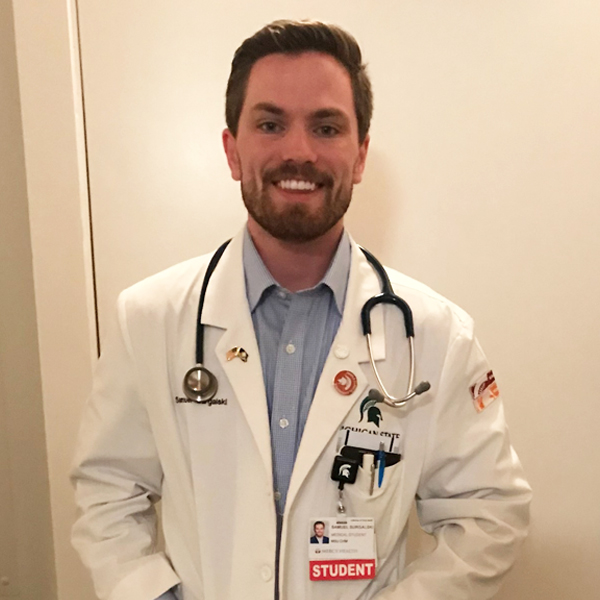 His first year of medical school, he applied for the military scholarship and was accepted, but he had no idea which medical specialty to choose. He considered surgery, but then a doctor suggested he learn what anesthesiologists do.
His third day into an anesthesiology rotation, "I called my wife and said, 'this is it, this is my field.' I like the higher stress environment. I was super satisfied to see things happen immediately."
Surgalski recently completed the Navy's Officer Development School in Newport, R.I., and soon he and his wife, Carson, (they were married between his first and second years of medical school) will head to Bethesda, Md., where he will begin his residency. He will be commissioned as a lieutenant.
"I'm really excited for this next step," he said. "I'm excited to take those reins and get going. This is totally what I want to do."