Kenechukwu Isi: It's Medicine or Bust
May 5, 2022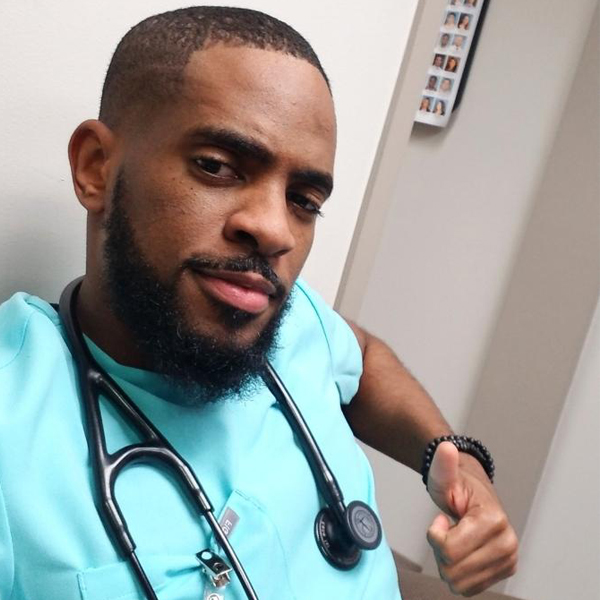 Kene Isi's path to becoming a physician might have been set the moment he was born. He wasn't breathing, and, after doctors and nurses struggled for nine minutes to save him, his father ran in and calmly fitted a mask over his son's face.
"That's when I took my first breath," Isi said. "I was a miracle baby."
His parents named him Kenechukwu, which in the family's native Igbo language of Eastern Nigeria means "thank God."
Twenty-eight years later, Kenechukwu, who goes by Kene, is about to graduate from the College of Human Medicine and begin a three-year residency in emergency medicine at the University of Illinois Chicago.
The path that led him there was confirmed when at the age of seven he became critically ill with malaria.
"The doctor who took care of me was so kind," Isi recalled. "I was in awe of his presence, how compassionate he was. He was very calm. He told me I would be okay. That really motivated me."
He wanted to become that kind of doctor, so, at the age of 17, he left Nigeria and came alone to the United States to get the education he would need.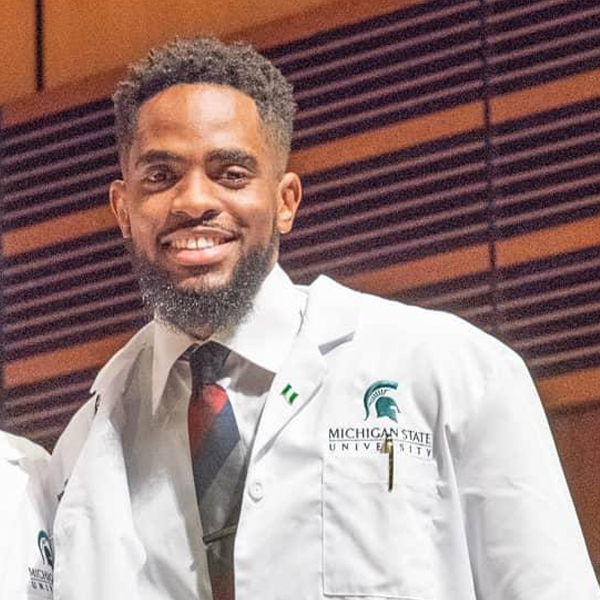 "It was kind of hard at first," he conceded. "I had to figure out things on my own." In Nigeria, his parents had sent him to boarding school, so "I was used to being on my own."
He concedes he knew little about Michigan State University, other than that a cousin had attended there. He enrolled as an undergraduate and later transferred to the University of Toledo, where he majored in biology.
"I wanted that strong foundation," Isi said. "It was medicine or bust."
After graduating, he returned to MSU as a College of Human Medicine student, spending his last two years at the Southeast Michigan Campus. He chose emergency medicine because "when someone walks through that door, you never know what to expect," he said. "You see a little bit of everything. It keeps you on your toes."
Medical school has been demanding, he said, "like a rollercoaster. You have to be very resilient."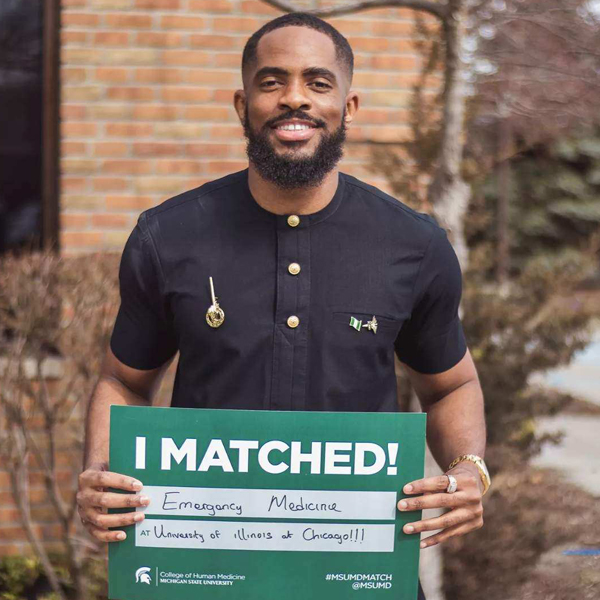 If anyone dared question whether he had the stuff to become a doctor, "it fueled my desire to prove people wrong," he said. "I never doubted myself – ever." He knows the next three years of residency will be challenging, but "I never shy away from a challenge. I embrace it."
He sought to pass that determination on to others by volunteering through Brothers on the Rise, a nonprofit that encourages boys and young men of color to attend college and lead successful, productive lives.
"Nothing good comes easy," Isi said. "If you put in the work, there's nothing that can stop you. It's not impossible."
Although he plans to practice emergency medicine in this country, periodically he will return to Nigeria.
"I want to do something for the community back at home," he said. "You can never forget your home."