Karrar Aljiboori: Cool, Calm and Collected
May 4, 2022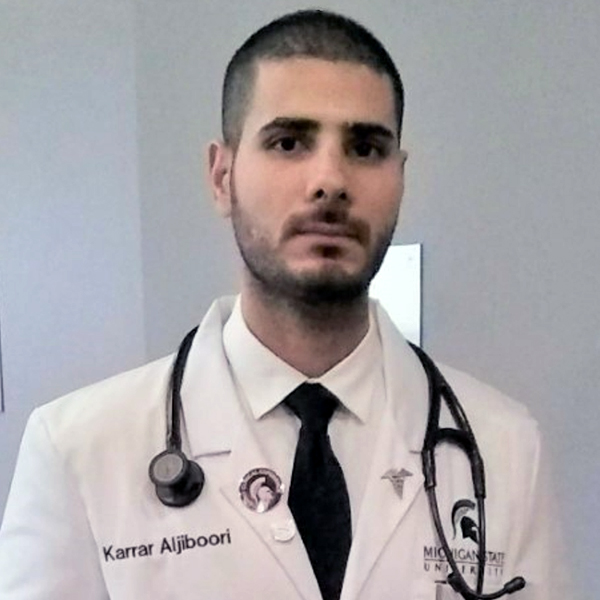 Karrar Aljiboori was 13 years old the first time someone shot at him. He was lucky; the bullet missed.
His older brother wasn't so lucky when someone fired a rifle, wounding him twice. He survived, but "I lost many friends," Aljiboori said. "The last friend I lost was very near and dear to me."
Just surviving was a daily struggle in Baghdad, Iraq, where he was raised. The idea that he ever could graduate from medical school, become a doctor with an eye toward becoming a neurosurgeon might seem beyond reach.
For Aljiboori, the entire experience, far from discouraging him, strengthened his resolve. This month he will graduate from the College of Human Medicine and in June begin a neurosurgery residency at the University of Arkansas for Medical Sciences.
 "It's very exciting, absolutely," Aljiboori said, adding that "there's a little bit of the fear factor, which helps me stay sharp." He is counting on three words, survival skills he honed in Baghdad, to pull him through: "cool, calm, and collected."
First came the sanctions in the 1990s, forcing such extreme hardship on his family that finding enough food was a challenge. "I had my first banana when I was 8, and I didn't know how to peel it," Aljiboori recalled. Then in 2003, when he was 11, came the war.
"People were starving," Aljiboori said. "There were no laws, no government, no nothing. That was really crazy to live through. It was very chaotic. It changes the way you look at life. That's why I chose medicine. It really comes down to helping people who cannot help themselves."
He stopped attending high school the day a bomb exploded nearby, shattering the window next to him. He taught himself English by reading through his father's dictionary, watching movies, and listening to music, such as Metallica's.
After receiving threatening letters, Aljiboori and his family were granted refugee status and immigrated to the U.S., settling in Dearborn Heights. He completed high school, and then attended the University of Michigan-Dearborn, majoring in biology and psychology.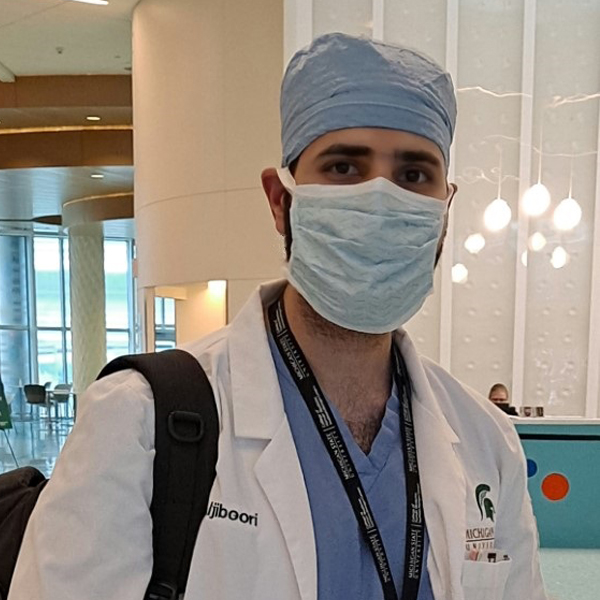 As a non-traditional College of Human Medicine student, he has a maturity and determination forged by hardship and war. At the Southeast Michigan Campus, he did a rotation in neurosurgery and found his calling.
"The complexity of the nervous system," Aljiboori said, "it's amazing how complex it is. I chose it because it requires a very experienced skill set."
He also chose it because he saw a need, particularly among the underserved, the uninsured who cannot afford life-saving surgery.
He plans to bring innovative technology to the field, including artificial intelligence, and already he has designed and made a surgical instrument using a 3D printer.
Unfortunately, the world continues to produce extreme hardships affecting people worldwide. Aljiboori hopes to serve as an example of the possibility of overcoming such adversity.
"If one person gets inspired and believes they can do it, that's more than enough," he said. "If you can believe it, you can do it."