Gossain Honored with Lifetime Achievement Award
October 31, 2022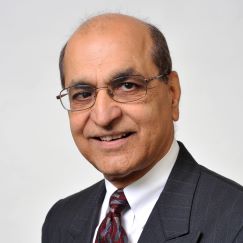 Arriving in America from India, where he had studied medicine, Ved Gossain, stepped off an airplane in 1967 with $8 in his pocket, then shelled out $5 for a bus ride into Springfield, Mass., to begin a residency program.
"So, I'm here, standing alone in downtown Springfield with $3 in my pocket," he said. He hailed a cab and asked what it would cost for a ride to the Springfield Hospital Medical Center. Two dollars, the cabbie said.
"The rest is history," Gossain said.
That history includes 47 distinguished years on the College of Human Medicine faculty and the recent receipt of the Lifetime Achievement Award from the American College of Physicians Michigan Chapter.
"I'm proud of it," Gossain, MD,  said of the award, the latest of many he has received. "I'm humbled by it at the same time."
Over the decades, Gossain has earned an international reputation as an endocrinologist, authored more than 80 original papers and several book chapters, taught thousands of medical students, and treated more patients than he can count.
"I love the teaching," he said. "And I've been lucky enough to do what I call clinical research," treating patients while studying the diseases that afflict them. "It's been a satisfying experience on all three aspects of academic medicine," he said.
He chose endocrinology, Gossain said, because it "is a thinking specialty. The hormones affect the entire body," including metabolism, growth, sleep, mood, reproduction, and many other areas of health. Much of his work has been in diabetes, which afflicts an estimated 37 million adults in this country.
At MSU, he was chief of the Division of Endocrinology from 1996-2015. He established the Endocrinology Fellowship Program at MSU in 2006 and directed it until 2013.
In 2016, he assumed emeritus status, giving up his administrative duties while continuing to teach.
Earlier this year, he published a book about his career, My Journey Through the United States; 8 dollars and no Dream.
"Believe it or not, I had no idea what the American dream was," he said.
He planned to stay four or five years in the United States, just long enough to complete his medical training.
Although he has returned to India many times, Michigan – specifically Michigan State University – has become his home.
He has received many awards for his teaching, research, and patient care, including the College of Human Medicine's Distinguished Faculty Award, and for several years he has been listed among the "Best Doctors in America."
He accepted the Lifetime Achievement Award during the annual meeting of the American College of Physicians Michigan chapter in October.
"I don't want to blow my own horn," Gossain said, "but it means that these colleagues thought the work I have done is important, that it's been a life well spent."
He added: "This journey has been interesting."