Chinchilla Receives Excellence in Public Health Award
April 27, 2022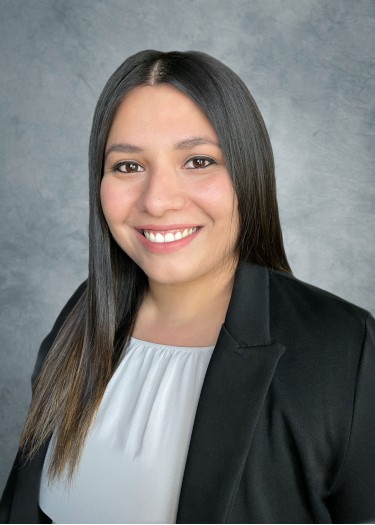 It wasn't the first time Jennifer Chinchilla, the daughter of Guatemalan immigrants, had been enlisted to translate medical information for her parents, but this incident stood out. As her mother was being treated in an emergency department, the staff described the medical issue in English, assuming Jennifer would accurately translate it into Spanish.
That is when it struck her that language differences could lead to inferior medical outcomes, a realization that set her on a mission to improve translation services and remove other barriers to health care.
For her work, Chinchilla, now a fourth-year College of Human Medicine student about the begin a residency in family medicine, has been presented a 2022 Excellence in Public Health Award by the United States Public Health Service. The award recognizes medical students who advance public health and who exemplify the health service's mission to protect, promote, and advance the health and safety of the nation. 
"This award is a testament to the education provided by the Michigan State University College of Human Medicine and to the high caliber of your students," Marie de Perio, MD, awards program co-chair, wrote in announcing the award. "We hope that this will encourage your faculty and students to continue their strong work in public health."
It also is testament to Chinchilla's many efforts to improve health care for all. She helped create Lost in Translation, a workshop to train physicians on interpreter use to improve care for patients with limited English proficiency.
As a leader in the Latino Medical Student Association, she lobbied legislators to address physician shortages and confront health disparities highlighted through the COVID-19 pandemic. Through the West Michigan Health Careers Pipeline Program and Reach Out to Youth, she encouraged high school and elementary students from disadvantaged backgrounds to consider careers in medicine.
She promoted voter registration at all seven of the college's campuses and, working with the Latinx Technology and Community Center and the Flint Millennial Movement, she sought to bring accurate public health information to members of the Latinx community in Flint.
In addition to her medical degree, Chinchilla has earned a certificate in Leadership in Medicine for the Underserved, and she has supported several legislative resolutions related to treatment of opioid-use disorders, sex education and maternal health safety.
As a family physician, she plans to continue working toward improving care for the underserved.
In nominating her for the award, Wanda Lipscomb, PhD, senior associate dean for diversity, equity and inclusion, described Chinchilla as "energetic, hard-working, self-motivated, a professional who brings an upbeat attitude and dedication to improve the quality of care provided to all."