Retirements in 2021
August 3, 2021
Happy Retirement, Spartans!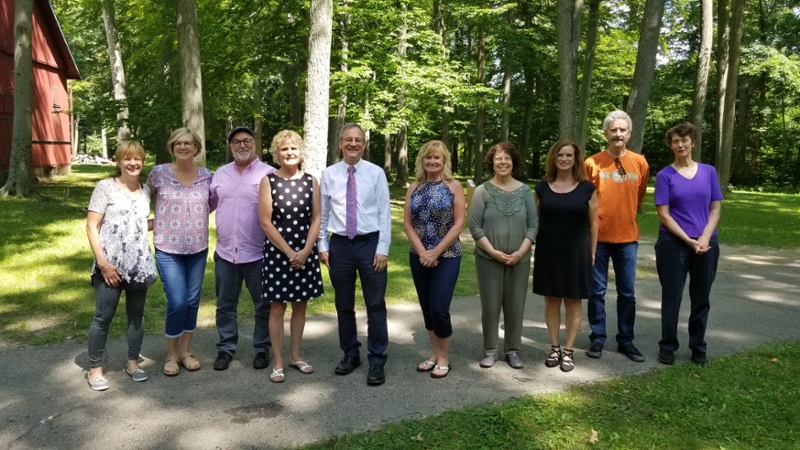 A group of "wonderful retirees" were honored at a special retirement picnic with family, friends, and colleagues August 3, at Fitzgerald Park in Grand Ledge. Interim Dean Sousa spoke of intellect and emotion when he shared his congratulatory message to the group, all of whom contributed to the growth and greatness of our college over their many decades of combined service. Such festivities in the College of Human Medicine would not be complete without singing – and Dianne Wagner's "Our 10 Wonderful Retirees" (sung to the tune of "The 12 Days of Christmas") was the hit of the party!
Louis Marks, MD, Clinical Associate Professor, Inaugural Associate Director of the Middle Clinical Experience, Shared Discovery Curriculum
Bill Wonderlin, PhD, Associate Professor, Department of Physiology, Inaugural Director of the Early Clinical Experience, Shared Discovery Curriculum
Kathy Assiff, Community Administrator and Director of Student Programs, Flint Campus
Jay Bryde, Admissions Officer, College of Human Medicine Office of Admissions
Sherry O'Brien, Standardized Patient Education, Simulation
Brian Mavis, PhD, Professor, Inaugural Director of the Academy, Shared Discovery Curriculum
Marilee Griffith, Academy Supervisor, Shared Discovery Curriculum
Sarah McVoy, Director of Student Programs, Lansing Campus
Donna Mulder, Director, Faculty Affairs and Development
Kate Baird, Information Technician, JustInTime Medicine, Shared Discovery Curriculum
Margaret Thompson, MD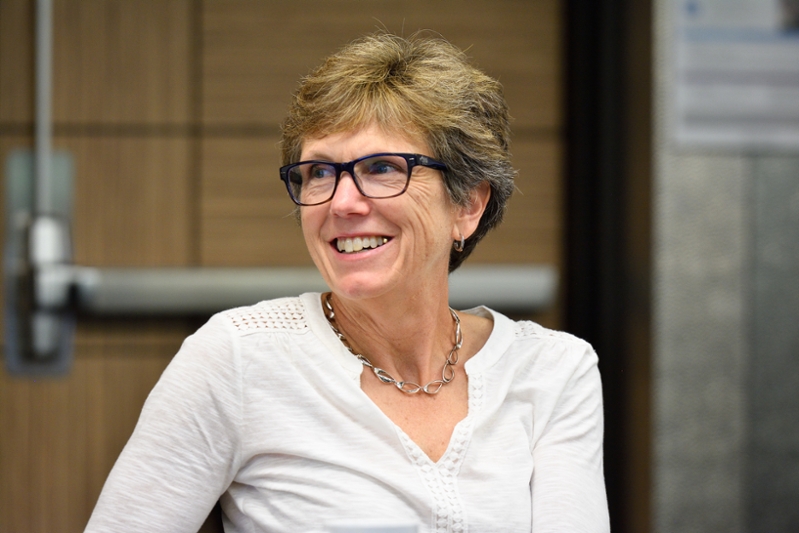 Now that she is retired after three decades of teaching medical students, Margaret Thompson is sure of at least one thing.

"I am not going to just stop working and sit around in my bathrobe," she said.

Margaret "Peggy" Thompson, MD, began working with College of Human Medicine students and residents as a clinical faculty member in the early 1990s after joining a family medicine practice in Grand Rapids.

"I always knew I wanted to teach," she said.

In 1996, she joined the college's Family Medicine Department as a paid faculty member, helping develop curriculum, among other duties. A series of jobs followed, including lead clerkship director for family medicine, assistant dean for clinical curriculum, and community associate dean for the Grand Rapids campus.

She retired the end of June as associate dean for Community Academic Programs, overseeing implementation of the college's new Shared Discovery Curriculum at all seven campuses.

She described her last position as "kind of a natural fit," adding that the campuses, spread from Southeast Michigan to Marquette, "each had different challenges," especially during the pandemic and the rollout of the new curriculum.

"I've had things I've wanted to do for a long time," Thompson said. "I can't wait to get back to traveling again."

Her retirement, however, will include more than leisure activities. She plans to volunteer at Mel Trotter Ministries in Grand Rapids and continue helping students, possibly as a standard patient.

She said she will miss seeing students return to classrooms as the pandemic wanes, as well as on those special occasions, such as Match Day, when graduating students open envelopes and find which residency program has accepted them.

"I've missed being face-to-face with people," Thompson said. "I realize how important it is to maintain those relationships. I will miss all of that. I feel like I'm getting up and leaving in the middle of a movie. I love the people I work with. Most of all I will miss my colleagues."
Brian Mavis, PhD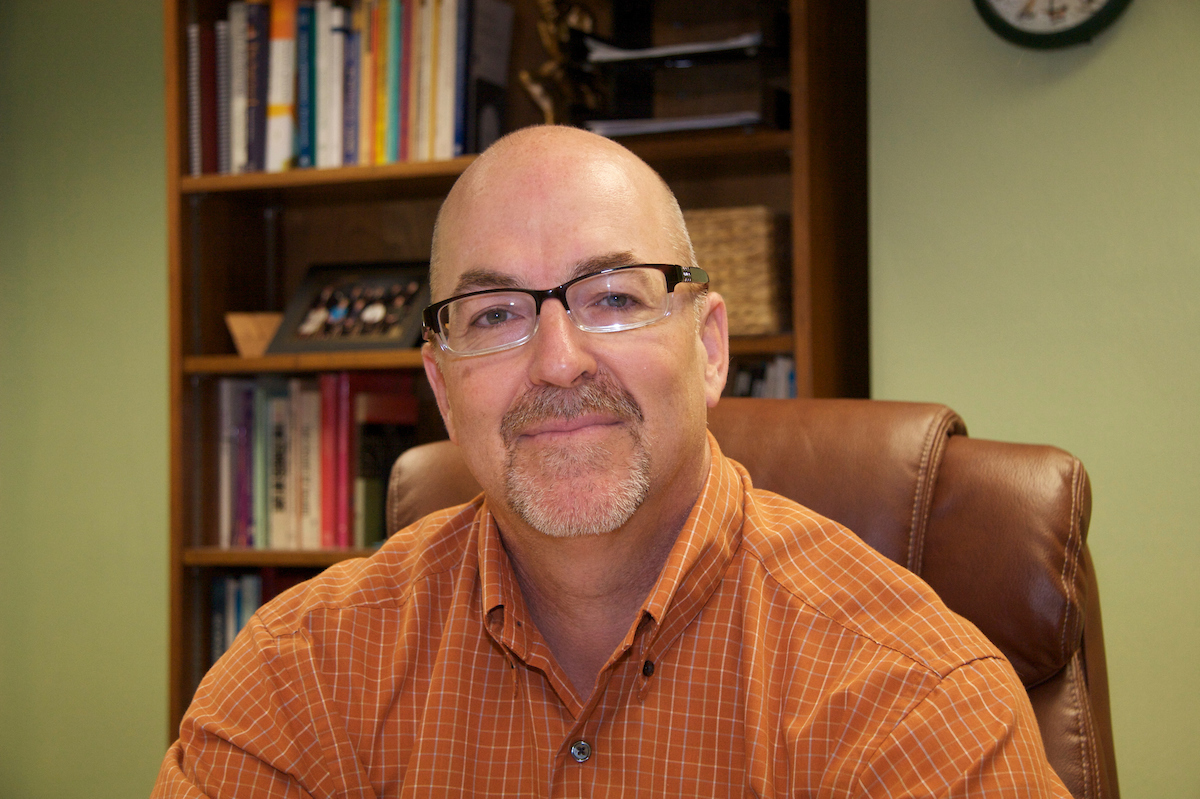 Since joining the College of Human Medicine in 1992, Brian Mavis' contributions to the Office of Medical Education Research and Development (OMERAD) and the college have shown his commitment to service, collaboration and problem-solving. Dr. Mavis has been a tireless supporter of our curriculum and student programs. He was an Admission Committee member for 18 years, 16 of those as co-chair. Additionally, since 2008 he has served as a member of the Student Performance Committee. He is a longtime part of the Academic Affairs leadership team as well as the Shared Discovery Curriculum leadership team. He has held two college leadership positions, first serving as OMERAD director (2004-2016) and later as inaugural director of the Academy and Learning Societies (2015-2019).

Brian Mavis' service to the medical education community has brought recognition to our college and earned him a national reputation for his leadership. He has served on multiple advisory committees of the Association of American Medical Colleges (AAMC) and the National Board of Medical Examiners. He is a past chair of the AAMC Group on Educational Affairs (2012-2014). He chaired the GEA National Research Grant Review Committee for three years (2017-2019) and the AAMC Medical Education Research Certificate (MERC) Advisory Committee for five years (2006-2011). Another accomplishment bringing recognition to the college is his creation of the DR-ED listserv as a virtual community for medical educators. Since 1995, this community has grown to over 3,400 subscribers spanning 28 countries. In 2016, he received the AAMC Group on Educational Affairs Merrell Flair Award for outstanding contributions to medical education.

As an educator and evaluator, Dr. Mavis has provided ongoing curriculum support and monitoring overseeing the Student Performance and Outcomes Database, including the annual Graduate Follow-up Study and the Student Experience Survey. Dr. Mavis consistently receives positive evaluations from medical students and faculty. In 2013, he was part of a multi-school collaboration recognized by the Clerkship Directors in Internal Medicine (CDIM) with an educational program development award. Since its inception, he has been an active member of the curriculum design group that guided SDC development and implementation. As the founding Academy Director, he was charged with creating a concept and making it real in less than 12 months. The learning society framework for a student and faculty academy is innovative and is a monumental change in the college's teaching model.

Despite his administrative appointments, Dr. Mavis has maintained a remarkable record of scholarship, including over 100 peer-reviewed papers—many in high impact journals—and 179 national/international conference presentations. Dr. Mavis was recently recognized for reviewer excellence by the high-impact journal, Academic Medicine. As a key mentor to junior faculty and clinicians in the SDC, Brian developed resources to enhance faculty scholarly productivity.

Dr. Mavis' creative and scholarly efforts have greatly impacted OMERAD and the College of Human Medicine and he will be a dearly missed colleague, mentor, and scholar.
Dan Hardie, MD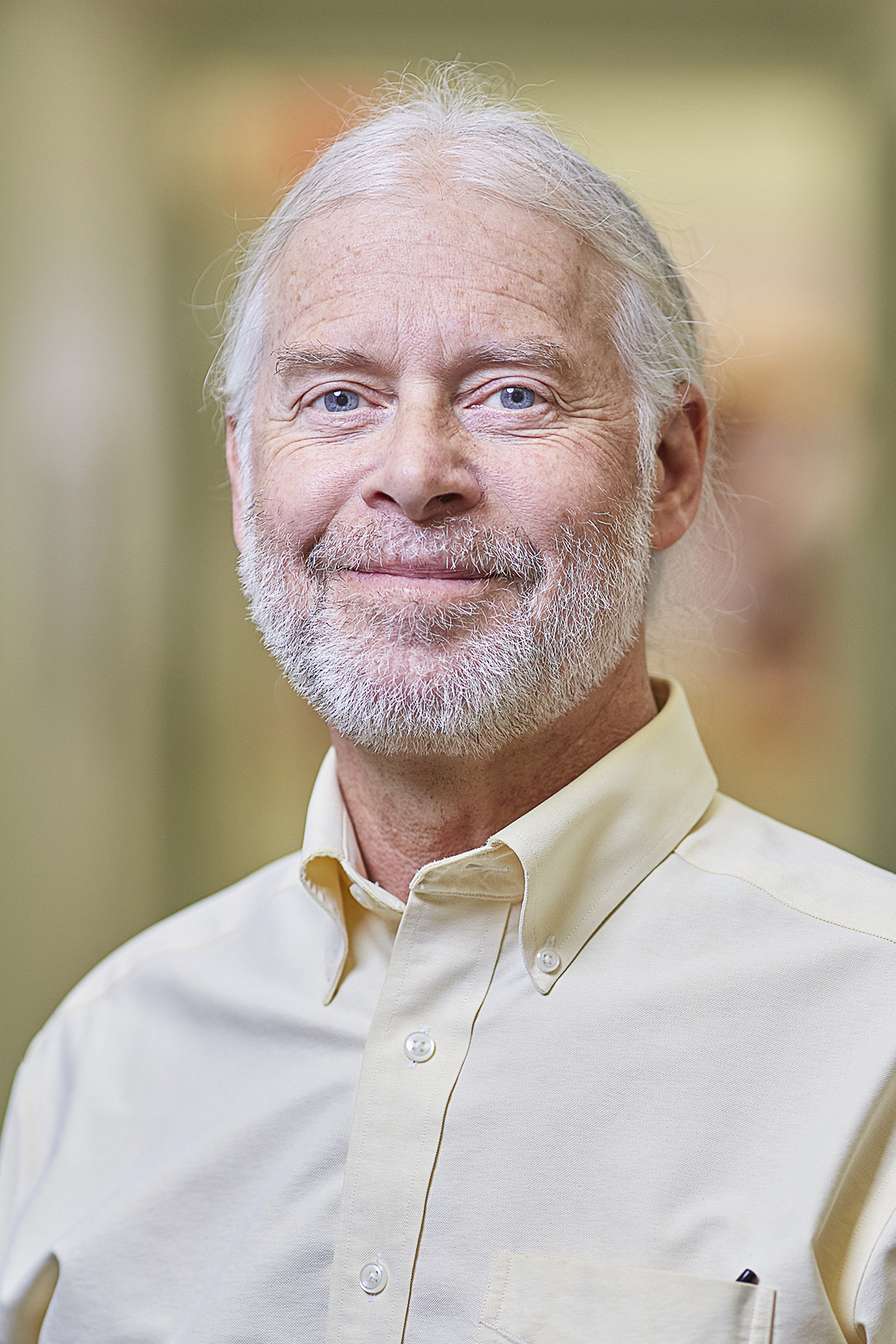 Dan Hardie, MD, (CHM '83) has retired from his family medicine practice in Marquette after 34 years of service. He served as a mentor and educator for countless residents and medical students through his roles as preceptor and clinical assistant professor at the MSU College of Human Medicine Upper Peninsula Campus.

"Dr. Hardie was always a willing partner in the education of medical students and residents in the clinical setting," said Stuart Johnson, DO, chief executive officer and community assistant dean. "He demonstrated the delivery of high-quality patient care that was truly patient centered."

Dr. Hardie earned his Bachelor of Science degree at the University of Michigan and completed his MD at MSU College of Human Medicine. He attended residency at the Marquette Family Medicine Residency Program and served as a locum tenens physician in Upper Peninsula emergency departments before practicing family medicine for more than three decades at the Stevens Hardie Family Practice.

In 2016, Dr. Hardie received the Department of Family Medicine Community Faculty Award. He was selected through nominations submitted by MSU College of Human Medicine UP Campus students who noted his "breadth of knowledge, great emotional intelligence and thorough teaching ability" as outstanding qualities.

As a medical educator, Dr. Hardie found the rewards of teaching were not only imparting knowledge to eager learners but also gaining new perspectives through their views.

"I loved getting to meet such brilliant and varied individuals," he wrote. "I was always surprised by the breadth of life experiences they brought to the table-travel, languages, other prior careers, musical talent, etc. Also, they kept me on my toes and fresh because of their more recent training and questions. It's rewarding to look back at all the local physicians who spent time in our office as part of their training."

Dr. Hardie's retirement plans include being a member of Team Rubicon, an emergency response organization that deploys teams to assist at disasters.