Obituary: William Smyth Abbett, PhD
September 18, 2021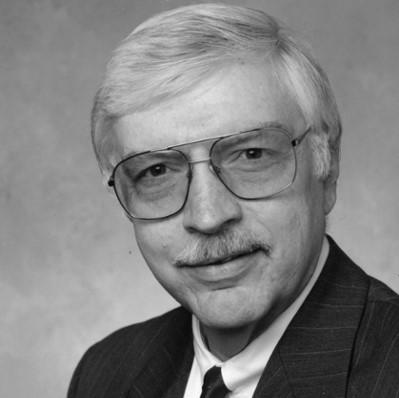 William Smyth Abbett, PhD, of Okemos, Michigan, passed away on Saturday, September 18, 2021, at the age of 79.
In 1990, Dr. Abbett was appointed acting dean, and in 1991 after an extensive national search, Dr. Abbett became the third dean of the College of Human Medicine, a position he held until 2000.
"Bill Abbett was a thoughtful leader who served as dean during an important decade for our college," said Aron Sousa, MD, interim dean, College of Human Medicine. "He contributed to our medical school's growth across all mission areas."
It was during Dr. Abbett's tenure that the Advanced Baccalaureate Learning Experience (ABLE) Program was approved by the faculty as an official college prematricular/pathway program.
"Dr. Abbett supported efforts to diversify the student body in a systemic manner and was his own quiet champion of diverse faculty," recalled Wanda Lipscomb, PhD, senior associate dean, diversity and inclusion, and associate dean, student affairs.
As a leader with a strong background in medical education, Dr. Abbett invested in the expansion of  student services to include a robust academic support services unit, focused development on student scholarships, and built strong formal medical education partnerships in each of the clinical communities.
Dr. Abbett was known for his endearing support of faculty over the years.
"For all the years that Bill was dean I felt strongly supported and each time he gave a thoughtful and humane response that was invariably helpful," said Nigel Paneth, MD, MPH, University Distinguished Professor, Departments of Epidemiology and Biostatistics and Pediatrics and Human Development.
"Bill supported me through a difficult time when I was ready to leave the College of Human Medicine," said Marsha D. Rappley, MD, former dean of the College of Human Medicine. "That support has always stayed with me."
Dr. Abbett also had a great sense of humor and loved to laugh.
Added Paneth, "The only time I remember him giving me a hard time was when I showed up to an important meeting without a jacket! His criticism was a bit tongue in cheek, though."
Dr. Abbett received his bachelor's and master's degrees from Northern Illinois University and his PhD from Michigan State University. He was a lifelong fisherman and enjoyed golfing with friends.