Chen Named MSU Foundation Professor
August 9, 2021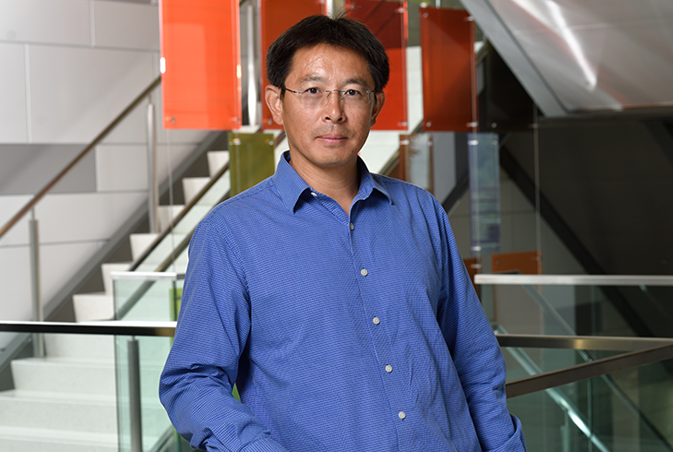 Honglei Chen, a professor in the College of Human Medicine's Department of Epidemiology and Biostatistics, has been named a Michigan State University Foundation Professor in recognition of his outstanding research into the epidemiology of aging and neurodegenerative diseases, including Parkinson's Disease.
The designation comes with a grant of $60,000 a year for five years to support his investigation into possible connections between risk factors, such as a poor sense of smell, and neurodegenerative diseases.
"This is a new research area that leads us to better understanding the complexity of aging and the development of Parkinson's and Alzheimer's," said Chen, PhD, a void he hopes to fill. He became interested in the environmental and genetic risk factors for Parkinson's while a postdoctoral fellow at the Harvard School of Public Health. He joined MSU in 2016, drawn by the university's strong research into neurodegenerative diseases, including Parkinson's and Alzheimer's, he said.
Olfactory impairment – a decline in the sense of smell – occurs in about 25 percent of older adults. Those who lose their sense of smell are five times more likely to develop Parkinson's and three times more likely to develop dementia, Chen said.
Although olfactory impairment does not guarantee that a person will develop Parkinson's or Alzheimer's, it could be an early marker of the diseases. In the case of Parkinson's, the disease process typically begins decades before the tremors and other symptoms appear.
"The clinical reality is that by the time of diagnosis, it's too late to stop the disease," Chen said. "By identifying it early on, the hope is we can stop or even reverse the disease process."
The link between a poor sense of smell and eventual development of Parkinson's suggests that environmental exposure, such as to pesticides, could trigger or accelerate the disease, he said.
"The olfactory system is the interface between the body and the environment," he said, adding that evidence suggests that farmers have a higher risk of developing Parkinson's.
His research could have broader implications for other diseases beyond Parkinson's and Alzheimer's. A poor sense of smell is associated with a higher mortality in older adults. Chen suggested it is possible that the loss of the sense of smell is an indicator of poor health in general in older adults, and may signals higher risk for many diseases, including cardiovascular disease and metabolic disorders. In a recent study, Chen found that a poor sense of smell is linked with a higher risk of pneumonia in older adults.
His designation as an MSU Foundation Professor and the accompanying grant gives him the opportunity "to explore other novel and exciting ideas," Chen said.